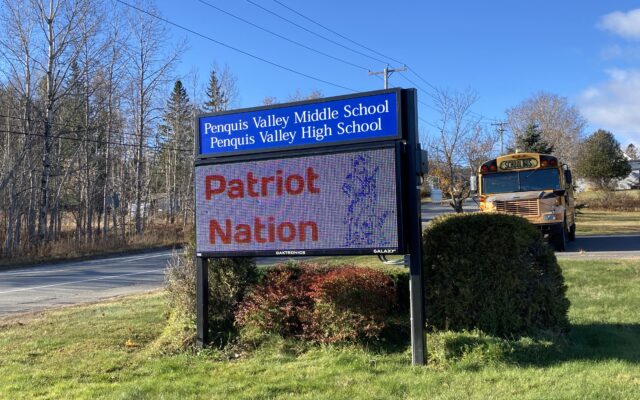 Penquis-Valley-High-and-Middle-School-Milo-111721
Observer photo/Valerie Royzman
SAD 41 looking to add school resource officer
MILO — Even before the recent shootings in southern Maine, SAD 41 officials have discussed the possibility of adding a school resource officer for district schools. During an April 26 school board meeting, board member Gary Chapman brought up the incidents in Bowdoin and Yarmouth and suggested using $50,000 from a capital improvement account to fund the position.
"I've had discussion with (Milo Police Chief) Nick Clukey about the school resource officer," Superintendent Michael Wright said. "It will be part of the budget we will bring to you that we are still working on."
He said the approximate cost for SAD 41 would be $57,000 in the 2023-24 budget.
A school resource officer would be part of a larger safety plan. Wright had told the board he previously worked with such officers in the Ellsworth School Department, saying a good school resource officer is invaluable.
The superintendent said at next week's regularly scheduled meeting, he should have some potential dates to bring forward concerning the annual district budget meeting and referendum.
In other business, Brownville Elementary Principal Carol Smith said she, Milo Elementary Principal Stephanie
Hurd and other administrators across the region attended a luncheon seminar hosted by the Piscataquis Environmental Education Collaborative. The group is made up of the Appalachian Mountain Club, Piscataquis County Soil and Water Conservation District, Rural Aspirations Project, and National Resource Education Center Moosehead.
The PEEC presented principals with a variety of outdoor educational programs available to schools. There are plans in the works to get all administrators and teachers together in the future to do some work and explore how the group can support schools in outdoor education.
"They are willing to collaborate with us and participate with our students hands on," Hurd wrote in her report. "There will be a lot of great programming coming from these resources that we are excited for."
Hurd also said Milo Elementary recently kicked off the One Book, One School family reading program with the selection being "Matilda" by Roald Dahl. Hurd said this is the first One Book, One School since 2019.
"We look forward to all the fun this will bring to us and the community," she said.