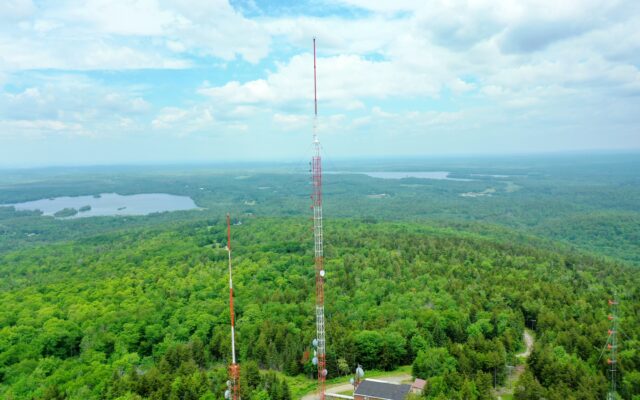 Blackcap Tower (1)
Courtesy of Maine Public RADIO TOWER – Maine Public tower on Blackcap Mountain in Eddington.
Greenville residents to vote on telecommunications ordinance
GREENVILLE — At next month's annual town meeting Greenville citizens will vote on a proposed telecommunications ordinance concerning items such as towers, antennas, wireless facilities, and smaller cells for the present time and into the future. If approved during the meeting on the evening of Monday, June 5, the ordinance would become part of the larger Greenville Land Use Ordinance.
"We started off thinking about a small wireless facility ordinance or as I understand telecommunications devices that are fixed to existing poles and that sort of thing," Planning Board Chairperson John Contreni told the select board during a May 3 meeting in which the ordinance was approved to be on the town meeting warrant. "Then it dawned on us that we didn't have a general telecommunications ordinance and many towns in Maine do."
Contreni said a quick Google search revealed about 30 Maine towns have such ordinances, with Dover-Foxcroft being the closest to the Moosehead Lake community.
The planning board has drafted an 18-page document to be voted on.
"It's not an issue that's at our doorstep now but we want to be proactive and have the ordinance there in case six months from now (something comes up)," Contreni said.
He said small wireless facilities are becoming critical, particularly in Greenville during the annual International Seaplane Fly-In and Fourth of July when at least hundreds of visitors come to town. "When everybody is on their devices, it overloads the public access and they should be counting on the internet," Contreni said.
Planning board member Maureen Hopkins said in a few years providers may want to shift from towers to small cells placed in the concentrated downtown area, and the ordinance would help regulate this.
Contreni mentioned an abandonment clause as an example of something else contained in the document. He said if a tower is left the company is liable. "We're not just stuck with a 100-foot tower, they have to dismantle it, and take it away, and restore the landscape," he said.
In his town manager's report, Mike Roy said the new public safety facility is progressing. "The footings have all been poured and they're pouring the walls tomorrow and Friday, so it's moving along," he said.
Information and pictures on the project are on the town website and Facebook page to follow the progress.
The public safety building will house both the fire and police departments to help with outdated spaces and building code violations in the old facility.