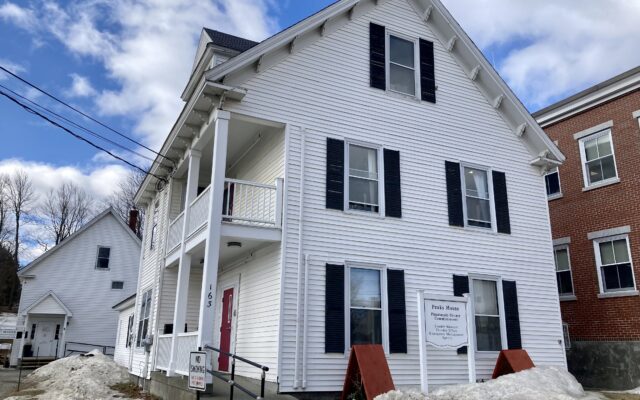 Peaks-House-032222
Observer photo/Valerie Royzman The Peaks House in Dover-Foxcroft.
County extends internet rebate program
DOVER-FOXCROFT — Piscataquis County residents lacking internet can still have some financial assistance in connecting. A county program providing a rebate on the expenses was extended for an additional three months during a Tuesday morning commissioners meeting.
Commissioners Chair Andy Torbett said the program was set up about a year prior after being proposed by former Chair and current Rep. James White, R-Guilford.
A rebate would reimburse up to 50 percent of costs to purchase internet hardware, such as modems and routers, for an amount up to $300. Commissioners had capped the program at $150,000 for 2022, with funds coming from the county's American Rescue Plan Act monies.
Residents should hold on to their internet equipment receipts and can contact the county office for more information on proceeding.
"We have not had, to my recollection, many, we have had 10," Torbett said.
Commissioner Wayne Erkkienen suggested offering the rebate program for three more months. A motion to this effect passed, specifying that the rebate would be for primary homes only (only secondary or vacation homes).
The program also states that the Piscataquis County residents cannot live in a place where high-speed internet is already available, such as downtown Dover-Foxcroft, for example, he said. Instead, the program is aimed at someone living in a location like Beaver Cove, which has one paved road.
In other business County Manager Mike Williams said 14 submissions have come in for a student logo contest.
Earlier this year Piscataquis County invited students of all ages to design a logo or seal that celebrates the region's heritage and beauty, which will be used on documents, online, and elsewhere. In addition to having the honor of creating a logo for the county, the winner will also receive a $100 prize courtesy of an anonymous benefactor who wanted to reward the winning student artist.
"I just need to know how you would like to have them judged," Williams said.
The plan will be for all the department heads to take a look at the contest submissions and use a ranking system to indicate their favorites. The results will be brought to the next commissioners meeting on Tuesday, May 16.
Other Maine counties have logos on county websites, but Piscataquis County has never had one of its own. Williams broached the idea of designing an official logo for Piscataquis County when he first took on the position, and it came up again more recently after Commissioner Paul Davis asked for business cards.
The commissioners also awarded the sheriff's office patrol building roof project to Swift Carpentry & Harvey's Management of Bangor for $12,500. This was the lowest of three bids received, with the others coming in at about $16,000 and $33,325 for the building in Guilford.
The building's roof began losing shingles last fall and the county's maintenance department redid one side, but more work needs to be done and this was put out to bid.
The Piscataquis Observer's Valerie Royzman contributed to this story.