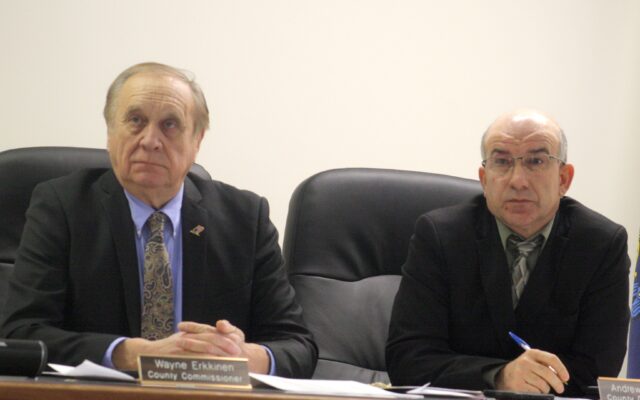 Commissioners
Bangor Daily News file photo Piscataquis County Commissioners Wayne Erkkinen, left, and Andrew Torbett appear during a  meeting in this file photo from January 2021.
Piscataquis County to seek bids for roofing project in Guilford
DOVER-FOXCROFT — Piscataquis County's commissioners agreed during a meeting Tuesday to seek bids for a roof repair project for the sheriff's office patrol building in Guilford.
The building's roof began losing shingles last fall and the county's maintenance department redid one side, but more work needs to be done, which will go out to bid, said Joshua York, head of the department.
Later in the meeting, York said the county's plowing contractor backed into the building and damaged the brick exterior. He is in the process of assessing the damage and working with the insurance agency to address the problem, he said.
The commissioners' meeting was quick, mostly because three discussions on the agenda were tabled due to Chairman Andrew Torbett's absence. They will discuss the county's hazard mitigation plan, radio communications overhaul and an HVAC project at the next meeting.
Here are other highlights from Tuesday's meeting:
The state fire marshal's office inspected the Piscataquis County Jail on Monday, though the report is not yet available, Jail Administrator Michelle Lacroix said.
Another inspection, from the Maine Department of Corrections, is coming up May 17. "There's a lot of work that goes into making sure everything is lined up exactly the way it has to be," Sheriff Robert Young said. "That's a big one for us because it's where we get our license from."
The Federal Emergency Management Agency has approved the county's hazard mitigation plan, which is used to help communities prevent and deal with natural and human-caused disasters. Jaeme Duggan, Piscataquis County's Emergency Management Agency director, will soon need commissioners to sign off on the 18-month project, she said. The county is required by federal and state emergency management agencies to update its plan every five years, and its current plan expires in March.
Medford recently received its automated external defibrillator to help those experiencing cardiac arrest. "It's a pretty big deal to have an AED out there because it's pretty far from everywhere else," Duggan said. She still has two more of the medical devices to deliver. Grant funding from the United States Department of Homeland Security covered the cost of the devices, which were backordered for months but have finally gone to police and fire departments around the county.