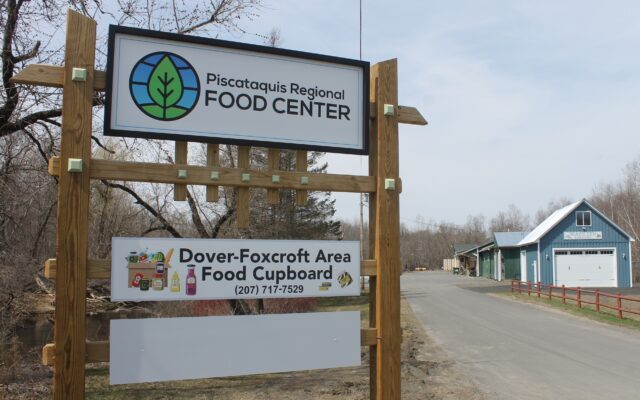 PO-foodcentersign-17-23
Observer photo/Stuart Hedstrom PISCATAQUIS REGIONAL FOOD CENTER — The Piscataquis Regional Food Center is located at 76 North Street in Dover-Foxcroft. Good Shepherd Food Bank items are brought to the Food Center and then distributed to residents and pantries across the region.
Piscataquis Regional Food Center helps those dealing with food insecurity
DOVER-FOXCROFT — Each month 440 households visit the Piscataquis Regional Food Center at 76 North Street, located in the former Agway building, to supplement their groceries. Twenty-two of these households report that the Food Center is their sole source of food.
Piscataquis Regional Food Center staff and about three dozen volunteers are working to help those across the region with food insecurity by providing healthy items directly to those stopping by (pre-packed boxes are available to those who prefer them), stocking area food pantries, making deliveries to home-bound people, and more. These efforts and future plans were shared during an open house on Saturday, April 22.
Executive Director Kelly Sirimoglu said the Piscataquis Regional Food Center supports 18 different food providers for more than 30 towns across Piscataquis, Penobscot, and Somerset counties. Much of the food comes into Dover-Foxcroft from the Good Shepherd Food Bank — nearly 1 million pounds annually — to be distributed across the region.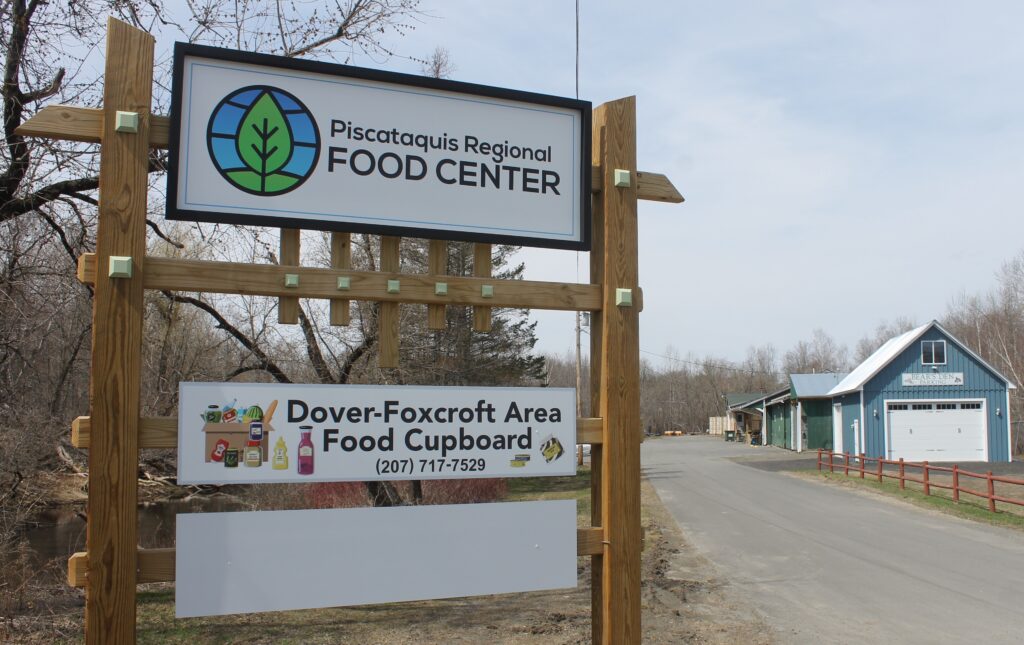 "The main floor will be creaking under the weight of all the food," Sirimoglu said, describing the scene after a delivery has been made. She said the Good Shepherd Food Bank will deliver a tractor trailer load of items to Dover-Foxcroft, and drivers will pick up the proportional shares for the pantries.
Previously Good Shepherd Food Bank made a dozen-plus different stops to individual community food outlets. "Now they make one trip, we are the last part of it," Sirimoglu said.
For those unable to stop by and pick and choose from the healthy items lining the shelves, delivery is available. Sirimoglu said volunteers bring food to residences in towns such as Medford, Monson, Greenville, and St. Albans., and these include pick-ups from summer senior farm share programs for the homebound.
"We have approximately 35 volunteers right now," Sirimoglu said. She said those giving their time do everything from sorting fresh produce to working in the market with shoppers, and making phone calls to arrange delivery.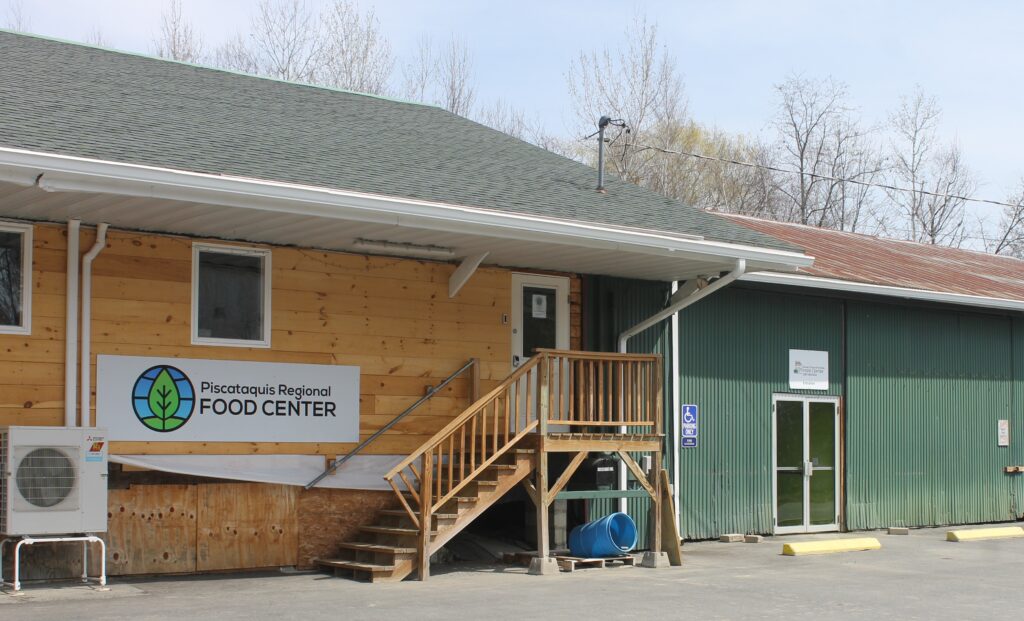 "It takes a lot of people to get this all done," the executive director said. Sirimoglu said staff help run the Food Center, which previously was all volunteer. A 10-member board of directors oversees the facility.
Late last year $92,000 in federal dollars was earmarked for the Piscataquis Regional Food Center to complete a community kitchen incubator, a space where food is prepared for residents and that will eventually offer cooking classes to the public. The project began in 2019 but was put on pause amid the COVID-19 pandemic.
Sirimoglu said seniors who enjoy butternut squash and turnips may not be able to physically cut the vegetables themselves. With the kitchen incubator the items can be processed to help avoid going to waste with the pieces being prepared before being taken out of the Food Center.
She said excess produce can be gleaned from area farms and preserved in the kitchen to last longer.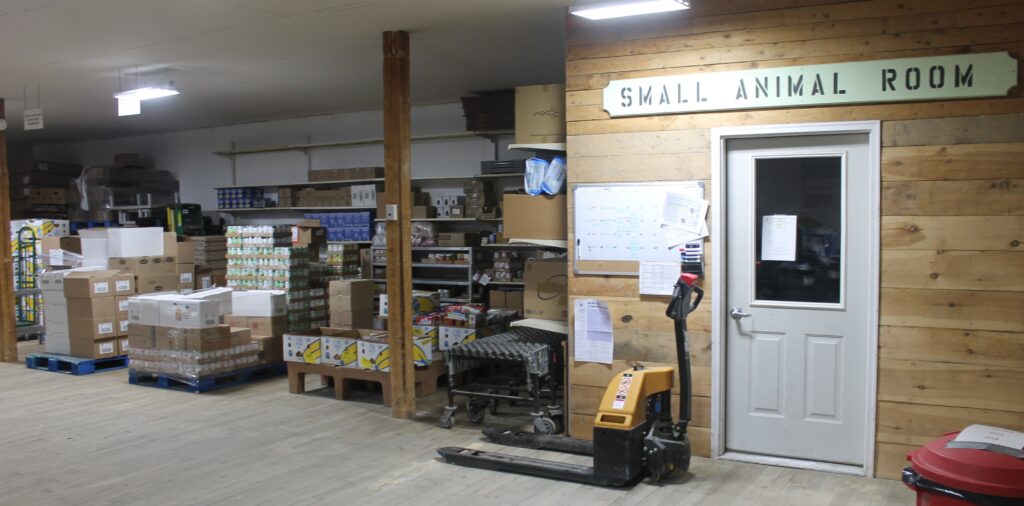 The hope is to have the kitchen up and running later in the year, and then classes related to cooking, preserving foods, and other topics will be offered there. Residents and farmers will be able to reserve space in the kitchen to access the equipment and expand their market, such as freezer storage for an abundance of crops.
Beyond the kitchen is the warehouse which is filled on Mondays post-Good Shepherd Food Bank delivery. Sirimoglu said the building was once a railway building and this part of the facility was where the grain came in. She said the Dover-Foxcroft Kiwanis Club will come in on Fridays and use the space for the organization's SeDoMoCha School backup program.
"Monday you can hardly walk in here with all the produce," Sirimoglu said, with signs hanging down the ceiling designated floor space for items to go to respective food pantries.
Custom-made freezer space is large enough to store pallets. The Food Center also has other walk-in freezer and refrigerator space.
Sirimoglu said a resource area is available for shoppers with snacks, recipes, and information on Food Center community partners and other social service programs in the area.
For more information on the Piscataquis Regional Food Center, please go to https://www.prfoodcenter.org/.