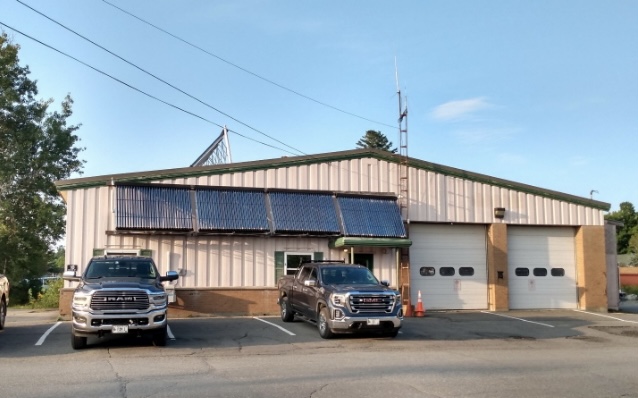 Greenville-fire-department
File photo courtesy of Greenville Public Safety Building Committee NEW FACILITY — The town of Greenville is working to replace the existing fire station with a new public safety building on the Minden Street property.
Cleanup starts at Greenville fire station
GREENVILLE — Before the Greenville fire station can be demolished and replaced with a new public safety building, the Minden Street structure needs to be cleared out.
"The second floor of the fire station has been emptied, many items have been moved to the storage containers over by the transfer station and some other things were trash," Town Manager Mike Roy told the select board during a March 15 meeting. He said the hope is the building will be fully emptied out by the end of the month.
At a select board meeting earlier this month Roy said the fire station should be brought down in early to mid-April. Fire Chief Sawyer Murray had begun labeling items to go in the dumpster.
Once the building has been torn down, Murray will work out of the police station across the street.
The fire station will be replaced by a public safety building to house the fire and police departments to help with current outdated spaces and building code violations. It will be built at the site of the fire station across the road from the town office.
Earlier this year the project received a $902,000 boost as part of federal appropriations bills.
Residents approved up to $5,150,000 in bonds at the annual town meeting in June to finance surveys, demolition, construction and related expenditures for the structure. The bond is expected to be issued in May, with plans to repay it over the course of 15 years, according to the warrant article.
Rather than rent a pair of metal storage containers, the town plans to purchase two of them. A 40-foot container would be for the fire department during the building construction and another 20-foot container for the police and town office. Afterwards the fire department could use one for training exercises.
Roy said that in recent weeks Code Enforcement Officer Ron Sarol has been working on four pending permits, three for single-family homes and one conditional use permit. "So springtime things start to move, that's great news for the area," Roy said.
Planning board Chairperson John Contreni said, "Since Jan. 1 six (single-family home permits) all together which is pretty exciting."
Contreni said the planning board has voted to move its meetings to be held right before select board meetings, at 5 p.m. on the first and third Wednesday of the month. "Our first meeting will be April 5 so we will see how that works," he said.
The planning board previously met at 5 o'clock the second and fourth Monday of the month.