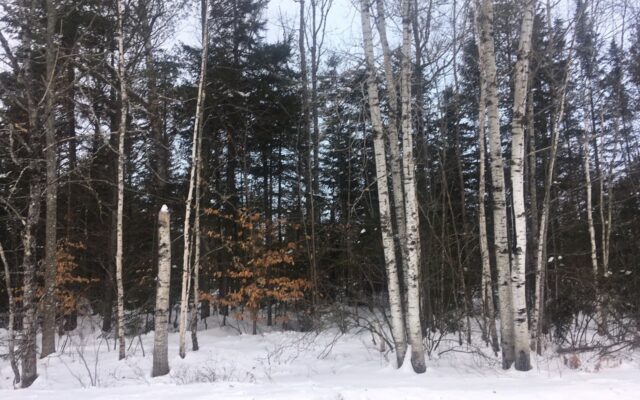 PO-sprucestreet-8-21
File photo courtesy of Shelagh Tablot HOUSING SITE -- Woodsy property on Spruce Street in Greenville that is being considered for middle-income housing by the Northern Forest Center
Nonprofit wants to build affordable housing in Greenville
GREENVILLE — The nonprofit group that purchased homes and turned them into rental units in Millinocket plans to build affordable housing in Greenville.
The Northern Forest Center is working to bring middle-income housing to the community as it has done in Millinocket and Lancaster, New Hampshire. The organization has joined with the town of Greenville, Northern Light CA Dean Hospital, Northern Light Health and the Moosehead Lake Regional Economic Development Corp. to develop a housing unit on about 5 acres on Spruce Street off Pritham Avenue to help remedy the housing issues near Moosehead Lake.
As in the rest of Maine, Greenville in recent years has been experiencing a lack of available middle-income housing. Many homes put on the market are quickly purchased to serve as Airbnbs or second homes, and lower-income housing has strict residency requirements that precludes young workers from living there.
A group from the Northern Forest Center is scheduled to be in Greenville Feb. 1-3 to meet with various organizations about the proposed housing development, including Planning Board Chair John Contreni and Code Enforcement Officer Ron Sarol on Feb. 3, Contreni said during a Monday Planning Board meeting.
It is just a preliminary meeting, then the group eventually will bring its proposal to the Planning Board for review, he said.
The construction schedule and the number of units to be built have not been determined.
"I think everyone agrees that workforce housing is needed in town," Contreni said.
During a meeting with the Select Board in August, Northern Forest Center Senior Program Director Mike Wilson said the center has been involved in downtown improvements such as facades, boardwalk redevelopment and Crafts Landing Park; lent assistance to Destination Moosehead Lake and the Moosehead Lake Regional Economic Development Corp.; and provided tourism innovation grants.
The Northern Forest Center purchased and renovated six properties that serve as 11 rental units for residents and business owners in Millinocket, and did a $3.2 million project in Lancaster, New Hampshire, that provided six two-bedroom downtown living spaces and commercial space for a food marketplace in a former pharmacy building, he said.
Unlike Millinocket and New Hampshire, Greenville does not have very many vacant properties, which is why the Northern Forest Center is interested in building middle-income, year-round housing.
In August, Northern Forest Center President Rob Riley told Greenville officials that in Millinocket, housing efforts were made to target a health care worker market, and a similar endeavor would be done in Greenville to help address a declining working population.
The organization plans to pay full property taxes because they feel it is important to be a full part of the community, Riley said.
The project likely will be a mix of housing types, including single-family homes and multi-unit yearly rentals such as for traveling health care workers, he said.
Water and sewer would need to be extended up Spruce Street, so funding will need to be found for these improvements.