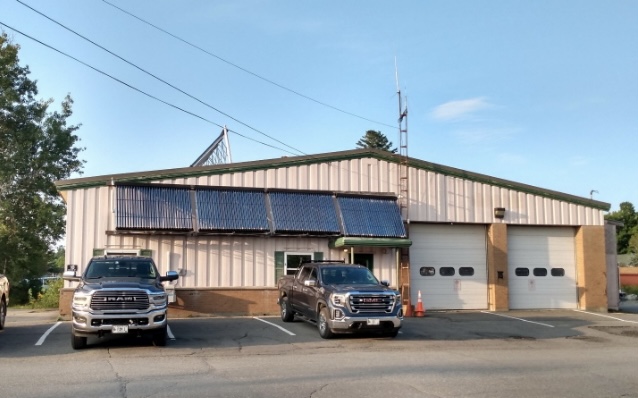 Greenville-fire-department
File photo courtesy of Greenville Public Safety Building Committee NEW FACILITY — The town of Greenville is working to replace the existing fire station with a new public safety building on the Minden Street property.
Federal funds to benefit several Greenville area projects
GREENVILLE — An omnibus funding package passed by Congress includes more than $308 million for nearly 200 projects across Maine, including several in Greenville.
Under federal appropriations bills, the Maine Department of Transportation will receive $16 million to rehabilitate Route 15 from Abbot to Greenville, the Moosehead Caring for Kids Foundation will have $1.5 million-plus for the Greenville Little School House Childcare, Pre-K and Community Center, and the Greenville Public Safety Building project will receive a $902,000 boost.
"So good stuff for Greenville, excellent stuff," Town Manager Mike Roy said during a select board meeting on Jan. 4.
According to an announcement on the funding, current conditions on Route 15 are rated poor to very poor by MEDOT and FHWA metrics. The rehabilitation project will restore the 20–plus miles of road from Abbot to Greenville to a state of good repair.
The Moosehead Caring for Kids Foundation will receive $1,561,000 for the Greenville Little School House Childcare, Pre-K and Community Center. The Moosehead Caring for Kids Foundation is partnering with the town and Greenville Consolidated School to build a facility to house a childcare center, pre-K classrooms, and a community recreation center.
Roy said he would be meeting with Superintendent Kelly MacFadyen and Moosehead Caring for Kids Foundation representatives to discuss the project, which will have its own committee.
The Greenville Public Safety Building will house the fire and police departments to help with current outdated spaces and building code violations. It will be built at the site of the fire station on Minden Street, across from the town office, and will include a community room for public use.
In other business, Police Chief Jim Carr provided the select board with a department update.
About $62,000 for four body cameras and dash cams for each cruiser have been purchased with ARPA funds, and Carr said all of the equipment has arrived. He said he would be meeting over Zoom with Motorola representatives for set up. In the middle of next month a Motorola employee is scheduled to be in town for setup, with the plan for everything to be up and running come March.
"It's going to be a big learning curve, I'm sure," Carr said.
He said the cameras will come on automatically, once the cruiser emergency lights have been switched on and when the officer steps out of the vehicle respectively.
"It protects us, it protects the town and it protects the people," the chief said.
"We all support this 100 percent," Select Chairperson Geno Murray said.
He has been looking at other police department body/dash cam policies to develop these for Greenville.
Carr also gave a rundown of various department statistics from 2022.
Last year the department responded to six overdoses, but officers carry NARCAN and has used it during several such calls.
In 2022 41 arrests were made, up from 37 in 2021 and 25 in 2020. These break down to 14 drunk drivers, an increase from six a year prior, but Carr mentioned officers were out more in the overnight hours compared to previous years, and 17 thefts. The chief said the number of thefts is down. Seven drug arrests were made along with several other arrests for various offenses.
The traffic offense count was 293 in 2022, which includes written warnings and tickets for speeding, not fully stopping, and others.
The department made 170 welfare checks in 2022, up from 146, and issued 21 concealed weapons permits.
Officers responded to vehicle accidents, with seven having personal injury and 35 needing agency assistance such as the Piscataquis County Sheriff's Office.
Moosehead Lake Region Economic Development Corporation Vice President Margarita Contreni said a workshop related to an opportunity to seek state funding from a $4.75 million pool earmarked for projects to help mitigate the effects of climate change is scheduled for 2-4 p.m. on Sunday, Jan. 15, at the Bartley Family's Event Center.
"The more people that are there, the better it looks," Contreni said.
In November town officials learned more from Eastern Maine Development Corporation Community Resilience Specialist Laurie Osher about efforts to provide integrated services that boost businesses, communities and individuals in its coverage area to accelerate economic development and strengthen the economy.
She gave an example of towns needing to buy more road salt as, with warmer temperatures, snow will melt and then refreeze into ice instead of remaining as the light, fluffy substance that first fell. Funds are available that can be used toward the additional surface treatment substance.
She said $4.75 million is part of the "Maine Won't Wait" state action program to address climate change, and there are no matching requirements for awarded community action grants.
Funding categories include engaging and educating community members, weatherizing existing buildings, supporting sustainable construction, protecting public health, installing heat pumps and LED lighting, protecting and conserving land and water, supporting and installing renewable energy projects and managing flood risks. Municipalities can apply for grants every six months.
In order to apply, towns must first join EMDC in a community resilience partnership. To do this, a workshop will help determine priorities, via survey information. Community assessments will be determined, and the town must also pass a resolution declaring interest and agreeing to become a partnership member.
Towns can receive additional funding, for a total of up to $125,000, through collaboration with other communities. Osher has met with the Shirley Select Board and ideally projects in the Moosehead Lake region would benefit Greenville, Shirley, Beaver Cove and nearby Unorganized Territories. Applications are due by late March.
Roy said the Jan 15 meeting would be a first step in the process, with the select board potentially passing a resolution at a future meeting.