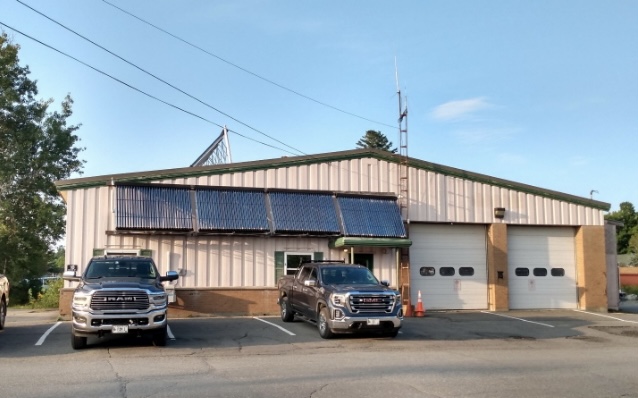 Greenville-fire-department
Photo courtesy of Greenville Public Safety Building Committee AGING FACILITY The Greenville Fire Department is struggling with outdated and inefficient spaces and code violations. Solar panels on the side of the fire station are not functioning properly and have broken tubes, according to the fire department.
Greenville public safety gifted pair of jet skis
GREENVILLE — An area resident donated a pair of 2012 Sea-Doo jet skis to Greenville for the police and fire departments to use for emergency calls on Moosehead Lake and other local waterways.
Town Manager Mike Roy told the select board on Nov. 2 that the jet skis given by David Brewster from neighboring Beaver Cove arrived the week before.
"He donated them for meaningful assistance to the town's emergency personnel and first responders," Roy said.
The jet skis are on the town insurance and have been winterized to hit the water in the spring.
"They're in really good shape. They have less than 100 combined hours on both," Roy said, saying Brewster also gave a trailer.
During a September meeting, Fire Chief Sawyer Murray spoke about the need for a boat after a structure on a lake island caught fire and the Maine Warden Service needed to shuttle firefighters from the mainland.
The jet skis will help but the town is still looking at grants and fundraising to obtain a boat. At times, the vehicle could provide quicker transportation to wildfires compared to road travel.
In other business, Roy shared a notice from Waste Management with the board about price increases. Per state law the cost of municipal solid waste disposal has now gone up $1 per ton and demolition waste will rise up $3 a ton starting Jan. 1, 2023.
He said at the end of September Greenville had spent nearly $40,000 on tipping fees. "Tipping is basically just getting rid of trash at the facilities," the town manager said, mentioning that the amount of waste has gone down with the conclusion of the summer season.
Greenville's five-year contract with Waste Management expires in March and town officials will discuss the next agreement before then. Roy said two proposals have already come in.
"Just like last year I'm concerned with the price of fuel and how our elderly and less fortunate are going to be able to handle the burden this winter," Selectperson Richard Peat said. "We would accept donations for our fuel account."
"I just think it's going to be a hard winter for a lot of folks," he said, saying the fund was able to help out those in need a year ago. "Hopefully the more fortunate folks can help the less fortunate folks."
Roy said he has received some calls from residents inquiring about receiving heating assistance. So far no donations have come in.