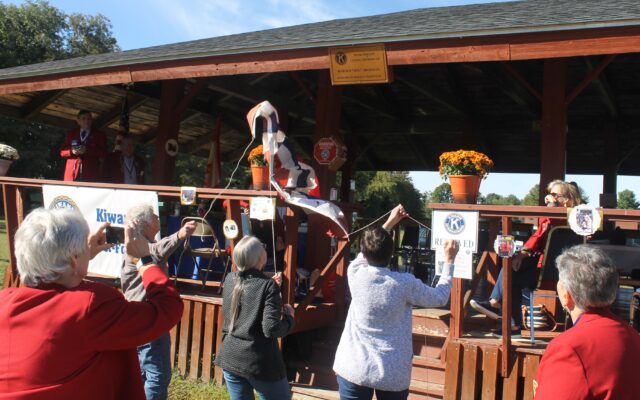 PO-doc-38-22
Observer photo/Stuart Hedstrom IN MEMORY OF — Family members of the late Harold "Doc" Sherman pull down a banner to reveal a memorial plaque for the 65-year member of the Kiwanis Club of Dover-Foxcroft at the Kiwanis Park Gazebo on Saturday afternoon. The Dover-Foxcroft Kiwanis Charities constructed a handicap ramp at the gazebo to honor "Doc" Sherman, who died in November at age 91. "Doc" Sherman was also a beloved veterinarian for generations of animals and their owners, practicing until his mid-80s.
Kiwanis Park Gazebo honors 65-year member
DOVER-FOXCROFT — For six and a half decades, Harold "Doc" Sherman was a stalwart of the Kiwanis Club of Dover-Foxcroft.
He was known for his constant presence at club events, "interclubbing" or visiting other Kiwanis organizations functions in the local district and beyond, his great persistence in selling raffle tickets for Kiwanis functions and encouraging other members to do likewise, and being a friend who provided all those who knew him with many memories.
The Dover-Foxcroft Kiwanis Charities constructed a handicap ramp at the Gazebo in Kiwanis Park to honor "Doc" Sherman, who died in November 2021 at age 91. "Doc" Sherman was also a beloved veterinarian for generations of animals and their owners, practicing until his mid-80s.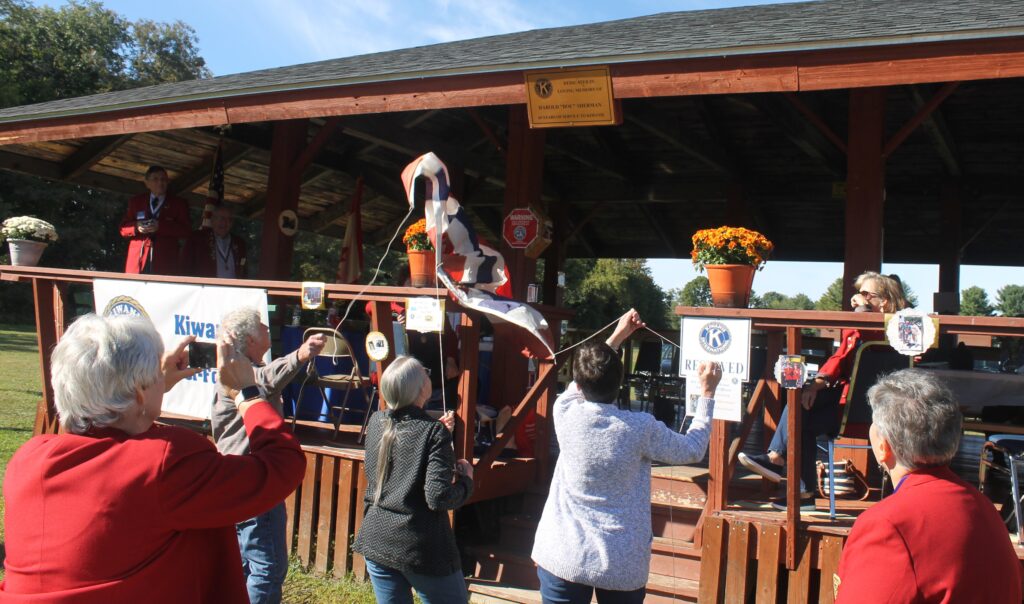 The refurbished gazebo was dedicated by the Kiwanis Club of Dover-Foxcroft to "Doc" Sherman during a mid-afternoon ceremony on Saturday.
"There is no way of knowing how many kids he helped around with his donations, his work, his selling of thousands and thousands and thousands of raffle tickets and his constant presence at every Kiwanis event and the food we enjoyed with him," Pat Hinkley said during the opening prayer.
Sherman's wife Louise, who was joined on Saturday by their son Will Sherman, daughter Elizabeth Perkins and her husband David, thanked everyone for attending.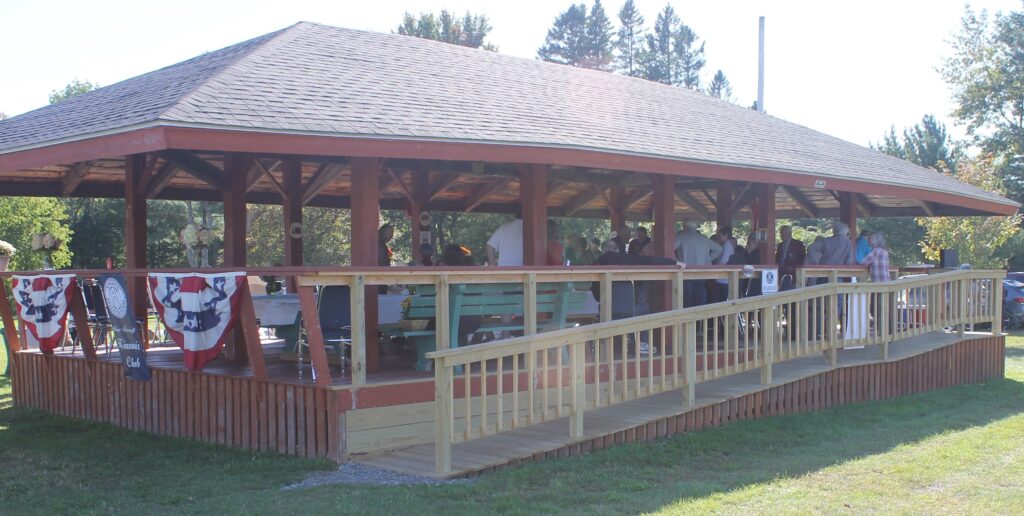 "I think he would have been humbled by this and delighted and I think he would have thought this was an appropriate project," she said. "His big Kiwanis family meant a lot to him, the breakfasts, meetings and the interclubs, the projects they worked on. The fellowship, the friendship, it was a big part of his life."
Tom Gerrish said he had many great conversations with Sherman. "I know most of us remember Doc for all the tickets he sold and all the interclubs he attended," Gerrish said, but another side not seen as often was his compassion for people.
Gerrish said seven years ago he was at Eastern Maine Medical Center for a triple bypass. "Who was the first person to visit me in the hospital but Doc," he said. Sherman also visited the Gerrish home several times a week during Gerrish's recuperation.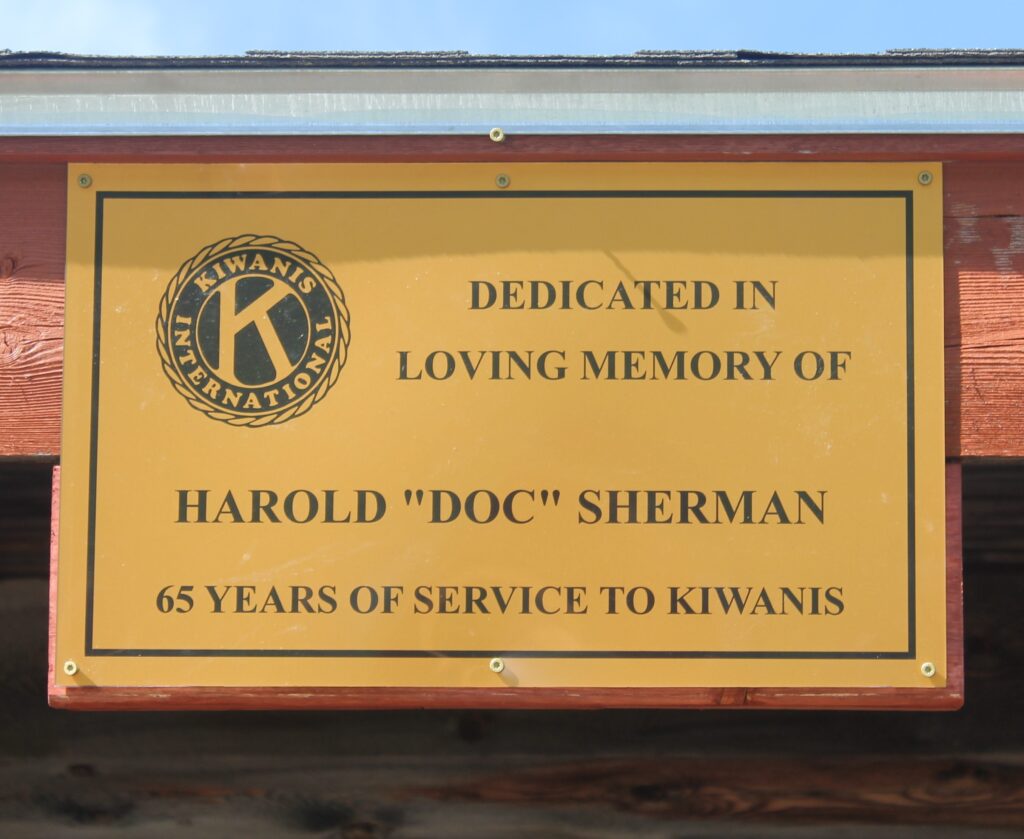 "Doc was a real pusher on tickets that's for sure," Brenda Kelley said in reiterating a point many of the days' speakers made. "He would make sure that I had a handful to give to my husband to sell at JSI and he would make sure that I had two books and he would call me to say 'how are you doing on tickets? You have got to sell those tickets.'"
"Doc was involved with this club in every aspect that you can imagine," Brian Woodworth said. "He loved it here at the park and he would be here at the cleanup days when everyone would be raking and hauling leaves," even into his late 80s.
Woodworth said one day at the park he noticed that Sherman had a gash on his arm, which was bleeding and covered with a rag. Woodworth said he pointed this out but Sherman said he had some old horse tranquilizer in his car and when he was working at the park he would give himself a shot and sew the wound up.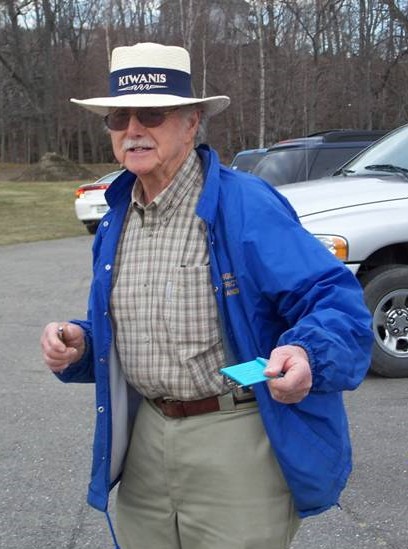 "I busted up laughing but he was serious," Woodworth said.
"I have to tell you Doc was quite an inspiration and certainly a role model and our yard stick here," Woodworth said. "We will surely miss him."
After Sen. Paul Davis, R-Sangerville presented a Legislative Sentiment in Sherman's honor to Louise, Dennis Ruksznis, DVM, told the audience he knew Sherman for more than 60 years as he served as mentor and friend, employer and eventually partner at their Route 7 practice.
Dr. Ruksznis said Sherman grew up in Islands Falls and attended the University of Maine and Ontario Veterinary College. After a year working in Bangor, Sherman came to Dover-Foxcroft in 1956 (shortly before joining Kiwanis) and took over a practice with a little hospital on East Main Street before later purchasing a farm that today is Foxcroft Veterinary Services.
"Harold did everything," Dr. Ruksznis said. "He'd see snakes, he'd see guinea pigs, cats, dogs, cows. He was truly a mixed animal veterinarian and nowadays we would all truly have trouble keeping up with him. He was a solo practitioner and I know for a fact there was no such thing as a Christmas or a Sunday off. He got calls constantly and how the man did it, basically by himself, from 1956 until I joined hin in 1973. I don't think I ever heard the man say 'no.'"
Dr. Ruksznis said when he was a veterinary student Sherman invited him to go on a call. He had a station wagon completely loaded up with bottles, tools, ropes, and anything he could possibly need on site. Dr. Ruksznis said Sherman was not a real cautious driver and this time he took a shortcut over a washed out dirt road.
Looking over at his passenger clutching what he could with white knuckles, Sherman said, "'I'm sorry but my time is more valuable than my car."
"Anybody that rode with Harold when he was younger, it was a wild ride," Dr. Ruksznis said.
Bob Moore said he used to hunt raccoons at night. Whenever a dog got stuck with porcupine quills, Moore said you could call Sherman. "It didn't make a difference if it was 9 o'clock in the evening or 2 o'clock in the morning. He'd say 'meet me at the shop' and it never failed," Moore said.
Rita Page said she started traveling with Sherman in 2008. They cruised annually until the pandemic and twice visited Paris, traveled to Switzerland, Toronto, Vancouver, Alaska, Las Vegas, New Orleans and the final trip being to Disney World.
"He opened up the world to me and I miss him quite a bit," Page said.
Woodworth pointed out the collection of trophies for interclub up front, and said Sherman was one who got everyone together to visit other Kiwanis clubs.
"Every one of those trophies up there, they are directly from 'Doc' Sherman," Woodworth said. "He is the guy that made that possible for us as a club to receive those trophies. We are totally indebted to him for making that happen for our club."
Sherman's family then pulled the strings to drop the banner and reveal a memorial plaque recognizing his 65 years of service to Kiwanis.