DocRaffleTickets4242009 FEATURED
Harold "Doc" Sherman
Kiwanis Park Gazebo to memorialize 'Doc' Sherman
DOVER-FOXCROFT — The Kiwanis Club of Dover-Foxcroft will honor the club's dear friend and 65-year member the late Harold "Doc" Sherman with the dedication of the Kiwanis Park Gazebo and ramp at 2:30 p.m. on Saturday, Sept. 17. The park is located behind the Piscataquis Regional YMCA on Park Street.
Light refreshments will be served, because what's an event for "Doc" Sherman without food?
The Dover-Foxcroft Kiwanis Charities constructed a handicap ramp at the Gazebo in Kiwanis Park to honor Sherman, who passed away in November 2021 at age 91. "Doc" Sherman was also a beloved veterinarian for generations of animals and their owners.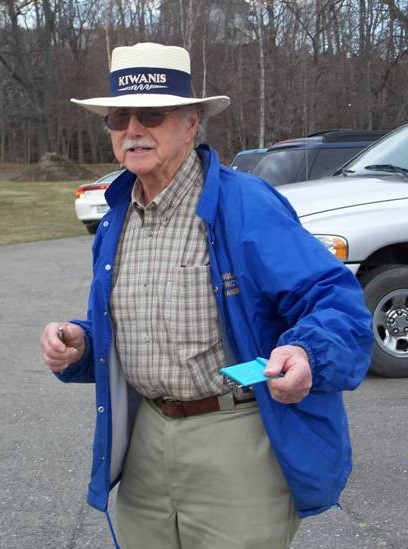 The construction was accomplished with the assistance of Division 2 Kiwanis Clubs which include Dexter Sunrise, Greenville-Moosehead, Three Rivers of Milo-Brownville, Bangor Breakfast, Orono-Old Town, Hampden, and Brewer.
"Doc" Sherman was a 65-year member of the Kiwanis of Dover-Foxcroft and frequent visitor to all of the Division 2 Kiwanis Clubs – so much so that he became an honorary member in many of the clubs. He also traveled extensively to New England & Bermuda Kiwanis meetings as well as to Kiwanis International Conventions. He was known throughout Kiwanis, all over, as "Mr. Kiwanis" for his devotion to the Kiwanis mission and ideals. Within Division 2 he was known as the "Interclubbing King" where he accumulated many awards, plaques, and trophies.
He is greatly missed by all and in the late spring Division 2 came together as a group at Kiwanis Park to begin the construction of the ramp.
Many thanks to all who have donated and supported the Dover-Foxcroft Kiwanis Charities. You are appreciated more than you can know.