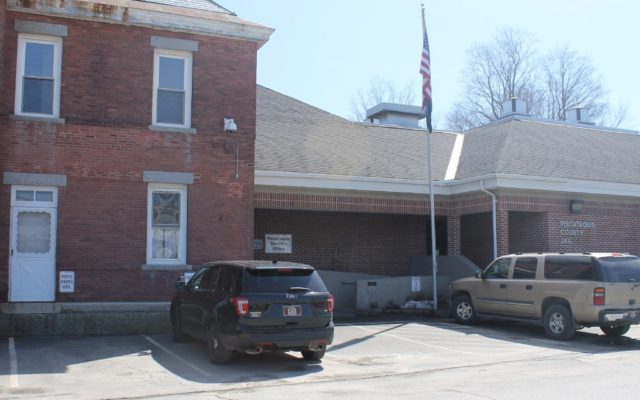 AX017_033D_9
The Piscataquis County Sheriff's Office in Dover-Foxcroft
Piscataquis sheriff's office to hire new patrol officer to cover Greenville
DOVER-FOXCROFT — Piscataquis County plans to bring a 12-year veteran of the New York Police Department on board at the sheriff's office.
William Plume will work as a patrol officer and investigator in Greenville.
The new hire helps fill gaps at the sheriff's office and Piscataquis County Jail. Last month, commissioners approved the promotions of Deputy Guy Dow to patrol sergeant and Michelle Lacroix to jail administrator following recent retirements.
Plume, who has property in Greenville Junction and operates a cabin rental business locally, will move to the community to start his new job, Chief Deputy Todd Lyford told county commissioners Tuesday, Aug. 16.
"He [Plume] currently works as a detective in [New York Police Department's] emergency service unit," he said.
The sheriff's office has made a conditional offer to Plume and plans to hire him full time.
Commissioners approved the office's recommendation to hire Plume, among other sheriff's office items, including a warrant for a 2022 Ford Expedition worth $41,982.70.
Sheriff Robert Young also told commissioners about federal assistance available to Piscataquis County from the United States Department of Agriculture. The department would finance 55 percent of the cost for two police vehicles to be used for rural patrol, he said.
The department couldn't help Piscataquis with its ongoing project to improve radio communications among emergency personnel, but the office in Bangor called Young three weeks ago to notify him about dollars it wants to spend locally.
The cost for two vehicles totals $83,965, and the Department of Agriculture would cover more than $46,000, Young said.
"It's an extraordinary opportunity to get us some vehicles that we're going to need anyway," he said. "The timing is pretty good because the Dodge that we were going to keep for a spare needs $3,000 in repairs and we had to take our spare cruiser off the road."
Young plans to use funds from the sheriff's office's vehicle account and pull money from other accounts to come up with the more than $37,000 that the county will have to cover, he said.
The sheriff wants to move fast while two vehicles are available in Massachusetts. Police vehicles are becoming harder to acquire these days, he said.
Young never thought to contact the Department of Agriculture for cruiser funding, he said. This isn't typical for government entities, but the department doesn't want extra dollars to be used at the national level and instead is finding ways to disperse it locally, County Manager Michael Williams said.
"Just to be clear, the government doesn't make money," said James White, chairman of the commissioners. "The government takes money from taxpayers. There is no extra money. It was misappropriated money that was floating around that they distributed, and we got some of it."
The county shouldn't feel so good about receiving the funding, but it's better than it going to waste, he said.
Commissioners agreed to move forward with the sheriff's proposal.
Their next meeting is scheduled for 8:30 a.m. Sept. 6, at 163 East Main St. in Dover-Foxcroft.