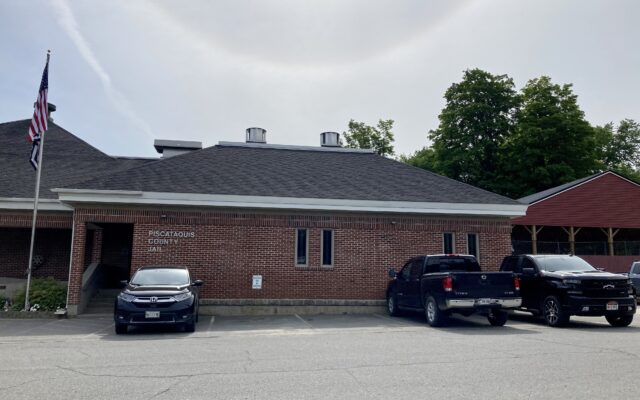 Piscataquis-County-Jail-070522
Observer photo/Valerie Royzman The Piscataquis County Jail in Dover-Foxcroft.
Piscataquis County selects new jail administrator and deputy sergeant
DOVER-FOXCROFT, Maine — Piscataquis County plans to promote two of its employees to fill the roles of jail administrator and patrol sergeant following recent retirements.
Sheriff Robert Young recommended Deputy Guy Dow as the new patrol sergeant come Aug. 1, he told Piscataquis County Commissioners at a meeting Tuesday. Michelle Lacroix, who serves as the jail's night supervisor, should step into the jail administrator role, he said.
The sheriff's office announced earlier this year that Sgt. Mike Gould and Jail Administrator Maria Landry are retiring, leaving major holes that needed to be filled quickly. Young is also looking to hire a person with medical training to distribute medications to jail inmates, a role that commissioners approved earlier this month. The office is also searching for two patrol officers.
"We had an interview board and had all of the full-time deputies apply for the [patrol sergeant] position," Young said. "They all have strengths, and I'm confident they all could do that job. They rated Guy Dow as the No. 1 candidate."
Seniority was a factor that needed to be considered as well, and Dow came out on top, he said.
Five people applied for the jail administrator position, and two later withdrew, Young said.
Lacroix has worked at the jail in Dover-Foxcroft for three years and came to Piscataquis from the Maine Capitol Police, he said. Before that, she worked at two prisons in Arizona and Florida, he said.
"I think she's very capable of doing the job," he said. "She has some management experience as a supervisor and was a supervisor for a large security firm."
The sheriff's office will require that Lacroix go through the National institute of Corrections to prepare for the position.
At Tuesday's meeting, Young also announced plans to hire James Reardon and Edwin Smith as full-time corrections officers to fill vacancies.
Reardon works part time for the Piscataquis County Jail and as a judicial marshal in Bangor, Chief Deputy Todd Lyford said. Smith has previous experience at the Charleston Correctional Facility, he said.
Commissioners unanimously approved the four hires and promotions.