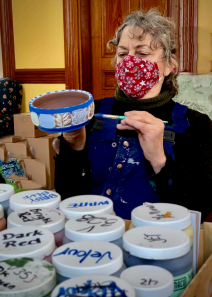 PO-scoopstock-29-22
Contributed photo SCOOPSTOCK — Nancy Lappert decorated and glazed many of the bowls for this year's Scoopstock.
Scoopstock returns Aug. 14
SANGERVILLE — It's time for everyone's favorite ice cream sundae of the summer! On Sunday, Aug. 14 from 11 a.m. to 2 p.m., the Unitarian Universalist Church of Sangerville & Dover-Foxcroft will be hosting its annual Scoopstock. For months, volunteers have thrown, glazed, and fired beautiful bowls, and now one could be yours, complete with a delicious ice cream sundae.
The fundraiser began five years ago as "Soupstock," but the pandemic moved that April dinner to the current August event that could be held outside. So the soup gave way to an ice cream scoop, but proceeds still benefit the food cupboard which has been serving 120 visitors each month, up from 80 just last year. Allison Smith will once again co-ordinate live music, which turns the event into a festival. Local businesses and artists have also donated items to a silent auction, which also benefits the food cupboard.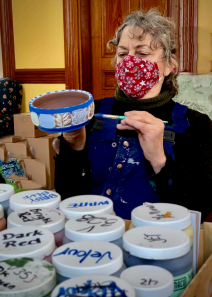 If you'd like to contribute to the silent auction, contact Patti Dowse at 207-277-5335. Also, Dusty Dowse will be baking artisan bread. Pick up a loaf to enjoy with that first, beautiful bowl of soup.
Two hundred bowls — each a work of art — are ready for the event. To purchase a ticket for your bowl, call Carol Ippoliti at 207-745-9682. Tickets are $20, but walk-in guests will be able to purchase a sundae for $5, or just come shop the items at the silent auction and place a bid. You'll go home with a beautiful piece of pottery, and your donation will help to fill someone's plate later on in the year. See you there!