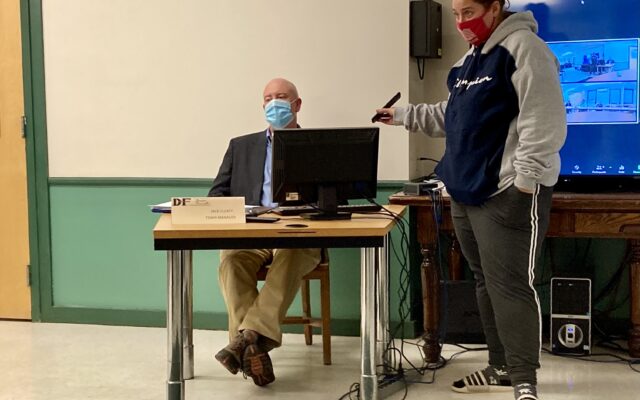 Dover-Foxcroft-Select-Board-meeting-112221
Dover-Foxcroft Town Manager Jack Clukey listens as Paul Shea, the owner of the 72 Lincoln St. property, speaks through Peggy Gilbert's cellphone during the Select Board meeting Nov. 22, 2021, at the Dover-Foxcroft Municipal Building. Gilbert showed up to speak on Shea's behalf because he is incarcerated. (Valerie Royzman | BDN)
Dover-Foxcroft Select Board asks for detailed plan to mend Lincoln Street property
DOVER-FOXCROFT — The incarcerated owner of the property at 72 Lincoln St. has until the next Dover-Foxcroft Select Board meeting Dec. 13 to weatherproof the property as winter approaches and provide a detailed plan of action to remedy remaining problems, members agreed at the meeting Monday.
The Select Board also decided to send owner Paul Shea an authorization form. It would request that Peggy Gilbert — who was in attendance on his behalf — be given permission to represent him and First Choice Property Management and that Shea allow the code enforcement officer to make another visit before Dec. 13 to view the structure's interior.
The 72 Lincoln St. structure has been an ongoing issue for the Select Board. Members issued a dangerous building order for the unoccupied house and attached barn in March, then later gave the owner until Nov. 1 to make significant improvements. On Monday, the Select Board wrestled over how best to proceed, considering Shea's incarceration and inability to work on the property on his own, the financial ramifications and the reality of getting the property in good shape.
"72 Lincoln St. has been under construction since the purchase of it," said Jessie Jackson, who spoke in place of Gilbert because she prefers not to speak in public due to a medical condition. "The dangerous and hazardous materials have been removed. The back barn was the concern through the town — that's been removed. … The property has been cleaned up severely."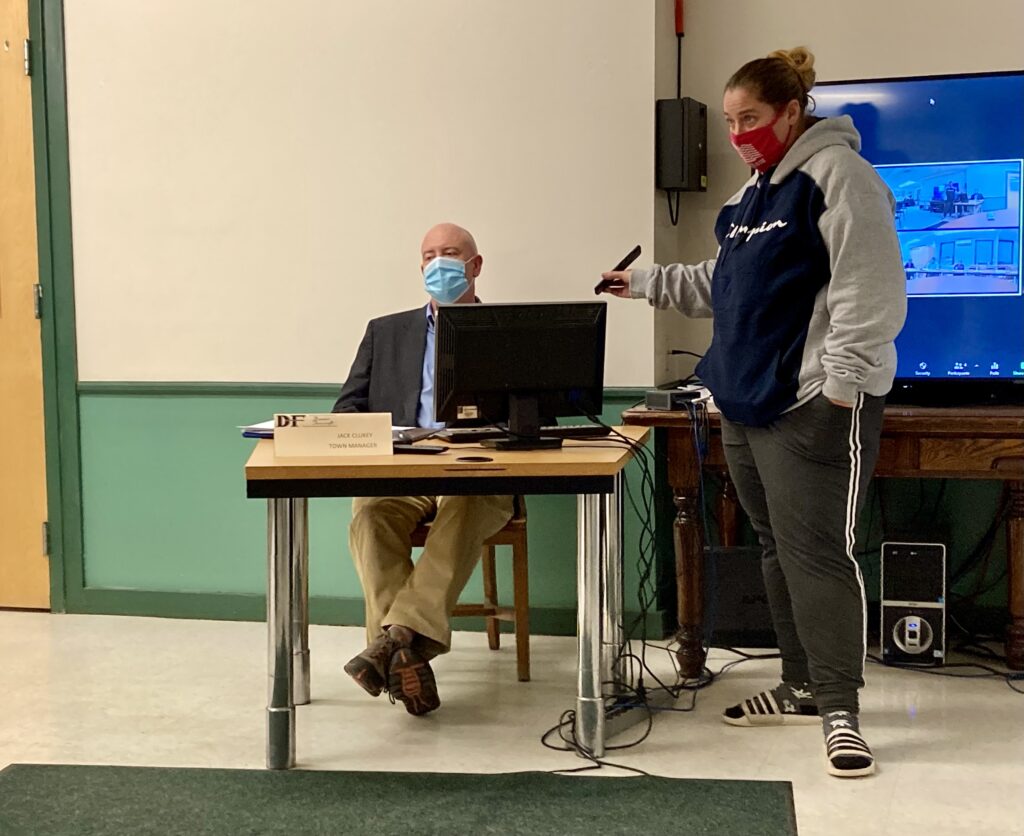 A contractor they were working with walked away with $30,000 and more time is needed to finish the property, Jackson said.
When the dangerous building order was issued, it required the owner at the time, Alberta Lunchetti of Little Falls, New Jersey, to remove all structures by June 30, Town Manager Jack Clukey said. In late April, three parties — Lunchetti (and her grandson Nick Bartley, who had power of attorney), the town and Shea, who was the prospective owner — entered a consent agreement that said the town would not take steps to demolish the structure until Nov. 1 to give Shea more time to make repairs.
"Nov. 1 has come and gone," Clukey said. "The specific improvements that were in that agreement have not been fulfilled."
Brian Gaudet, code enforcement officer, and Ken Salvucci, building inspector, visited the property Nov. 2 and provided the Select Board a progress report at the last meeting. Nobody was at the property, so they did not inspect the interior.
Select Board members asked a variety of questions about the safety of the structure, Shea's ability to correspond with them and current areas of concern, such as "beams hanging out in midair," which Chairman Elwood Edgerly mentioned.
"Money has been tight, but we do want to get the whole structure closed up before snowfall," Jackson said. "We are planning on starting full construction on it again come spring. … The inside has been gutted right down to the studs. There's new electrical throughout the house. There's the new front deck. It needs insulation, sheetrock and windows."
Select Board member Barry Hutchins again recused himself from the conversation because he lives next door to the property. He spoke as a town resident and said progress on the structure stopped in mid-July.
"If the board is going to grant again another continuance to a 30-plus year project, at what point do other residents get to say, 'I'm just going to prolong my project for 40 years,' and on and on and on," he said. "'When does it end?' is my question in fairness to other residents."
Clukey spoke with the town attorney and gathered that the Select Board can proceed with arranging for demolition of the structure, if they choose, Clukey said. They could also seek a new arrangement and timeline.
"If Mr. Shea is really serious about any plan, we need dates, a budget, how you're going to make that budget, who's going to be the contractor and no pie in the sky, which I think this has been since the first conversation," Select Board member Gail D'Agostino said.
During the lengthy discussion, Gilbert called Shea and put him on speaker. He authorized Gilbert to act on his behalf when it comes to making decisions about the property. Gilbert is working on acquiring power of attorney, she said.
The Select Board also approved a shift incentive policy for public works employees, effective Nov. 23. The policy would provide an additional $1 per hour when an employee's regular day shift is adjusted to begin earlier, between midnight and 3:30 a.m. This usually happens during snow removal in the winter.
The Select Board may revisit this and address employees' salaries in the new budget year.
"Whenever it snows, they have to come in usually at 2:30 in the morning, and they work for eight hours," Select Board Chairman Elwood Edgerly said. "They have to make sure they stay around for the weekend. If it's going to snow, they can't take time off. … I'm just trying to do something to compensate for that."
During the town manager's report, Clukey highlighted Foxcroft Academy's Key Club, a student-led group focused on community service and developing leadership skills, for its volunteer work Oct. 24.
Members picked up trash around town, including in the parking lot behind Pat's Pizza, River Street to Vaughn Road, Browns Mill Park, Vaughn Road Cemetery, Rural Grove, Gray Yard, Dwelley Avenue near Northern Light Mayo Hospital and Kiwanis Park.
Absentee ballots are available to residents of Charleston, Dover-Foxcroft, Monson and Sebec who wish to vote in the Regional School Unit 68 referendum through Dec. 2. People can request an absentee ballot in person at the town office, in writing or by calling the office at 207-564-3318, ext. 1010.
An absentee ballot application is available on the town office's website. Residents should print, complete and bring the form to the town office or mail it to 48 Morton Ave. Suite A, Dover-Foxcroft, Maine, 04426.
Polls are open for in-person voting for the central office building from 4 to 8 p.m. Dec. 7, at the Dover-Foxcroft Municipal Building gymnasium.