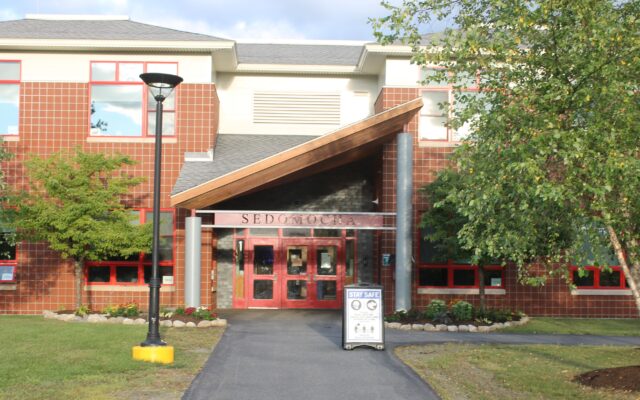 PO-RSU68-36-21
Observer photo/Stuart Hedstrom STARTING THE YEAR OFF -- Students at the SeDoMoCha School in Dover-Foxcroft and across town at Foxcroft Academy have started classes for the 2021-22 academic year.
RSU 68 residents to vote on central office building
DOVER-FOXCROFT — Residents of the four RSU 68 communities will vote via referendum on Tuesday, Dec. 7, on the construction of a new central office building to be located on the SeDoMoCha School campus.
Subject to approval of American Rescue Plan Elementary and Secondary School Emergency Relief federal grant funding, those living in Charleston, Dover-Foxcroft, Monson and Sebec will be asked if they favor authorizing the RSU 68 School Board to construct and equip a new 2,000-square-foot central office building on school grounds.
Voters would be favoring appropriating up to $550,000 for the project, which is anticipated to be paid entirely by federal grant monies.
The current administrative offices on the second floor of SeDoMoCha Elementary School would be converted into two new classrooms, a sensory room and special education offices.
During a Nov. 2 school board meeting, Superintendent Stacy Shorey said with the proposed building being more than 600 square feet, the district attorney recommended a public hearing and referendum on the project. She said the information session is scheduled for 6 p.m. on Monday, Nov. 29, a week before the vote.
Shorey said she has started meeting with the four selectboards to inform them of the proposed new central office. She spoke with Charleston's earlier in the week and is scheduled to address the Dover-Foxcroft Selectboard on Monday, Nov. 8. Shorey will meet with officials in Monson and Sebec later in the month.
"If all goes well the board would meet on the 14th and vote," she said. The RSU 68 directors will meet a week later than normal next month on Tuesday, Dec. 14, to act on the referendum if the question passes.
In other business, SeDoMoCha Principal Adam Gudroe provided an update on the complete fall middle school athletics season and previewed plans for basketball and cheering.
He provided the records of four teams, saying boys soccer finished with a record of 5-4-1 and reached the Penquis League championship — falling 4-0 to Central Middle School of Corinth. The Eagles girls soccer team had a record of 5-3-1 and lost 1-0 to Central in the quarterfinals. Field hockey went 3-7 but reached the semifinals, being defeated 2-0 by Piscataquis Community Middle School.
Gudroe said the football team won all seven of its games, and outscored opponents by a margin of 262 to 8.
SeDoMoCha also offered cross country and golf. Cross country did not have enough runners to compete for team honors, but the golf squad came in second in the Penquis League.
The principal said league athletic directors have met to discuss what the winter season may look like with COVID-19 health and safety protocols in place.
Gudroe said as of now the plan is to have A and B teams for boys and girls basketball and a cheering squad (wrestling takes place in the new year). "Our current plan is masking for all, including athletes," he said.
In the Penquis League only fans of the home teams will be permitted in the gymnasium. SeDoMoCha will stream games on the school YouTube channel. Gudroe said players will be allowed to have two adults plus siblings watch them in the gym. He also said the Eagle cheering squad will only perform at home contests.
"We will go with whatever our safety guidelines are for that moment in time in season," Gudroe said.
Winter coaches include Max Andrews for boys A basketball, Diane Stephen for girls A basketball, and Lisa Pangburn to lead the cheering team.
The principal also said that "Students and Staff in the Spotlight" returned for the 2021-22 academy year last month. The program celebrates pupils from kindergarten to eighth grade as well as staff who have been determined to best demonstrate a specific attribute or characteristic chosen for the timeframe from the Habits of Mind.
Gudroe said October's Students and Staff in the Spotlight theme was fostering a sense of belonging. The ceremony has been posted on the school YouTube channel.
For November, the theme is demonstrating resilience. "We are excited to bring that back and celebrate each month," he said.