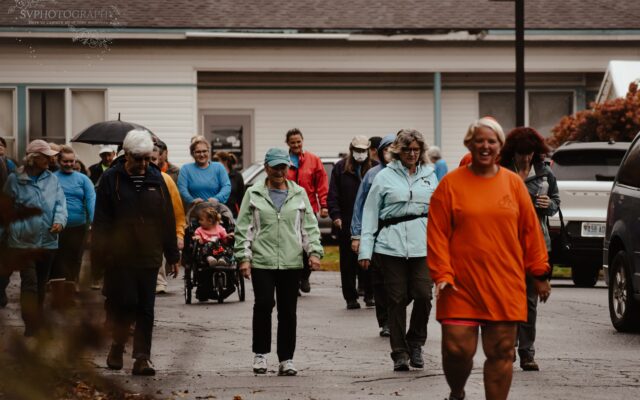 PO-cyclathon-44-21
Photo courtesy of Sviguephotography LOOPS FOR COMMUNITY FITNESS -- Walkers, runners and bikers covered well over 500 miles for Friends of Community Fitness during the organization's inaugural Cyc-la-thon on the morning of Oct. 16 in Guilford. The event raised $29,300 for the nonprofit fitness and community center.
Inaugural Cyc-la-thon raises $29,300 for Community Fitness
GUILFORD — More than 100 participants biked, walked and ran together to cover more than 500 combined miles of loops, all to benefit Friends of Community Fitness, on Saturday, Oct. 16.
A week-plus after the event Friends of Community Fitness Executive Director Britney Gallagher said the organization's inaugural Cyc-la-thon raised $29,300, including more than $10,000 from pledges alone. About 60 sponsors also supported the event.
She said steady rain held off for the 100 participants until the event was over in the early afternoon. "We had over 80 people registered and then we also had probably 15 or so kids in there as well," Gallagher said.
Those traveling on bike or foot covered a combined 264 2-mile loops, earning money via pledges for each rotation to benefit the nonprofit fitness and community center at 31 High St.
The route left Community Fitness to go right on to High Street. From there a slight uphill led to Pine Street, looping past Puritan and crossing in front of the Red Maple and Guilford Memorial Library to McKusick Petroleum Riverside service station, and back up the hill on High Street.
"We gave out bracelets every time somebody completed a loop," Gallagher said. "We started with 300 bracelets. We had 36 left over and that's how we knew how many loops had been done," she said about the 264 loops equaling a distance of 528 miles.
"It was actually a really fun loop,' the executive director said. "For those of us on bikes coming down that hill on Pine Street, it's kind of fun. You get a good amount of speed going but then it's mostly flat. The hills, they are gradual."
She said some participants biked as many as 10 loops — 20 miles — as they were on the move for the duration of the Cyc-la-thon.
"I was totally happy with [100-plus participants] and 264 loops," Gallagher said. "I am hoping next year our goal will be 400 loops because now that people know what to expect and with one year under our belt people will know what is going on."
The second event is being planned for Saturday, Oct. 15, 2022. "We like this time of year, it's perfect because it is cooler," Gallagher said. "There's not a ton of other things going and there is not another event like this all year."
"We will probably make it very similar," she said.