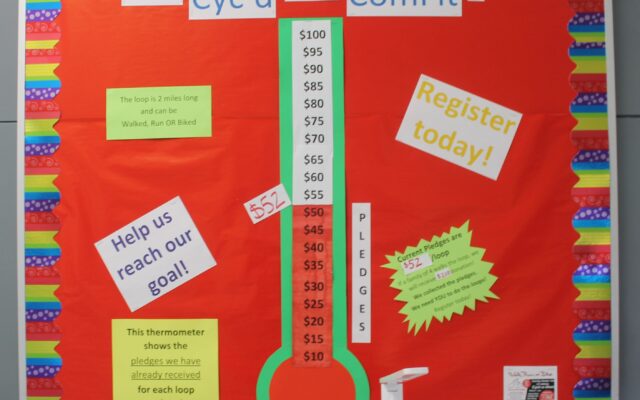 PO-cyclathon-40-21
Observer photo/Stuart Hedstrom GET CYC'D FOR COMMUNITY FITNESS -- A bulletin board promoting the inaugural Cycl-a-thon is on display in the lobby of Friends of Community Fitness in Guilford. Participants will bike, run, and walk a two-mile loop to benefit the organization from 9 a.m. to 1 p.m. on Saturday, Oct. 16.
Inaugural Community Fitness Cycl-a-thon set for Oct. 16
GUILFORD — Bikers, runners, and walkers will be going in circles through Guilford Saturday, Oct. 16, to benefit Friends of Community Fitness during the first Cycl-a-thon from 9:30 a.m. to 1 p.m.
Pledges have been made for every 2-mile loop covered by participants to benefit the nonprofit fitness and community center at 31 High Street.
So far, 62 participants have signed up and already collected pledges equaling a rate of $52 per loop (various monetary amounts are welcome). About 60 sponsors have also come on to support the event.
Friends of Community Fitness Executive Director Britney Gallagher said the idea came from discussions between she and her boyfriend Jason Brochu about fundraisers. "He and I just brainstormed the idea, it started developing in the spring," Gallagher said. "We wanted to do something just in case COVID did spring up again. We needed something that was a safe bet no matter what happens. So we wanted an outdoor event and we wanted it to be a bikeathon alone, a lot of people bought bikes during the pandemic."
She soon heard that some interested participants did not own a bicycle, so the Cycl-a-thon was opened to those wanting to run or walk. "Now we have over 60 people registered and we are going to encourage more loops with prizes at different levels so the more loops you do, the more prizes you qualify for," Gallagher said.
Prizes include gift certificates to Pat's Pizza, Slipping Gears Cycling in Bangor, Dunkin, and New Balance, a gift basket from Northern Reflections Salon, and a white water rafting trip for two from North Country Rivers.
"We've got a lot of really good prizes, so the more loops you do you qualify for some of the higher level prizes and then less loops we'll draw for as well," Gallagher said.
She said the two-mile route will leave from Community Fitness and go right on to High Street. "It goes up the hill a little bit and then it goes left onto Pine Street which loops by Puritan, crosses in front of the Red Maple and the library to McKusick and back up the hill on High Street," Gallagher said.
The Cycl-a-thon route will have three safety stations, with an officer from the Piscataquis County Sheriff's Office positioned at the street crossing. Gallagher said McKusick Petroleum employees will be at another station and Craft Cafe will be represented at the third with volunteers along the route.
"Each station is going to have a basic first aid kit, stuff that people might need along the way, and water," she said. "We're also going to have some riddles along the way. So there's going to be fitness riddles that people can read and get the punch line as they do the loop. We are just going to try to keep it fun and give people something to think about as they go around.
"We will have a DJ set up here at Community Fitness playing music while people are coming and going," Gallagher continued. "We are going to have food, people are donating hot crock pots of things like meatballs and chilis and macaroni and cheese."
She said children will be included on Oct. 16 with a kid's bike rodeo to allow them to ride their tricycles and training wheel-equipped bikes on the facility property. A 17-foot bounce house slide will also be set up for the youngest attendees.
"Everybody else we want out on the road if they can, all ages," Gallagher said. "It's free for kids and their loops count."
"After each loop is completed, each person will get a bracelet," she said about how organizers are keeping tally. "If we start with 200 bracelets and we have 50 left we know we've completed 150 loops. Then they will put their names in the drawing at the end and the drawings will be done at 12:45 and it all wraps up by 1."
"We're really excited, we hope we get a lot of people," Gallagher said. The hope is to have a second Cycl-a-thon next year with a third annual event tied in with the 20th anniversary of Friends of Community Fitness in 2023.
For more information, please contact 207-876-4813 or comfitme2003@gmail.com or go to www.comfitme.com.