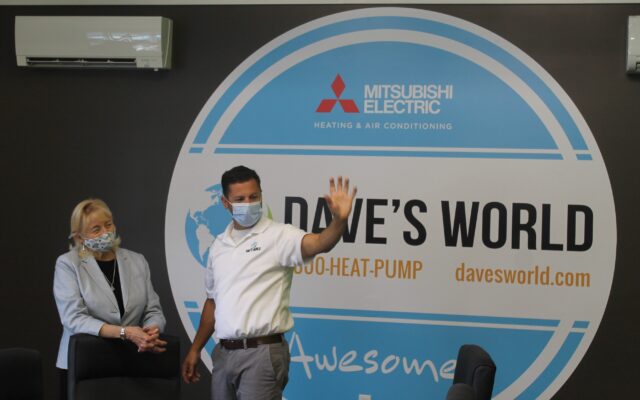 PO-davesworld-39-21
Observer photo/Stuart Hedstrom VISIT FROM THE GOVERNOR -- Gov. Janet Mills hears about heat pump technology from Matt Scott, co-owner and vice president of Dave's World, during a visit to the Dover-Foxcroft business on Sept. 24. Mills spoke about a state goal of installing 100,000 high-efficiency heat pumps by 2025.
Gov. Mills visits Dave's World to celebrate progress toward heat pump milestone
DOVER-FOXCROFT — In recognition of the national Climate Week and Clean Energy Week in Maine and to announce significant progress toward the state's goal of installing 100,000 high-efficiency heat pumps by 2025, Gov. Janet Mills visited the new Dave's World location at 27 Summer Street on Sept. 24.
Gov. Mills was joined by Matt Scott, co-owner and vice president of Dave's World, some business employees, Efficiency Maine Trust Executive Director Michael Stoddard, Heather Johnson, commissioner of the Maine Department of Economic and Community Development, Sen. Paul Davis, R-Sangerville, and Rep. Dr. Richard Evans, D-Dover-Foxcroft, among others.
"In 2020 I think there were 28,000 [heat pumps] installed that we're aware of and mostly with the help of Efficiency Maine and with the help of small businesses and contractors like Dave's World and Matt here," Mills said. "This marks a milestone in Maine's fight to reduce our reliance on fossil fuels in order to mitigate climate change and support good paying jobs like the ones this company provides."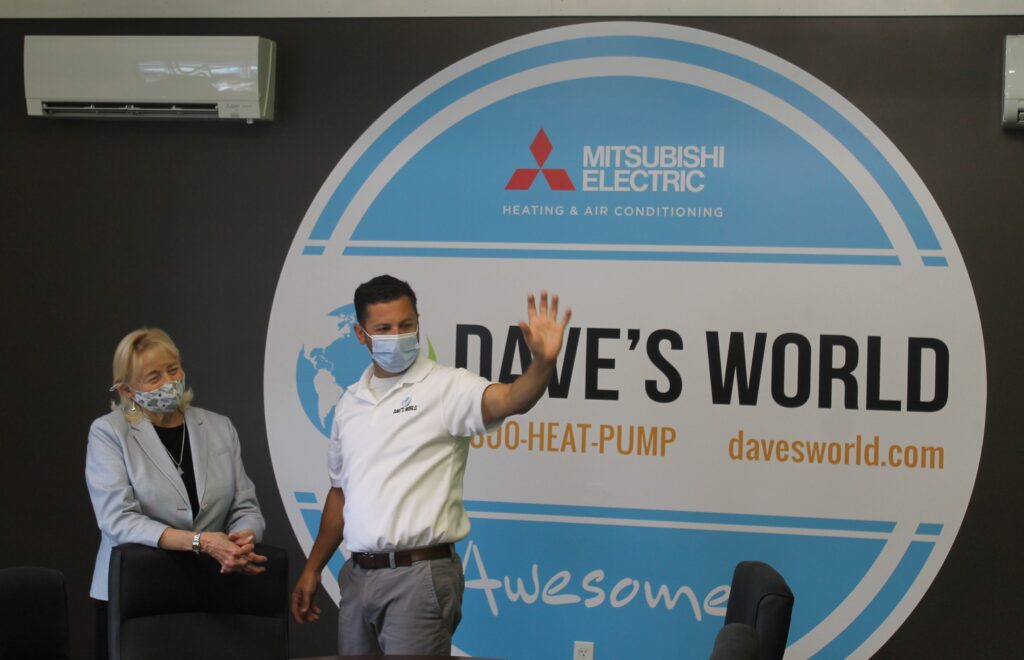 The governor said efforts have been made to reduce emissions in Maine and lower the state's carbon footprint. Two years ago Mills signed legislation that set a target of installing 100,000 heat pumps in Maine by 2025, enhanced heat pump incentives through Efficiency Maine Trust, and established a low-income heat pump program at MaineHousing.
Transitioning to heat pumps from heating oil "reduces Maine's dependency on fossil fuels, stabilizes energy costs, and supports energy-efficiency jobs which help attract and retain young families in Maine and skilled workers," Mills said.
"Dave's World gets it, Maine's largest installer of high efficiency heat pumps which are affordable, efficient, and accessible heating and cooling appliances," she said. "They are an important component of our plans to reduce harmful carbon emissions. Let's be clear, heat pumps work well in cold climates. They are much more efficient than regular air conditioning when used for cooling and they are easy to use."
"Expanding the use of high efficiency heat pumps will spark demand for heat pump installers and sellers and create good paying jobs and diversify Maine's economy," she said. "Hundreds of firms are currently registered on the Efficiency Maine website as heat pump installers, serving customers from Madawaska to Millinocket to Munjoy Hill."
"The law we enacted in 2019 directed Efficiency Maine Trust, led by Michael Stoddard, and MaineHousing to use existing revenues to achieve our goal of installing 100,000 new high performance heat pumps in Maine by 2025," the governor said. "Adding these heat pumps, 100,000 of them, is predicted to reduce heating bills between $300 and $600 a year per home, that's a pretty significant savings."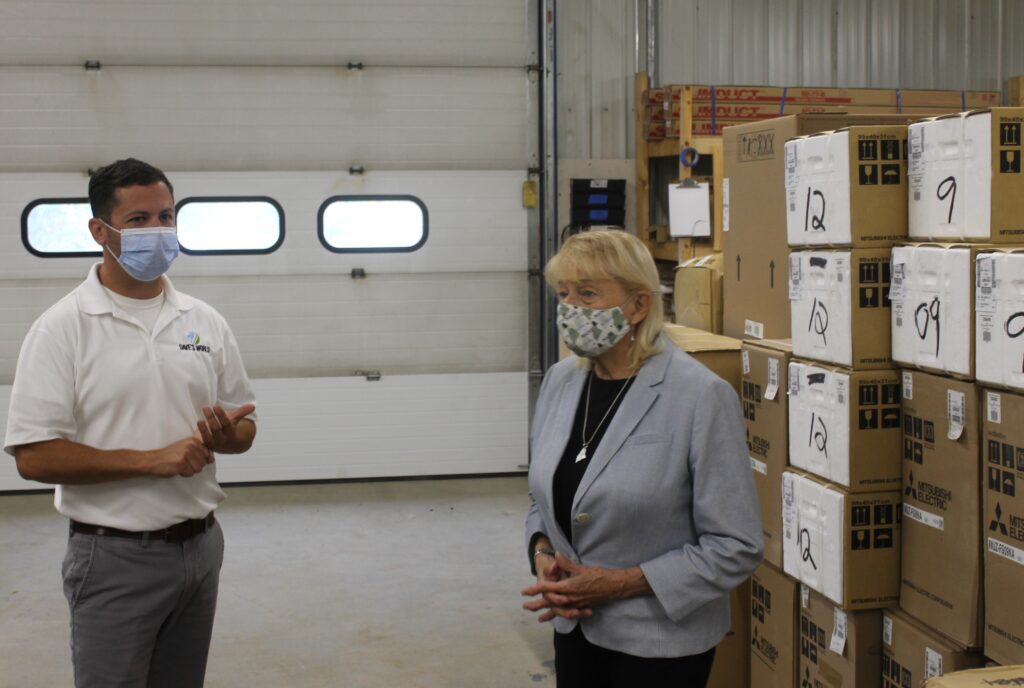 "Today I'm proud to celebrate the progress we have made in reaching that goal," she said. "In one year alone Maine has installed more than 28,000 high efficiency heat pumps. The majority of the heat pumps announced today were installed in Maine homes and other buildings using rebate incentives provided by Efficiency Maine."
"It was about 17 years ago we picked up our first heat pump and put one in at my house," Scott said. "We realized it wasn't a mechanical problem in Maine. A lot of people said they wouldn't work in Maine. We realized it was a marketing problem. The education wasn't out there, the message wasn't out there, and we developed a strong passion to be able to get the message out there and we did."
Scott said Dave's World encountered some difficulties early on, hearing from potential customers who wondered how heat could come from cold air outside their homes. "Then Efficiency Maine came along, that was a big help having that rebate program," he said. "Mainers get excited for rebates. At that point Mainers believed in the science behind it. From there we decided to go from Dover-Foxcroft to statewide. We figured there were a lot of people in southern Maine who were not educated about that as well."
"It's amazing how much heat is out there, even below zero," Scott said. "All of these heat pumps are doing is trapping the heat and moving it, a lot cheaper than lighting something on fire for heat."
"The Efficiency Maine Trust is a semi quasi state agency that was established by statute by the Legislature and we have been extremely fortunate to have very thoughtful policies from both your administration and your predecessor's administration and from both sides of the aisle in the Legislature supporting this technology that I think everyone sees is great for the economy, is great for people's comfort in their home and it's great for the environment," Stoddard said.
He said there are more than 1,000 Maine contractors registered to install heat pumps, but the center of this activity is Dave's World in Dover-Foxcroft. The business also has locations in Ellsworth, Scarborough, and Windham.
"We have been able to help low income homes as well as small businesses as well as all of these thousands and thousands of Maine residences and one of the things we're very excited about is now expanding that into the commercial section and municipal sector," Stoddard said. "This technology will work in schools and we're really hopeful that we can convince more and more school districts to convert to this so they can save taxpayer money and lower their heating bills and improve the comfort inside."
"The way we do that is with financial rebates and with education and outreach," he said. Rebates come from sources such as electric utility conservation charges, regional greenhouse gas initiatives, settlements and federal funding.
Mills said Maine uses more home heating oil per capita than any other state, spending billions which goes elsewhere. She said the addition of 100,000 new heat pumps by 2025 is expected to reduce heating bills between $300 and $600 annually per home.
"We know your initiative is 100,000 heat pumps, we're trying awfully hard," Scott said. "Statewide we have 50 vans on the road, there's 70 people employed. I would love to hire 70 more."