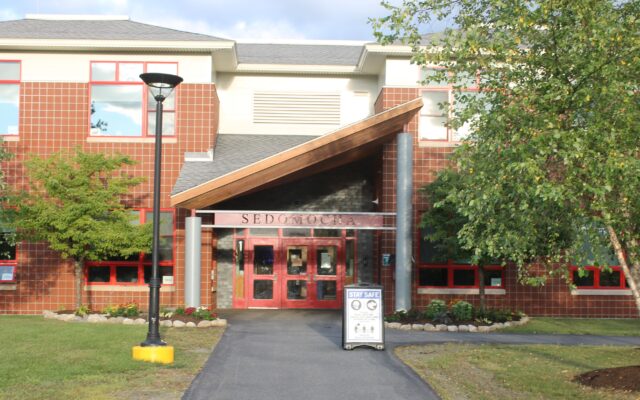 PO-RSU68-36-21
Observer photo/Stuart Hedstrom STARTING THE YEAR OFF -- Students at the SeDoMoCha School in Dover-Foxcroft and across town at Foxcroft Academy have started classes for the 2021-22 academic year.
Classes start in RSU 68/Foxcroft Academy
DOVER-FOXCROFT — A week into the start of classes for the 2021-22 academic year, students and staff are handling the adjusted learning environment amid the coronavirus pandemic well.
The RSU 6 8 school board learned more from area administrators during a Sept. 7 meeting at the SeDoMoCha School.
"We just completed day four of our school year and things are going as well as we could hope for," SeDoMoCha Principal Adam Gudroe said. He said enrollment for the elementary/middle school is at 628 students.
He said there was a great turnout for the in-person open house. "It is really important to have that transparency and have them in the building," he said, about parents seeing their children's classrooms. "We missed having the community in the building last year."
The principal said both the cafeteria and multipurpose rooms are being used for lunch periods, and kindergarten and grade 1 students are eating in their classrooms.
He also said students are familiar with health and safety expectations from last year. "We have had zero issues so far," Gudroe said about students wearing their required masks.
A question was raised on the pool testing numbers. Gudroe said this began with fall athletics, as practices started before the first day of classes on Sept. 1. He said among 75 fall athletes, 32 have opted in to pool testing.
"That's probably consistent as consent forms come in with the general population," he said. "Right now we have had negative results with our pool testing at this time."
Gudroe said the number of fall athletic participants "is lower than other years, by a significant amount." He attributed this to there being no season a year ago and due to the COVID-19 protocols that likely led to some students deciding not to play.
SeDoMoCha music programs are being built up for this year, Gudroe said. He said there have been demonstrations for interested students and a rental night will be held in the near future.
He said fitness center equipment purchased through the DON'T QUIT campaign should be installed on Sept. 19, and the hope is to be able to have a large gathering for the dedication in early October.
In late May, Gov. Janet Mills and fitness icon Jake (Body by Jake) Steinfeld, chairman of the National Foundation for Governors' Fitness Councils, announced that SeDoMOCha is one of three Maine schools to have won a state-of-the-art $100,000 DON'T QUIT! Fitness Center in recognition of commitment to the health of their students.
Fitness centers are financed through public/private partnerships with companies like The Coca-Cola Co., Anthem Blue Cross and Blue Shield Foundation, Wheels Up and Nike, and does not rely on taxpayer dollars or state funding. Fitness in Motion provides all the fitness equipment, manufactured in the United States. The foundation's goal is to build a nation of the fittest, healthiest kids in the world.
"It's been a very good start to the school year. Opening enrollment is 394, which is 5 percent more than last year," Foxcroft Academy Head of School Arnold Shorey said. "Our motto is 'normal if possible,'" he added, saying the secondary school has been having modified, shortened morning meetings when possible.
Shorey said those heading up West Main Street by the Foxcroft Academy campus will notice steel is up for the Jim Robinson Field House and soon rafters and the roof will follow. Shorey said this should take about three weeks and the goal is to have the structure enclosed before winter.
He said general contractor Sheridan Construction Corp. of Fairfield has been a great company to work with.
In other business, third grade teacher Diane Stephen told the directors about the 12th annual One Book, One School reading program.
She said last spring a committee read several titles to determine the novel for this year's K-4 shared family reading program, and selected "The Last of the Really Great Whangdoodles" by Julie Andrews.
Stephen said the purpose of One Book, One School "is to promote a shared learning environment and shared reading experience at home and at school." Over several weeks families will read a chapter at home and will go through a reading log with comprehension questions.
Readings will also be done at school to ensure no child misses out, and the plan is to have various teachers record their readings so students hear different voices. The culmination of One Book, One School will be an evening finale.
The hope was for One Book, One School to start in September, but with copies of "The Last of the Really Great Whangdoodles" on backorder the program is now being planned for the spring. Stephen said she hopes to avoid the baseball/softball season.
Previous One Book, One School selections include "The Indian in the Cupboard" by Lynne Reid Banks, E.B. White's "Charlotte's Web," "The Wizard of Oz" by L. Frank Baum, Roald Dahl's "Charlie and the Chocolate Factory,"the junior novelization of the animated film "Finding Dory," "Lost on a Mountain in Maine," and Laura Ingalls Wilder's "Little House in the Big Woods."
In her report, Superintendent Stacy Shorey said that a new parent advisory committee will have its first meeting at 6 p.m. on Wednesday, Sept. 29, in the SeDoMoCha multipurpose room. She said information on the session will be included in the school newsletter and through the SeDoMoCha app.