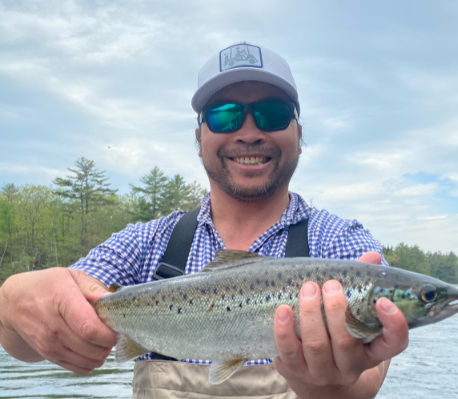 PO-fishingacross-30-21 – Copy
Photo courtesy of Lary Fiori FISHING AND FUNDRAISING -- Fishing Across Maine organizer Truc Huynh poses with his catch. In June anglers cast their lines to benefit Wayside Food Programs of Portland.
Fishing Across Maine raises $10,000 to fight food insecurity
Throughout June anglers of all abilities cast their lines for Fishing Across Maine, a fundraiser for Wayside Food Programs, to help end food insecurity across the state. While enjoying the state's outdoors, participants raised more than $10,000 to benefit the Wayside Food Programs general operating fund, with additional monies still to come, as was revealed during a virtual ending celebration on July 21.
Organizer Truc Huynh told attendees he began "Trucking Across Maine" in 2019 as he biked from Madawaska to Kittery to raise $16,000 for "for five amazing charities right here in Maine."
Huynh rode to help pay it forward after all the help he — at 9 years old — and his family experienced when they arrived in Maine from Vietnam three decades ago.
"In 2020 we redirected our efforts to buying masks and PPE to help first responders and health care workers across the state, and then in 2021 we started doing Fishing Across Maine to benefit Wayside Food Programs," Huynh said. Anglers, along with sponsors, were asked to make donations and then enjoy the lakes, rivers and ocean. They were also asked to share their fishing photos online.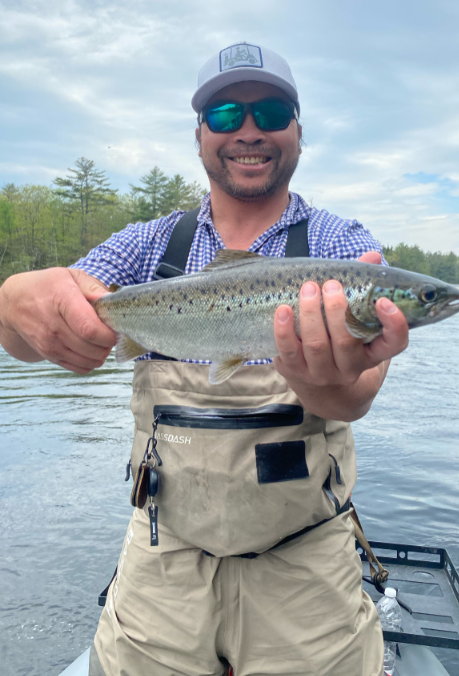 "I am so thrilled to let everyone know that we exceeded our goal of $10,000 and counting, so a huge thank you to everybody here," Huynh said, saying that despite still being in the pandemic everyone still gave extra effort.
"I couldn't be more proud and grateful for everyone's support, each and every one of you has given your time, your talent, your treasure to this campaign in one way shape or form," he said.
"Truc I really can't thank you enough for your passion for fundraising, and for including Wayside Food Programs in this effort, it was really fun and cool," said Laurie Mitchell, a board member for Wayside Food Programs for the last 15 years. Mitchell said she grew up fishing, learning from her father and she and her brother will still hit the waterways.
"This is one of the most fun things we have done in terms of fundraising at Wayside," Wayside Food Programs Executive Director Mary Zwolinski said. "It's innovative, it's creative, it's been great."
The Wayside Food Program's service area is primarily Cumberland County, with some programs in York and Oxford counties, but the intent of Fishing Across Maine is to have participants be thinking about issues related to food insecurity wherever they live.
"Wayside Food Programs is located in Portland and we have a lot of different programs. Our theme is we want to share food and build community and we do that in a lot of different kinds of ways," Zwolinksi said. She said like many organizations COVID-19 changed the ways Wayside Food Programs operates, but staff and volunteers never stopped.
She said they work to "give people the tools they need to support their community with really good healthy food, to gather people around a great healthy meal that we've cooked through one of our community meal sites so neighbors get to know each other. And like I said, food is this sort of common denominator everybody needs it, everybody loves it and it's one great way of building and supporting community."
Zwolinksi said Wayside Food Programs has a food rescue program. "In southern Maine we rescue almost two million pounds per year. Keeping it out of the waste stream, out of landfills and we're able to repurpose that food. A lot goes into our community meals and a lot of it goes into other food pantries and community groups that are really important partners in supporting the local community."
"Prior to food rescue a lot of that food would get dumped, but now we're one of those places where food has a second life," she added.
"We started the community meals program with just a couple of sites and pre-COVID it was up to 13 sites a week and that's lunches and dinners and we partner with a church or community center in different neighborhoods," Zwolinski said. "They're free and they're open to anybody. We ask people to sign in just because we really like to know our guests and over time you see this community of people forming."
Mitchell asked Zwolinski how people can get involved with Wayside Food Programs.
"I have a staff of 10 people, some part time and some full time, but really part of the core of our work is volunteers," the executive director said. "We started as an all-volunteer organization back in the day. So we really rely on volunteers to help us with stuff like cooking in the kitchen and then when our meals are up and running again, every site has another group of volunteers that serves the meal and helps clean up and sometimes it's the guests.
"We have mobile food pantries, we have volunteers who will meet us at the mobile food pantries who will help us set up and then food rescue always has a big need for volunteers because we are sorting food. We run a couple of the Main USDA programs so we do a lot of taking in food, sorting it and sending it back out."
Zwolinski said people also conduct food drives, of varying sizes, for Wayside Food Programs.
"Some people volunteer every week and some it's a one-time thing and we appreciate all of them," she said. "We're just so happy to be doing the work we do. Maine is a generous state both in terms of people's time and money."
Zwolinski thanked Huynh saying, "This is one of the most unique fundraisers anybody's done for us and it's just a lot of fun."
Following a virtual raffle Huynh said, "I am truly, truly grateful for everybody's help, support. As I mentioned, every single one of you I am grateful for your support [and] participation — you've given a ton given everything everybody went through this past year. I am so grateful for you all and I am so honored to partner with Wayside this year and believe me when I say this I really got more out of this than you'll ever know. It truly fills my tank and I truly believe that every single one of you, without exception, has a gift that we can contribute one way or another whether it be our time, our talent of some sort or the treasures we have to contribute to the common good so I hope that some of you will exercise that gift you have to help others and pass on the good here."