PO-goats-28-21
Observer photo/Stuart Hedstrom KIDDING AROUND -- Instructor Jessica Inch leads a session of baby goat yoga at Maison de Chevre in Dover-Foxcroft on July 11, while farm owner Shelby Rolsten looks on from outside the pen. Class participants go through the exercises while the kids meander around the enclosure.
Feel like a kid at Maison de Chevre baby goat yoga
DOVER-FOXCROFT — You are in the midst of a yoga pose when you feel a slight nudge and something hairy brushing against your body. Opting to concentrate on the exercise, you later feel four small hooves on your back and something trying to keep its balance on you.
There is nothing to worry about, as this is to be expected at Maison de Chevre's baby goat yoga sessions.
Maison de Chevre — the name of the farm means goat house — owners Randy Annis and Shelby Rolsten moved to 162 Bolton Road in early 2020 from the Lincoln County town of Dresden after previously being in Massachusetts where they were first exposed to baby goat yoga.
"We decided to do it once we moved here," Annis said prior to a July 11 mid-afternoon session. He said he asked around about local yoga instructors and learned about Jessica Inch, who he soon met.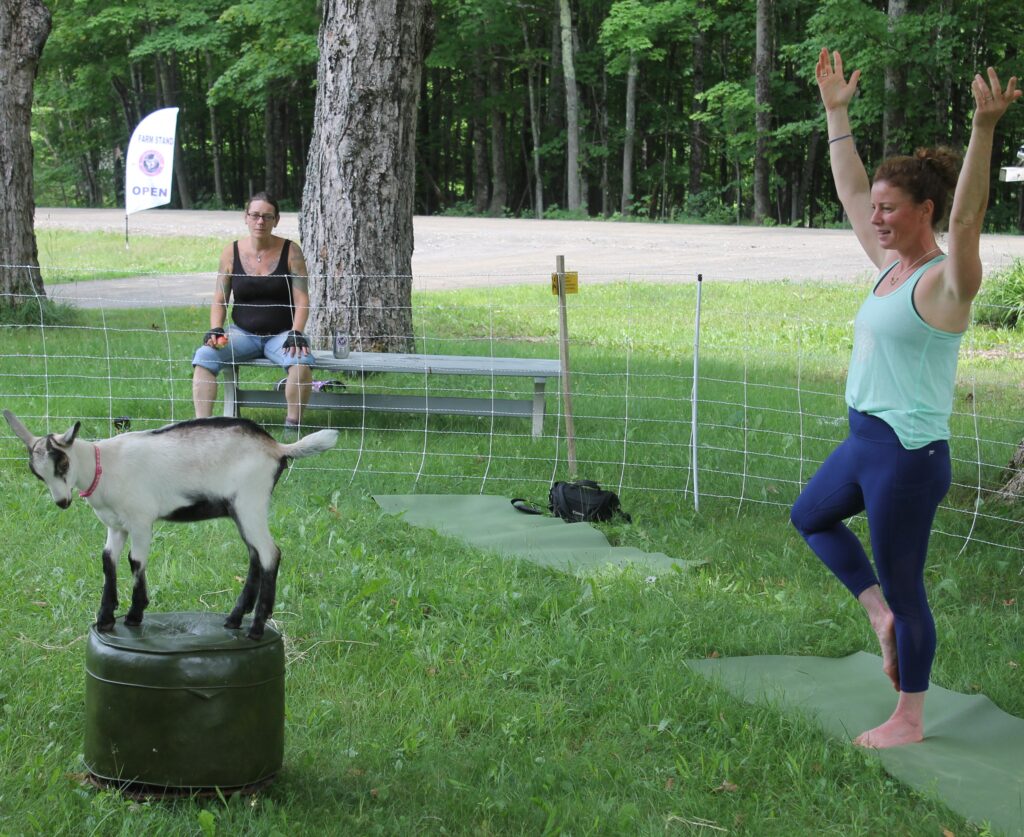 "She came and was excited about the idea," Annis said. He said Inch had previously come to the farm to purchase some of its self-serve goat cheese.
"She's a blast and I'm so glad she's in charge of the class," Annis said. "Our first class was in very early spring. We had a batch of babies [each named for a cheese flavor]. The goats have grown a bit. I'm not sure how long we will go with this group."
"A well handled goat makes it easier to milk and move them around the farm as we do," he said, as the animals get used to human contact.
"They're just dogs with horns," Annis added, as the kids are playful with each other and whatever is around when they are not grazing.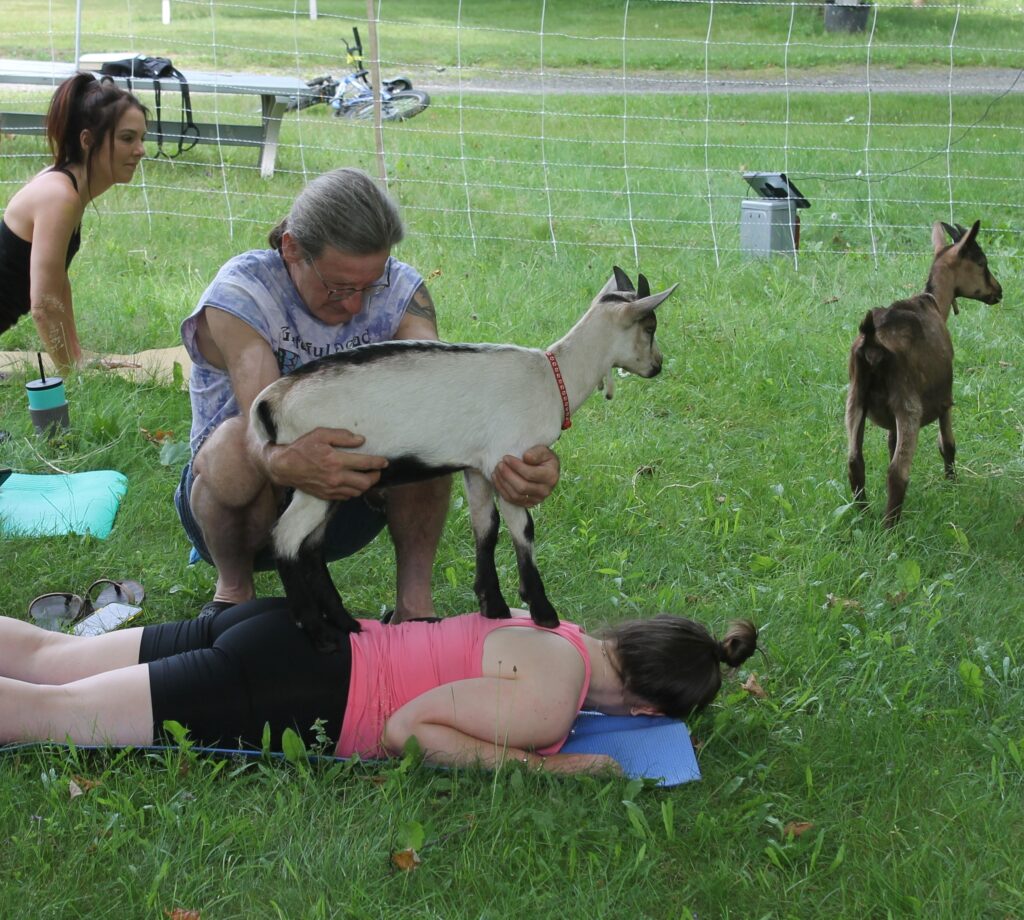 "He reached out to me and I was excited to do it," Inch said after class. "I do paddleboard yoga out on the lake in the summers and I just love mixing it up and finding ways to incorporate yoga into things you normally wouldn't think of. The animals bring this extra element of fun."
"A lot of times I think yoga can be really intimidating to people and this really takes the pressure off them," she said. Inch explained that some people may think yoga features intense poses that they do and hold, but with the baby goats milling around, there is no pressure to constantly maintain focus. Participants can stop what they are doing to pet the goats. Some took out their phones to snap pictures, and during the class a car driving by stopped to watch and a passenger took a video on a phone.
"It's super fun. Everyone's light-hearted," Inch said, saying the goats help take all the attention off her.
"I hope they are able to enjoy yoga as a form of exercise without feeling that there's any expectations of them," she said. "I want them to experience this farm, which is one of the most beautiful settings around. Randy and Shelby have such a wonderful business here and I want people to come out and be aware of what's down the road.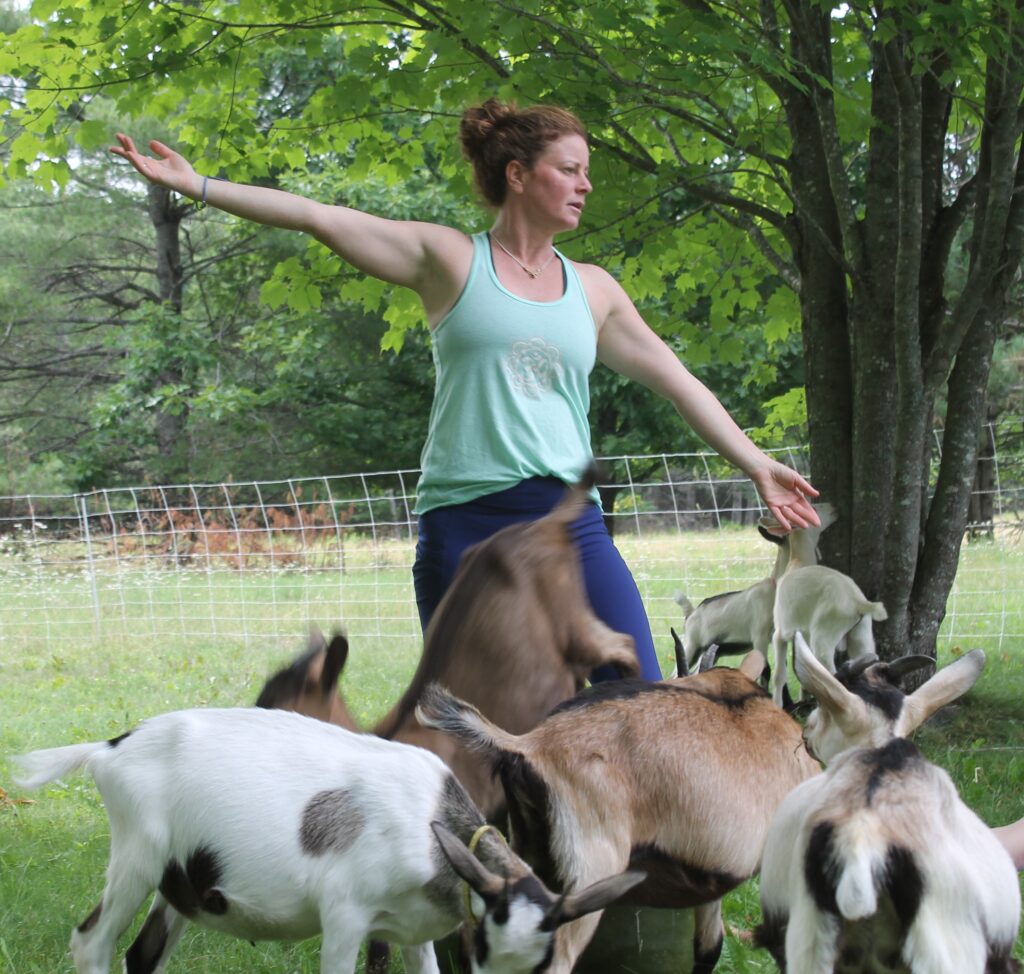 "She does a great job and she's very enthusiastic about it," Annis said as the eight baby goats munched on hay and leaves in a pen set up on the front lawn.
Once the class stepped inside the fence, he went over the safety guidelines, saying to be aware of the animals' small horns. If class participants wanted, Annis would place a kid on their back during certain poses and everyone opted to try this. He said the young animals weigh 20 to 40 pounds, and fully grown they will be 150 to 200 pounds.
During the session he also nudged the goats toward the people for more interaction.
"They're friendly. I encourage you to hold them," Annis said.
Inch encouraged the class to pose "any way that's comfortable for you."
With one pose that had hands on the yoga mat, Inch said, "Imagine you are a sleepy goat and you are just waking up" as participants shifted their positions from side to side.
She also opted to change the name of the downward facing dog pose to "downward facing goat" and tree of life pose to "goat tree of life."
Inch concluded by asking everyone to say "Namaste Day with a 'little bah.'" For more information, visit Inch's Endless Sky Paddleboard & Yoga pages on Facebook and Instagram and the Maison de Chevre Facebook page.