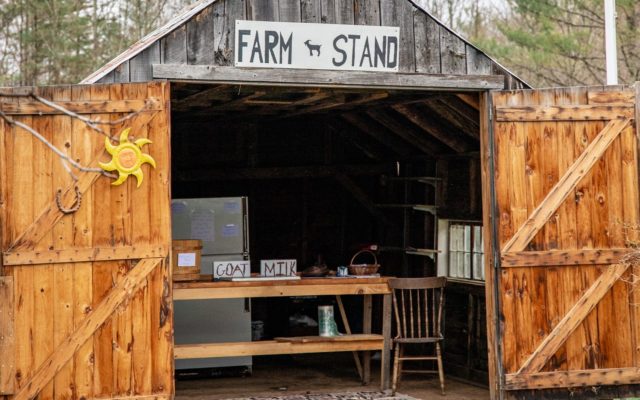 PO-goatfarm-21-20
Photo courtesy of Piscataquis Chamber of Commerce MAISON DE CHEVRE -- Maison de Chevre (translated as goat house) opened on the Bolton Road in Dover-Foxcroft earlier this year. On Friday from 2-5 p.m. Maison de Chevre will offer a tasting at Whitney's Market in Guilford, with social distancing measures in place. There will be a variety of flavored, fresh chevre and unflavored, marinated lebneh cheese, as well as fresh, raw goat's milk.
New goat farm opens in Dover-Foxcroft 
Cheese tasting at Whitney's Market in Guilford Friday
DOVER-FOXCROFT — In February a new family moved from Dresden to Dover-Foxcroft, purchasing a farm house on 56 acres — known by the locals as "Joe Guyotte's old place" – and finding the place they'll call home for the rest of their lives and future generations.
Randy Annis and his wife, Shelby Rolsten, met about 10 years ago in the Boston area and were married a year later. Rolsten, raised in Texas, comes from a long line of ranchers and farmers, and worked as a chef for 20 year,. "Farm life is in my blood, I love working my own land and working hard, knowing I've built something sustainable, teaching my girls the same, and leaving them with something self-supporting for their futures", she said.
Annis, born on the Cape, is a business-savvy guy who owned and operated restaurants in the Boston area for 30 years before his intense desire to travel sent him across the country for a stint, eventually returning to Boston, where he would meet the love of his life. Several years ago, and two children later, the couple moved to Dresden, motivated by a pursuit for a simpler life for their daughters. While in Dresden, they began a search for their slice of heaven; a family farm, which eventually landed them in Dover-Foxcroft, and Maison de Chevre (translated as goat house) was born.
According to Annis, farm life is a welcome change from his 30 years in the restaurant business, "After years purchasing and preparing all different kinds of food … seeing all the waste, it was discouraging; it is a great feeling to work our land, raise our goats and create quality products for our livelihood and for the local community – with no waste", he said, "we work hard and we are able to see the result of our labor; it may seem like a utopian way of thinking, but it's the life I want."
Annis pointed out that he and Rolsten, with their individual backgrounds and experience, have a unique and successful partnership. "Shelby's years as a chef are obvious to anyone who tastes her cheese, she makes incredible cheese", he continues, "she is the talent and heart behind the product; she creates it, then I go out and sell it."
Before COVID-19 hit the nation and businesses were ordered to shut their doors, Annis had secured multiple connections for shelf-placement of Maison de Chevre products, including a variety of hard and soft cheeses, yogurt and fresh, raw goat's milk. When those plans were put on hold, the couple decided to open a farm stand on the property so that they might sell to customers directly.
"The farm stand is open from 7 a.m. to 7 p.m. daily, and is self-serve at this time to maintain proper social distancing", said Rolsten. "Once businesses open up again," Randy said, "our hope is to place our products on shelves throughout the region". 
In the meantime, besides visiting the farm stand at 162 Bolton Road., Maison de Chevre products can be found at the Dover Cove Farmers Market, which gathers at 1033 South Street, in the Piscataquis Chamber of Commerce's parking lot, and will eventually be offered at other farmer's markets throughout the region. "As the season progresses, customers can expect offerings such as brie, French soft-ripened style cheeses, farmhouse cheddar, wash-rind style cheeses, and blue varietals," said Rolsten, "our plan is to continue to grow our line of cheeses and eventually, we would love to offer frozen yogurt at the farm stand, as well."
Annis added, "we really want to get our name out there and be a part of the local communities."
The two, with their two daughters at 9 and 7 years of age, have found their groove, running the farm as if they've been there all of their lives. Chamber Director Denise Buzzelli said, "After visiting Maison de Chevre, I was in awe of this couple and their two children, who, if possible, love the farm even more than their parents, knowing each goat and chicken by name – taking me on a tour of the barn with great excitement", continuing, "I never knew goats were such intuitive, obedient creatures," she laughed, "they come out when called by name, jump into the milking shed, then return to their pens so the next two may have their turn. They run out to pasture in a group with great excitement, happily following Shelby's voice. It's amazing – and very entertaining to watch!"
The farm's goats, including Feta, Gouda, Mimolette, Raclette, and Tomme are all affectionately named after cheeses, including Chevre, the matriarch of the herd and the Farm's namesake. "These goats are how we sustain ourselves and our land," Annis said, "I love this life." Looking at Rolsten, he continues, "and there's no one else I would rather be doing it with."
This Friday, Maison de Chevre will offer a tasting at Whitney's Market in Guilford from 2-5 p.m., with social distancing measures in place. There will be a variety of flavored, fresh chevre and unflavored, marinated lebneh cheese, as well as fresh, raw goat's milk. The public is invited.
To pre-order, call 207-242-0861.