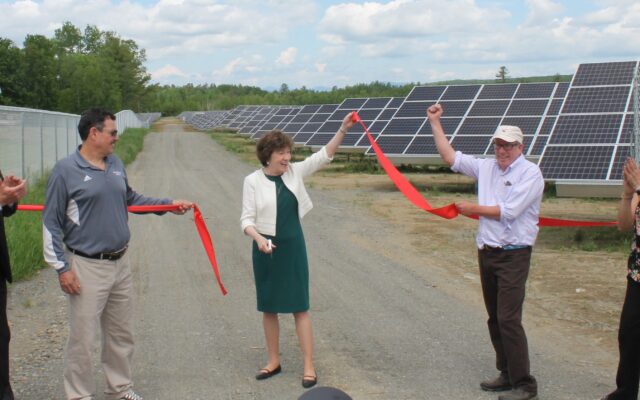 PO-solarribbon-22-21
Observer photo/Stuart Hedstrom POWER ON -- U.S. Sen. Susan Collins, R-Maine cuts the ribbon during a ceremony to open Milo Solar on June 4. Pictured with Collins is, from left, Carlyle Group Renewable and Sustainable Energy Principal JB Oldenburg, Maine Alternative Solutions of Milo owner Ron Desmarais, Dirigo Solar co-founder and principal investor Bob Cleaves and Paula Copeland of the Milo Select Board.
Ribbon cutting opens Milo Solar
MILO — The 27 megawatt, $30 million Milo Solar project in the Eastern Piscataquis Business Park is now up and running with electricity from the site to be sold to Versant Power under a 20-year purchase agreement to run about 3,400 Maine homes annually.
A ribbon-cutting ceremony with U.S. Sen. Susan Collins, R-Maine formally opened Milo Solar on June 4.
"It's one of our flagship projects and we are super proud of it and super grateful on a whole bunch of levels," Dirigo Solar co-founder and principal investor Bob Cleaves told those gathered near the solar farm entrance during the late morning presentation.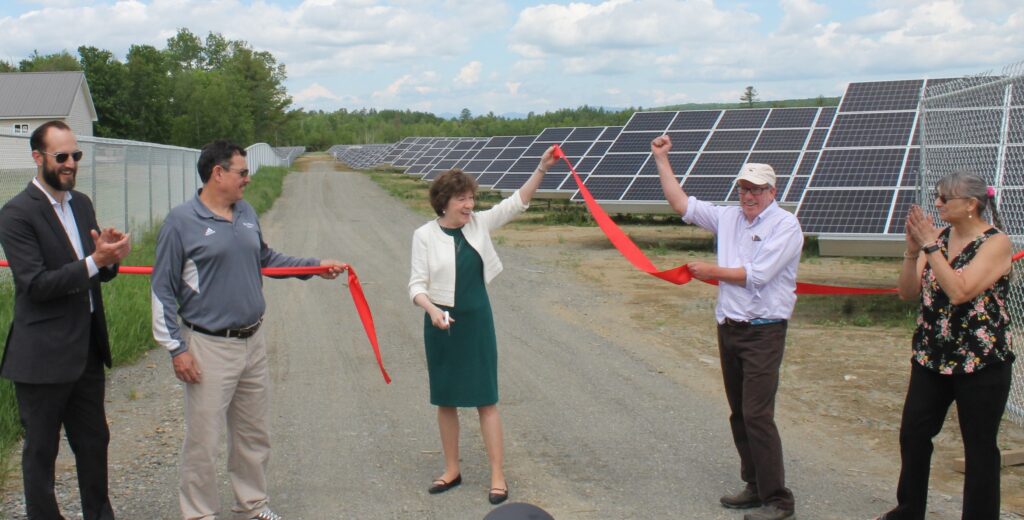 "This really was a partnership with so many different entities, beginning with Ron Desmarais [owner of Maine Alternative Solutions] who's kind of the de facto mayor of Milo," Cleaves said. Pointing to the nearby business park structures he said, "Ron built this building, he built that building and he helped build this and he was kind of our go-to guy."
Cleaves said a half dozen years ago he and fellow co-founder Nick Mazuroski first met with Desmarais and Milo town officials. "They made us feel at home and I thought this project was meant to be," he said. "Ron is in the solar business in Milo, Maine. We have abundant land, let's make this happen. Six years later, it did happen but we had some fits and starts along the way but I think with a lot of hard work from everybody I think we were able to overcome it, so thank you Ron for all your help."
The site on outer Park Street was developed by Dirigo Solar and BNRG Renewables. In 2019 the project was sold to Acadia Renewable Energy, a newly -established affiliate of The Carlyle Group. Last year The Carlyle Group, BNRG Renewables and Dirigo Solar worked to build the project with onsite construction carried out by Borrego Solar.
Commercial operations are ready and the farm is set to provide solar electricity to Maine in the decades to come. Milo Solar will save approximately 25,400 metric tons of carbon dioxide from entering the atmosphere annually.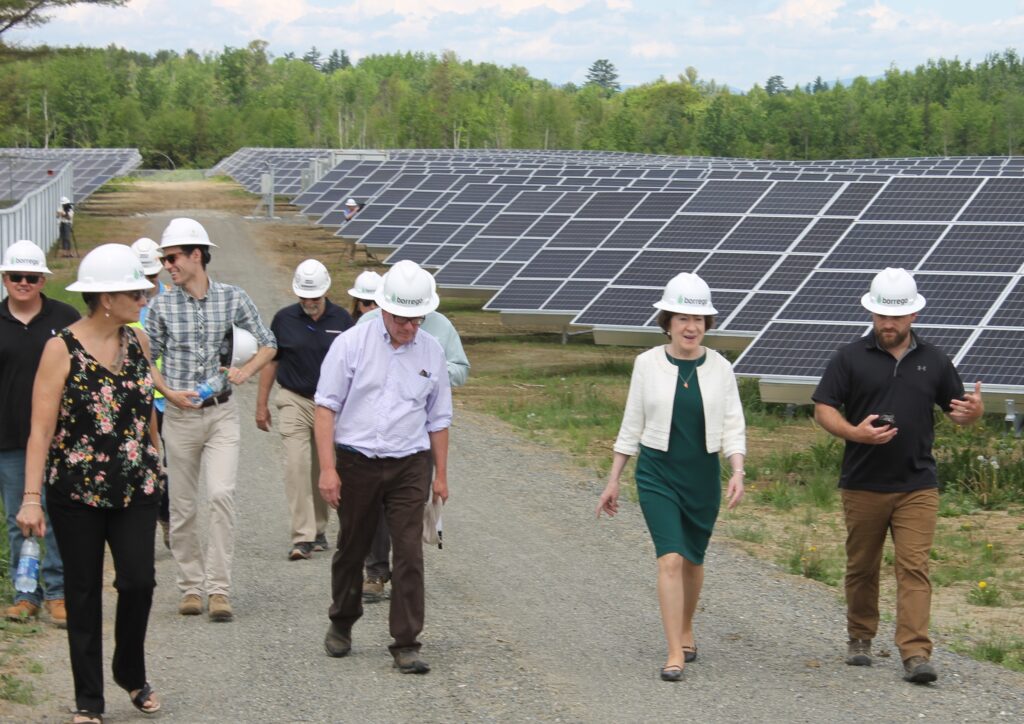 "Ultimately along the way we got a lot of allies in our quest, not the least of which was Carlyle, which invested in the project and has been an important source of funding for us and ultimately the purchaser of this project as well as seven other projects around Maine," Cleaves said. "So what you see here is replicated in other parts of the state, but this is one of the first to energize so we are particularly pleased with this."
Cleaves said he wanted to thank former Rep. Norm Higgins, I-Dover-Foxcroft, for his help, and Cleaves also wanted to ackknowledge the late Damien Pickel, the former Milo town manager and police chief.
"I remember riding around in his car talking about how much he cared about the people in Milo," Cleaves said. "So when he died last year it was a real loss for us personally and for the town, but I think the town is in great hands now. Chief Pickel meant a lot to us."
Cleaves said in the near future a memorial plaque for Pickel will be placed at the solar farm.
"Obviously, as Bob said, the success of this project, there's a lot of pieces and parts," said Peter Hamlin, former chairman of the Milo Select Board. Hamlin said the possibility of having a business park seemed bleak at first, but many town businesses and residents played a role in making the site what it is today.
"As it turns out it seems to have been done just for this situation," Hamlin said. "Local business folks were involved in that and past board members had the foresight to look into this and see what might happen."
Hamlin also credited Pickel as "a really great leader for the town and a great loss for us when he was gone and recently the local select board has started the process to kind of name the solar farm for Damien because he was the everyday guy when Dirigo needed something done. He was there to get it to them in a timely fashion and get it pushed along. Damien will be a permanent part of Milo, there's no question about that."
"Milo's very proud to have a role in a very large commercial green energy project that will be a win for everyone including customers in Versant's territory," Hamlin said.
Cleaves stepped to the podium again and said he believes Milo Solar is the largest project Borrego Solar has constructed. "It really is a tremendous construction and engineering achievement so thank you for all your work," he said
"This was built during the pandemic and people forget that," he said. "Once we got the money from Carlyle and once we got the permits from the state and once Versant gave us the green light and everything came together we thought 'is this actually going to get built by people wearing masks and social distancing?' And it happened and it happened because of leadership from Washington in addressing the pandemic and so I want to thank you for that."
Collins told the audience that Cleaves acknowledged everyone else's contribution and "I think it's my job to acknowledge Bob's leadership. He is passionate about clean, renewable energy, but he's also passionate about rural Maine so thank you Bob for all you have done."
"We have all heard the phrase think globally but act locally," she said. "This remarkable project turns those words into action. Climate change is a global challenge that requires local action.
"These 67,000 solar panels will power thousands of homes and businesses with clean, renewable energy and will save more than 25,000 metric tons of carbon dioxide from entering the atmosphere annually — that is truly remarkable. Also remarkable is that the largest solar farm in the entire state of Maine today is right here in Milo so I think we can celebrate that as well.
"These new panels will help protect Maine's natural resources, our clean air and water that are our greatest treasures. In addition this project demonstrates that renewable energy makes economic sense. The lower utility bills will benefit customers for years to come. It will help attract new residents and businesses to the area."
Collins said constructing the solar farm during the pandemic was an impressive feat and the project created about 170-plus onsite jobs and 10 operations jobs. She said the positions all came at a time when the economy was in need of a boost.
"As world events remind us, achieving energy independence through renewable sources, produced right here at home, is also a national security imperative," the senator said. "As a member of the bipartisan Senate Climate Solutions Caucus, I am working hard in the Senate to ensure that the United States continues to lead as a global leader in clean energy. This effort took a significant step forward when legislation that I authored last year was signed into law. The Bipartisan Better Energy Storage Technology Act, known as the Best ACT, supports the next generation of energy storage technologies. What we need to figure out is how to store solar energy when the sun isn't shining."
Collins said improved battery technology and the development of other new technologies will help and improve the ability to store and release power to the electric grid. She said this advancement will allow more renewable energy sources to be utilized, reducing emissions and lowering power costs.
"Two years from now the great town of Milo will celebrate its 200th anniversary," Collins said. "This town was built by harnessing the power of the three rivers to come together to be a center of the lumber industry. A few decades later the people of Milo used picks and shovels to extend rail service to this part of Maine and today you are continuing your commitment to progress by joining with your technology partners to help lead your town and our state and our nation into a new era of clean, renewable energy produced right here in the great state of Maine."
JB Oldenburg, renewable and sustainable energy principal for the Carlyle Group, thanked Cleaves and all the other project partners. "On behalf of the team at Carlyle, I just want to say thank you to the entire Milo community as well," he said. "The support in achieving this important milestone is probably more than you even grasp."
"This is a project we came late in its life but something that we felt that was incredibly important to not only this community but to the state of Maine," Oldenburg said. "Bringing this project into culmination is the result of years of planning, coordination and development work across a whole host of partners.
"We would just like to thank everyone that helped make this project a reality. We were here about two years ago when it was an empty field and look at what we have now. It's safe to say the future of solar is bright here in Maine and we look forward to working with Bob and the BNRG team and everyone else on the opportunity to produce clean, renewable energy here in the state of Maine."
"I am so excited for the people of Milo and for everyone who has been involved in putting this project together," Collins said after taking a tour of the solar farm. "It is, as of today, the largest solar project in the entire state of Maine. It's going to produce lower cost energy, it's going to reduce the carbon dioxide emissions into the atmosphere and it is a wonderful development for Milo."
She said the U.S. is a global leader in renewable energy but there is still work to be done. "Projects like this helps reduce our dependence on foreign oil which can be a national security concern so this is really exciting," she said.
The site was once a town-owned potato field "and today we have a cutting edge solar farm," Collins said.