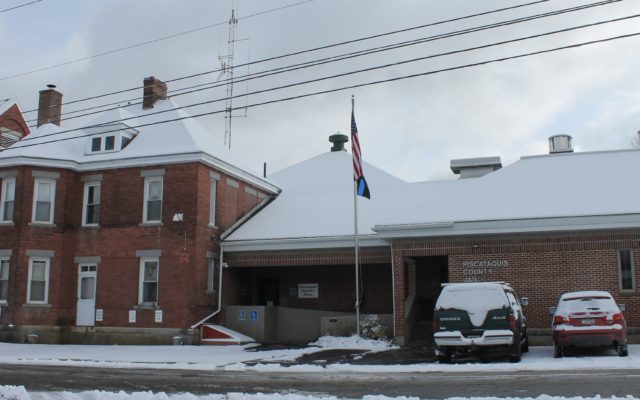 PO-commissionersradio-45-20
Work to start on Piscataquis County public safety radio study
DOVER-FOXCROFT — After a delay due to a snowstorm last month, initial work will start soon on a feasibility study for a Piscataquis County public safety radio system.
During a Jan. 5 meeting of the Piscaaquis County Commissioners, Piscataquis County Emergency Management Agency Director Tom Capraro said he has received an email from Communications Design Consulting Group of Barrington, New Hampshire, to schedule a kick-off meeting with himself and other county emergency officials in the next week or two.
Capraro said a snowstorm last month delayed consulting group representatives from traveling to the region.
Last month, Capraro told the commissioners the plan for the kick-off meeting is to conduct a tour of the dispatch center at the Piscataquis County Jail in Dover-Foxcroft, as well as at the new home of the Piscataquis County Sheriff's Office patrol and investigations division in Guilford. This will be followed by more interviews and site reviews. 
In November, the commissioners accepted a $27,000 bid by Communications Design Consulting Group for a radio study to find solutions to long-running communications problems for fire and police departments in and around Piscataquis County.
Objectives include meeting with Capraro, Piscataquis County Sheriff's Office Chief Deputy Todd Lyford and Dispatch Sgt. Gary Grant and emergency personnel from around Piscataquis County to review the communications systems and look at current and potential sites.
The study would identify upgrade costs, future recurring costs and the feasibility of a simulcast system. Another area to be looked at is potentially moving the sheriff's dispatch center out of the jail and into the new department building in downtown Guilford.
Capraro also reported his agency now has its own frequency based out of the bunker in Milo. "It's just another back-up system in case we lose radio systems," he said.
In other business, the commissioners voted to keep the interest rate for delinquent town tax assessments at 6 percent.
County Manager Michael Williams said the state sets the maximum rate counties can charge for late tax payments from municipalities, which is currently at 8 percent. "Last year it was 9 percent. You've been at 6 or 7 [percent] the last few years from what I've seen," he said.
Commissioners Chairman Jim White said that with everything going on the last year, towns will likely be having difficulty collecting their own taxes from property owners. "So I don't think increasting that would be prudent," he said.
In years past, each town in the region has paid its respective Piscataquis County tax on time and there has been no need to charge interest.