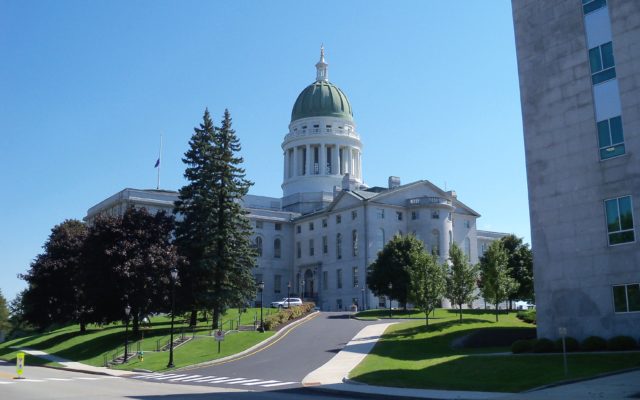 Maine GOP chair ousted after bad 2022 election
By Michael Shepherd, Bangor Daily News Staff
AUGUSTA, Maine — Former Maine Assistant House Minority Leader Joel Stetkis ousted Maine Republican Party Chair Demi Kouzounas on Saturday after a bad 2022 election for the party.
Stetkis, who lives in Canaan, beat Kouzounas, a Saco dentist, with 57 votes out of 83 members of the Republican state committee in a closed-door election at Le Club Calumet in Augusta.
The upset came after former Gov. Paul LePage was routed by Gov. Janet Mills in the 2022 election, with the party receding in areas, including the Portland suburbs, that were once crucial to their success. He helped Kouzounas hold her seat after Mills and her fellow Democrats swept Augusta in the 2018 election and made calls to Republicans to support her this time.
Stetkis and state Rep. Heidi Sampson, R-Alfred, emerged as Kouzounas' main competitors, with former legislative candidate Guy Lebida of Bowdoin running a less-active campaign.
The three criticized the party's management of the 2022 campaign, marked by a massive fundraising gap with Democrats that was largest in legislative races. In Maine Senate campaigns, Democratic candidates benefited from nearly $3.5 million in spending from outside groups, more than four times the comparable Republican figure.
Kouzounas and the party staff defended their performance in November by saying the losses at the top of the ticket were "influenced by events beyond the control of a state political party," which was an implicit reference to issues, including abortion rights, that Democrats emphasized.
During the chair race, Stetkis focused his ire on what he called a "top-down" approach placing too much emphasis on top-of-the-ticket candidates like LePage to the detriment of legislative hopefuls. Sampson recently told WGAN that she had national contacts who would fund Maine Republicans but had never been asked.
Sampson would have had to resign her legislative seat to run for chair. While her resignation letter was read to the audience, she later told the crowd that it had not been forwarded to the House speaker. She then withdrew from the race and endorsed Stetkis. Lebida later bowed out and threw his support behind Stetkis, setting up the one-on-one vote.
Also ousted was Vice Chair Shane Reitze of Pittsfield, who faced four other challengers. The No. 2 spot was won by Samuel Bridges of Guilford, who was recently in the news for organizing against a drag show scheduled for April in Dover-Foxcroft. After it sold out, a second one was announced.