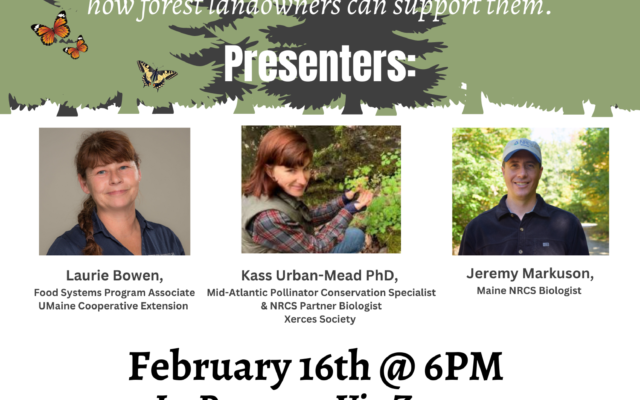 Pollinators & the Forest Flyer
'Pollinators and the Forest' program offered by the PCSWCD
DOVER-FOXCROFT — Most people know how important flowers are to bees, but what about trees? Turns out trees are an essential habitat for native bees! There are several simple ways citizens can have a positive impact on pollinators and in an effort to share information, the Piscataquis County Soil and Water Conservation District will be presenting an interesting program titled "Pollinators and the Forest" at the Thompson Free Library on Thursday, February 16 at 6 p.m.
This program will be offered both virtually and in-person and will bring an impressive panel of presenters who will share information on why pollinators need forests and how forested landowners can help support them.
Presenters for Pollinators and the Forests will include Mid-Atlantic Pollinator Conservation Specialist and NRCS Partner Biologist with the Xerces Society Kass Urban-Mead PhD, Food Systems Program Associate with UMaine Cooperative Extension Laurie Bowen, and Jeremy Markuson, Maine NRCS biologist. Kass will be the lead presenter and will provide an overview of the forest history in the northeast and connections of pollinator interactions with forests. She will also share information on specific species and their habitat needs, which include mature forests. Laurie will share information about Cooperative Extension's Pollinator-friendly Garden Certification program and how folks can get involved. Markuson will be on hand to discuss New England Pollinator Partnership and ways people can participate.
This program is open to all and we encourage you to join in and learn more about how our forests support native pollinators at this free program! For more information and to register, please visit www.piscataquisswcd.org. You can also reach out to the PCSWCD by calling us at 207-564-2321 ext. 3 or by sending an email to info@piscataquisswcd.org. We look forward to learning with you!