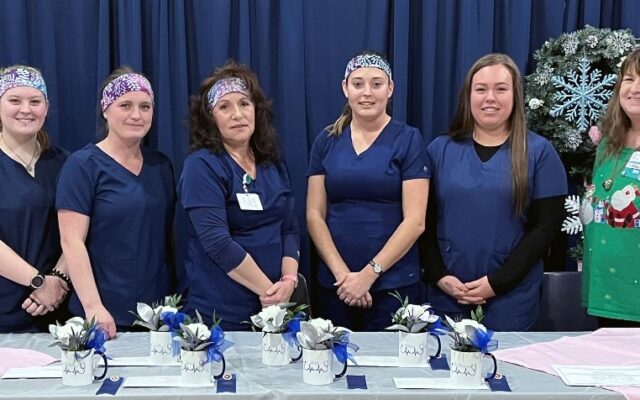 PO-CNAgrads-4-23
Photo courtesy of Northern Light Health CNA GRADS — From left, course instructor Beth Weatherbee, BSN, M.Ed., staff development specialist at Mayo Hospital, program graduates Bethany Cyr, Jenna Hall-Gustin, Johanna Buck, Keshia Flint, and Olivia Smith, and Nikki Chadwick, RN, MSN, CPHQ, vice president of Quality and Education at Mayo Hospital. Jayme Uriz also graduated from the course but is not pictured.
Six graduate from CNA program, achieve certification
DOVER-FOXCROFT — Northern Light Mayo Hospital and Eastern Maine Community College are pleased to announce that six individuals have graduated from their Certified Nursing Assistant training program and have earned state certification.
The new CNAs were presented with pins at a recent ceremony held at the Penquis Higher Education Center of Eastern Maine Community College. Friends, family, and hospital staff were in attendance to celebrate with the program graduates.
"These new CNAs are well prepared to begin their clinical careers in healthcare," says Nikki Chadwick, RN, MSN, CPHQ, vice president of Quality and Education, Mayo Hospital. "We're proud of them for completing a challenging course of study while navigating home, work, and other responsibilities. It was great to celebrate their success, and we wish them the very best in their careers."
The CNA program was funded by the Maine Jobs and Recovery Plan through the Harold Alfond Center for the Advancement of Maine's Workforce.