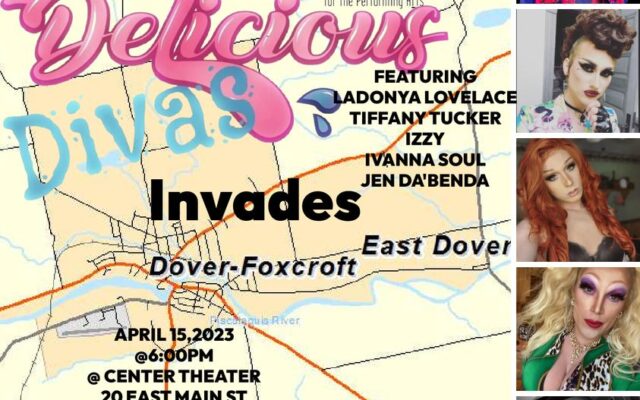 326102732_3063020950664444_4562175757628241678_n
Bangor drag queen troupe schedule 1st show in Dover-Foxcroft
DOVER-FOXCROFT — A popular drag group that performs at venues across the state will be in Piscataquis County for the first time in April.
Delicious Drag Divas, founded in Bangor by Lloyd Tracy and his husband, Tony, a.k.a. LaDonya Lovelace, is coming to the Center Theatre in Dover-Foxcroft on April 15.
Since the theater announced the show Jan. 18 on Facebook, about half the tickets have been sold, which is remarkable for a show a few months away, Executive Director Patrick Myers said Monday.
The Divas group is renting space at the theater, and the auditorium's capacity is 264 people, he said.
Drag queens have performed at sold-out venues in Bangor and drawn audiences of all backgrounds, though the Divas' shows are for those 18 and older because of language and costumes, said Tracy, who performs as Lady D. The event has generated excitement for residents in Dover-Foxcroft and the surrounding area, with the exception of a handful of negative responses.
"I would say there is a lot more enthusiastic support than there is negativity surrounding the event," Myers said, noting that those who expressed their dissatisfaction appear to be part of a vocal minority.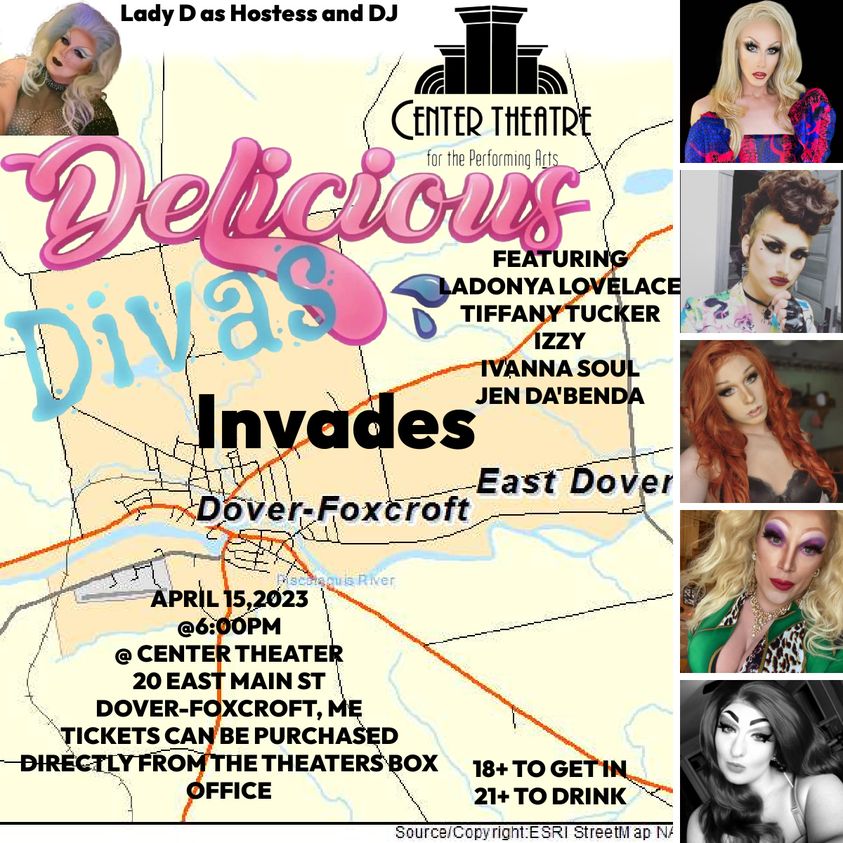 The theater received a voicemail and a few emails and Facebook messages from people opposing the event, Myers said. The only negativity that Tracy has experienced tied to the event is being tagged on Facebook by a group that urged businesses supporting the theater to withdraw their funding immediately. Tracy simply untagged the Divas from the post, he said.
"The handful of people who have contacted the [Center] Theatre have said that a drag show does not reflect their values," Myers said. "Some have said they will not be supporting the [theater], and others don't think anyone should be able to attend the performance."
A similar thing happened in Presque Isle when Pride Aroostook sponsored the Divas at a local sports bar, which ended up moving the event to a venue in Fort Fairfield. Presque Isle residents shared concerns about whether the city should remain welcoming or exclude certain groups of people.
The Divas have events lined up about every two weeks, Tracy said. Some of the drag queens also perform on their own at other locations.
The Divas were performing frequently at the Downunder Lounge at Seasons, but it stopped after the sports bar decided not to renew its music licensing, Tracy said. He hopes the Brewer Eagles Club, where the Divas have a Mardis Gras performance coming up, can become more of a regular spot.
In Dover-Foxcroft, the group is considering a second performance if the first one is well-received. Another local venue has reached out to Tracy about coordinating an event, he said.
"Most of the time, it's positive [responses]," Tracy said. "We get the occasional person saying, 'not for me,' or 'gross.' But nobody has gone to the extent of this person who created a Facebook group to try to get us kicked out."
Tracy is referring to Samuel Bridges, who is behind a YouTube channel called The Bridge and created a group on Facebook that pushes for a "drag-free" Dover-Foxcroft. The new group, called DF, Drag Free Dover, had about 50 members Monday, including Piscataquis County's treasurer, according to its page.
Bridges was not immediately available to discuss the group's purpose and whether it has reached out to the theater with its concerns.
Last week, Bridges wrote on his page that anyone who has purchased a ticket to the show should obtain a refund and travel to Bangor instead. He urged people to join him in fighting "against the sickening ideologies that are accepted as 'inclusive.'"
"My only concern is that we have seen the results when troubled individuals are inspired by irresponsible social media rhetoric," Myers said. "There have been numerous acts of vandalism linked to drag shows around the country recently, and we certainly don't want to see that happen here."
People with questions or concerns should contact Tracy, who is happy to discuss the Divas and their performances, he said.
The event is scheduled for 6 p.m. April 15 at the Center Theatre, 20 E. Main St. in Dover-Foxcroft. Tickets are $15, and they're available at the theater's box office or online.