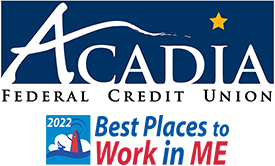 Acadia FCU offers $6,000 in scholarships to 2023 graduating seniors
As a financial institution invested in their communities and neighbors, Acadia Federal Credit Union is pleased to announce they will award $6,000 in scholarships to area high school seniors.
Three $2,000 scholarships are being offered to graduating Maine seniors who plan to attend college. Acadia FCU believes in the value of education and proudly invests in Maine's future by offering financial support to students who need it. The three $2,000 awards will allow local high school graduates to offset the cost of college education.
"We strongly believe that education is the key that unlocks opportunities for independence and empowerment," said Acadia FCU Marketing Manager, Alison Smart. "We're honored to play a small part in helping young people — some who may even work for us one day — to achieve their goals of completing their degrees. It's one of the facets of Acadia's mission to enrich the lives of others."
The Acadia Federal Credit Union college scholarship is available to current Maine Class of 2023 high school seniors who meet ALL of the following eligibility criteria:
• (1) Attend an Aroostook, Hancock, Penobscot, Piscataquis, or Washington County high school;
• (2) Plan to enroll in a two- or four-year college or university; and
• (3) Are an active Acadia FCU member or whose parent(s)/guardian(s) is/are active member(s).
Those who meet the scholarship criteria may complete the application online at www.acadiafcu.org. The deadline to apply is April 17.
Acadia Federal Credit Union is a member-owned financial institution, created through the merger of seven smaller community credit unions, since 1963. Acadia FCU serves Aroostook, Penobscot, Hancock, Washington, and Piscataquis county; currently has eight branch locations, over 15,000 members, and assets totaling over $313 million. For more information, please visit acadiafcu.org.