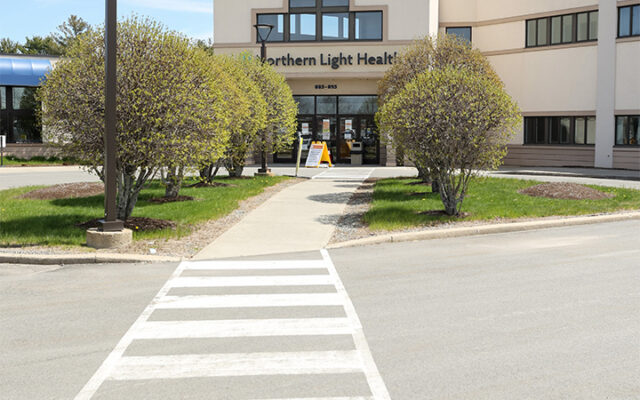 NL Health Center – Union Street reduced
Photo courtesy of Northern Light Health The Northern Light Health Health Center on Union Street in Bangor.
Recent cutbacks reveal financial headwinds facing Bangor's largest health care system
By Kathleen O'Brien, Bangor Daily News Staff
Recent moves by the Bangor region's largest health care system to scale back or sell off services signal that Northern Light Health is facing some of the same financial headwinds as health care systems across the U.S. struggling to bounce back from the COVID-19 pandemic.
Those changes have included the sale of hospital labs to a national company, the closure of a primary care practice in Orono, the removal of most physicians from the system's walk-in care clinic in Bangor and the closure of a specialized rehab program at Bangor's Northern Light Eastern Maine Medical Center.
Northern Light, which is based in Brewer and runs 10 hospitals, is making the changes after it incurred significant expenses during the COVID-19 pandemic to set up large-scale COVID-19 vaccine clinics, raise wages for staff in a difficult hiring environment and rely on a corps of pricey traveling nurses to fill vacancies.
"These were the right choices, but also added to deeper deficits which we now need to correct," Northern Light spokesperson Suzanne Spruce said. "Fiscal year 2022 was a hard year and our situation is not unique, it's a reflection of what is happening in healthcare throughout Maine, across the country, and around the world."
Spruce didn't provide numbers detailing Northern Light's financial condition over the past year. The system as a whole posted a positive margin during its 2021 fiscal year, the most recent for which Northern Light has published an annual report. That year, only two of the system's 10 hospitals — A.R. Gould in Presque Isle and Maine Coast in Ellsworth — posted negative margins, according to financial information from the Maine Health Data Organization.
The changes Northern Light is making are a local example of the financial deterioration hospitals across the country are working to bounce back from, said John Morrow, managing director of Franklin Trust Ratings, which compiles and analyzes health care financial data.
Northern Light announced in early December that Quest Diagnostics, a company that runs testing sites and medical laboratories across the country, would manage nine of Northern Light's hospital laboratories as well as the laboratory at Northern Light Cancer Care in Brewer. The all-cash transaction is expected to close in the first quarter of this year.
Maine Public Radio then reported that EMMC in Bangor, Northern Light's flagship hospital, planned to close its inpatient acute rehabilitation program, which treats patients with traumatic injuries and debilitating disease and those recovering from certain types of surgery. A hospital spokesperson said the change was made to meet the greatest needs of the community with available resources.
Those announcements were followed by news that EMMC would close its Orono primary care practice on Jan. 1. Again, closing the practice represented "the wise use of resources," EMMC spokesperson Amy Kenney said.
And on Monday, Northern Light announced it has temporarily reduced hours at its Bangor walk-in care center while it "restructures the care model" at the facility.
That restructuring will task nurse practitioners and physician assistants with providing care, rather than doctors. But a physician medical director will remain available to advise and support staff, according to spokesperson Kris Currier.
The walk-in clinic, on Union Street in Bangor, is now open Mondays, Tuesdays, Fridays and Sundays from 8 a.m. to 7 p.m., but it hopes to resume a seven-day schedule later this winter.
"This approach reflects those at other Northern Light walk-in care locations and is consistent with national trends for walk-in care," Currier said. "It reflects thoughtful use of our resources while maintaining the high-quality care our patients and communities have come to expect and deserve."
The shift affected two full-time Northern Light providers, Currier said, who were offered alternate assignments within the organization.
Health care systems in the U.S. are dealing with three symptoms of the COVID-19 pandemic that brought new uncertainty and instability to their industry, Morrow said.
First, people avoided routine and preventive care during the pandemic to avoid getting sick while receiving care in facilities, Morrow said, spurring unstable demand for services.
Second, the demands of the pandemic burned out the country's health care workforce, causing many to leave the industry or seek other, less stressful health care jobs.
Third, the cost of materials and labor increased, Morrow said, further driving up operating costs. This has led health care systems to rethink how they offer care and what their priorities are to keep margins out of the red.
"We see that manifest in a variety of ways. We see services being terminated, hours being reduced, and locations being consolidated," Morrow said. "In small and rural hospitals in particular, there isn't enough demand to warrant offering all kinds of services."
A September report from the American Hospital Association projected that more than half of U.S. hospitals would continue to see negative margins through the remainder of 2022, and predicted that hospitals' labor and non-labor expenses would increase by nearly $135 billion over 2021 levels.
If a hospital's operating costs continue to exceed revenue, Morrow said, it eventually needs to ask itself "whether they should be in business at all."
"At some point, negative operating margins will result in the rationing of care or delivering sub-par care, and no one wants that," he said.