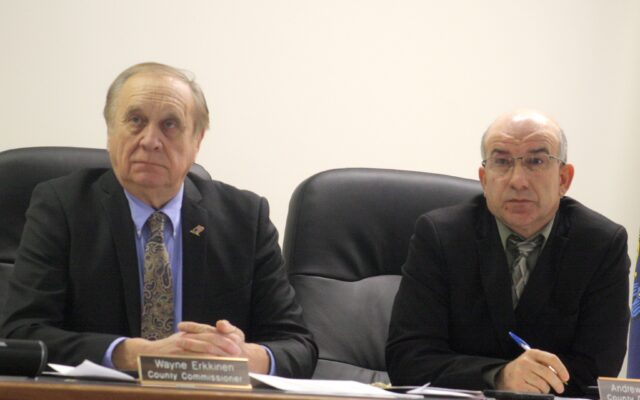 Commissioners
In this file photo from January 2021, Piscataquis County Commissioners Wayne Erkkinen, left, and Andrew Torbett appear during a commissioners meeting. (David Marino Jr. | BDN)
Piscataquis commissioners select Torbett as chairman
DOVER-FOXCROFT — Piscataquis County's commissioners selected Andrew Torbett as the new chairperson to lead their discussions during a meeting Tuesday.
James White, whose term expired at the end of 2022, was the previous chairperson.
Torbett, who lives in Atkinson Township, was elected in November 2020, and his term expires Dec. 31, 2024. He represents District 2, which includes Atkinson Township, Dover-Foxcroft, Medford, Orneville Township and Sebec.
The commissioners' first meeting of 2023 was fairly routine and quick. It included expenditure approvals, appointments to various committees and updates from department heads, including aftermath from the winter storm just before Christmas and open positions.
Commissioner Paul Davis of Sangerville, who was elected in November 2022, will serve as vice chairperson. He represents District 1.
Commissioner Wayne Erkkinen of Harfords Point Township represents District 3.
Here are other highlights from Tuesday's meeting:
Piscataquis was lucky in terms of damage from the winter storm just before Christmas and the following restoration, Emergency Management Agency Director Jaeme Duggan said. Most residents got power back by Sunday, Dec. 25. The last outages in places such as Beaver Cove, Bowerbank and Sebec were back to normal by Monday, Dec. 26. About 300 trees were cleared to allow emergency vehicles into Beaver Cove, which had been cut off, Duggan said. The county experienced what appeared to be microbursts in some towns. "There was a convection line that came through on Friday night and we're actually working with the [National] Weather Service to see what that was because all the trees came down in the same direction," she said.
The Piscataquis County District Attorney's Office is working with its information technology department in Augusta and the county's head of maintenance to get its wireless internet signal to work throughout the building's upstairs, rather than only in the large courtroom. "We can't connect to our network past that large courtroom, so we're going to be looking at that more as we get into the new year," said Corina Rackliff, office manager.
The sheriff's office is down one person on the patrol side and hopes to fill that position. "Right now we're hampered because our wages are low, and that matters," Sheriff Robert Young said. "A couple of our guys are being actively recruited. We want to hold on to them, but when you can go someplace else for another $10,000 a year, that's pretty tempting."
The county's maintenance department is struggling to fill an open part-time position, said Joshua York, head of maintenance.