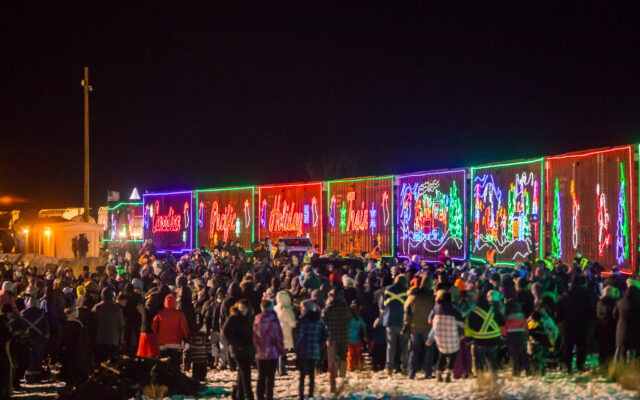 Canadian-Pacific-holiday-train-2017
Photo courtesy of Canadian Pacific HOLIDAY EVENT – A community gathers to see Canadian Pacific Railway's holiday train and watch a concert in this photo from 2017.
Holiday train that brings cheer to children and donates to food pantries will stop in Brownville
BROWNVILLE — A holiday train decked out in twinkling lights — and equipped with a boxcar that transforms into a stage for performers — plans to stop in Brownville on Wednesday, Nov. 23. Canadian Pacific Railway's holiday train is scheduled to stop at 2:30 p.m. at the CP Brownville Junction Yard to put on a free concert and raise funds and collect food items for Dyer's Hope House Food Pantry in Milo (donations can be dropped off as attendees enter).
There will be free coffee and hot chocolate being served by the LakeView Church. The Bernard Jones American Legion Post 92 is opening their space to warm up and have some free coffee and donuts as well from 1:30-3:30 p.m.
Fire department members will be assisting with safety and traffic control, as well as the Piscataquis County Sheriff's Office. If visitors would like to park at Davis Field just down the road from the railyard, Rowell's Garage will be providing a shuttle bus from the field to the railyard. People are welcome to park on the side of the streets as long as they are mindful of private driveway entrances and fire hydrants. Parking is available in the railyard, where the stage will be set up, for those that have proper disability license plates or placards. Santa will be making an appearance as well
The railway company has two holiday trains that travel to more than 170 communities each year — one to Canada and the other to the United States and parts of Quebec and southern Ontario, according to an informational packet provided by the company.
Canadian Pacific Railway, which has a presence in Maine that dates back to the 1880s, is adding the state to its list of holiday train stops for the first time this year.
The company sold its railway corridor that runs through Brownville in 1995 but bought it back in 2020, spokesperson Andy Cummings said. The railway — which is considering stops in Maine beyond Brownville — had hoped to bring its holiday train to the state sooner, but the COVID-19 pandemic delayed plans.
The railway streamed virtual shows in 2020 and 2021. It raised $1.7 million and about 112,000 pounds of food for 201 food banks through its virtual programming in 2021, according to information provided by the company.
The railway company considers multiple factors, such as population and Canadian Pacific employee presence in a community, when it makes its selections for stops, Cummings said. Brownville is a key location because Canadian Pacific train crews work there.
The train has stopped in places such as Michigan, Minnesota, North Dakota, Iowa and Illinois in past years, according to media accounts.
The holiday train program has raised about $21 million and 5 million pounds of food for food banks since launching in 1999, he said. Canadian Pacific makes a corporate donation to each food pantry that it selects for a stop, which usually amounts to $4,500 or more depending on the size of the community.
Once the 1,000-foot-long holiday train with 14 decorated railcars arrives in a community, the boxcar with motorized doors drops down and creates a stage for performers. Along with the concert, Canadian Pacific presents its donation to local officials.
More information can be found on the website at https://www.cpr.ca/en/community/holiday-train. The holiday trains travel from about Thanksgiving time to Dec. 17 or 18, Cummings said.
The Piscataquis Observer's Valerie Royzman contributed to this story.