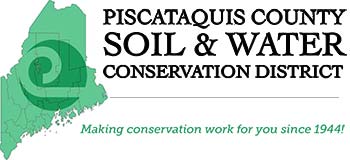 PCSWCD receives grants to further conservation education and enhance the Williamsburg Forest
The Piscataquis County Soil and Water Conservation District works hard to promote stewardship and provide resources to community members, arming the public with information and solutions to protect, promote and conserve natural resources. Grant funding for special projects and support for existing services elevates our work, ultimately resulting in big improvements in and for our local communities.
PCSWCD worked hard to secure two sources of grant funding for projects being carried out in 2022 and 2023: a Maine Community Foundation grant to make forest management and trail updates to PCSWCD's unorganized territory property, Williamsburg Forest (formally Demonstration Forest), and an Onion Foundation grant to help support and increase youth conservation education in Piscataquis County.
The Maine Community Foundation grant received for the Williamsburg Forest will provide significant improvements to the public land. All updates will be centered around creating a space geared towards women woodland owners. PCSWCD and partner organizations Northeast Forest Stewards Guild and UMaine School of Forest Resources, will work together to establish chainsaw safety courses and demonstration areas used to broaden and strengthen chainsaw skills.
Programs like these help women feel empowered to use tools and resources necessary to work on their land and build confidence in their decisions to manage a sustainable, income-generating forest. In addition to chainsaw demonstration areas being established, grant funds will be used for trail updates and signage, drastically increasing land accessibility and educational opportunities for area schools, youth and the general public. Programs will be centered around natural resource education, forest health, land management, stewardship and more. Grant funds will support improvements made to existing multi-use trails, providing public access and increasing the well-being of the local community.
Lastly, funds will be used to update the forest management plan at the Williamsburg Forest and create a harvest plan, which will help sustain the overall capacity of PCSWCD. The harvest plan will include systematic harvests, creating additional funding for future and continuing education. Private forester Molly London and PCSWCD's Community Forestry representative and forestry graduate student Elisa Schine will work together to generate an updated Forest Management Plan, incorporating input from the PCSWCD Board and project partners.
In April, Sarah Robinson, PCSWCD executive director, led several women in the natural resource professionals field on a brainstorming session at the Williamsburg Forest to discuss the vision of creating a woodland geared towards women landowners and to determine how to enhance the property for the entire public. At that planning session, the tag line "A Forest for Everyone, Managed by Women," was coined by partners from UMaine School of Forest Resources. That message will be carried throughout the work being done with these grant funds. PCSWCD wants to thank Maine Community Foundation for the opportunity to bring these exciting developments to light.
In addition to the Maine Community Foundation grant, PCSWCD received a grant from the Onion Foundation to help support our youth conservation education efforts. If you follow PCSWCD on social media, I'm sure you have seen the smiling faces of school children throughout Piscataquis County, enjoying outdoor lessons with our Educational Coordinator Kacey Weber.
PCSWCD has seen a marked increase in demand for outdoor education and we want to continue answering that call! Historically, we have provided tailored educational offerings to schools, municipalities, organizations, etc. and we needed financial support to meet the increase in demand. The Onion Foundation grant funds allowed for us to expand on our current efforts and offer some fun summer programming, work with local partners such as Appalachian Mountain Club, Thompson Free Library, SeDoMoCha School for after school programming, and much more. PCSWCD is so grateful for the support received from the Onion Foundation and is ready and excited to continue investing in our children and communities.
The Maine Community Foundation and the Onion Foundation grants mean exciting, positive changes for Piscataquis County communities. We urge residents to stay connected with us through Facebook www.facebook.com/www.piscataquisswcd.org, Instagram – instagram.com/piscataquiscountyswcd, and our website www.piscataquisswcd.org for updates on the exciting progress being done through this work.