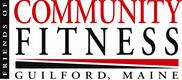 1c1bb78d33f27c6ece2d96ceff9b2239
Friends of Community Fitness in Guilford
Pine Tree Camp on the Road comes to Guilford
GUILFORD — Kids with disabilities in Piscataquis County can experience the freedom and fun of Pine Tree Camp this summer right in their own backyard. This August, Pine Tree Camp is taking "Camp on the Road" to Guilford for a week-long summer camp day program, bringing a safe, adaptive camp experience to children with special needs.
"We know how hard it can be for families in Piscataquis County to travel to Pine Tree Camp, so we are removing that barrier by bringing the Pine Tree Camp experience to them," said Nate Podgajny, assistant director of Pine Tree Camp.
This summer day camp will take place from 9 a.m. to 3 p.m. Aug. 8–12 at the Friends of Community Fitness Center in Guilford. Campers ages 5-16 with a disability and their siblings are welcome to attend. The week will be filled with accessible games and activities, including adaptive bikes, inflatable archery, and a brand-new land canoe on wheels.
"We're always looking for ways to be more accessible and taking Pine Tree Camp on the Road is a way to bring programming to people for whom its harder to come to us," Podgajny concluded. "For a lot of families, it's a big commitment to come out to camp. We're hoping that by bringing Pine Tree Camp to them, they'll see how beneficial camp can be and why the extra effort it takes to travel to camp for an overnight summer camp experience is life changing for so many people."
Applications can be made at https://pinetree.campintouch.com/ui/forms/application/camper/App. Financial assistance and full scholarships are available.
Every year, hundreds of Maine children and adults with disabilities arrive at Pine Tree Camp in Rome and their lives are transformed. Driving down the camp road, campers enter a world that is barrier-free, leaving behind the confines of their disability thanks to the camp's 285-acre, fully accessible year-round campus. In all four seasons, campers actively participate in all the activities for which Maine is famous — kayaking, boating, fishing, hiking, biking and snow shoeing — experiencing freedom and independence. Since 1945, Pine Tree Camp has welcomed all who could benefit, regardless of their ability to pay. Pine Tree Camp is Maine's only American Camping Association-Accredited camp for people with disabilities.