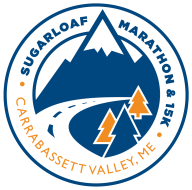 Portalatin places 13th in Sugarloaf Marathon
CARRABASSETT VALLEY – Rico Portalin, 50 of Milo, finished 13th at the 2022 Sugarloaf Marathon on Sunday, May 15. Portalatin covered the 26.2 miles in a time of 2 hours, 51 minutes, 6 seconds to place 13th among 544 finishers. Portalatin was also second among 28 runners in the men's age 50-54 division.
Seven runners from across the region were among the 505 taking part in the 15K race the same day.
Dan and Lori Sharrow, 50 and 56 of Dover-Foxcroft, were 257th and 258th with respective times of 1:28.50 and 1:28.51 on the 9.3-mile course.
John Lemieux, 77 of Sangerville, ran a time of 1:33.20 to place 304th overall. He was first among five entrants in the men's 75 and over age division. Joseph Ponte, 44 of Abbot, placed 331st in 1:35.21. Peter Devine, 72 of Garland, finished 340th at 1:36.19 – Devine was first of two runners in the men's age 70-74 bracket. Suzannah Sinclair, 42 of Greenville, came in 341st with her time of 1:36.21.