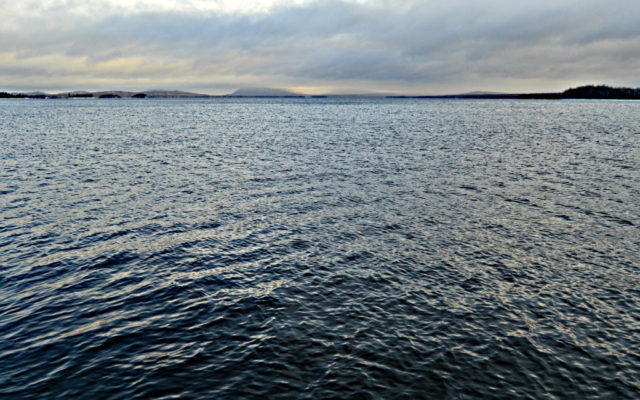 Moosehead Lake
Moosehead Lake
Moosehead and Penobscot Region fishing reports
By Fisheries Resource Supervisor Tim Obrey
Where to fish: April will be the month of transition here in the Moosehead Lake Region. We had good ice conditions this winter so anglers will have some additional ice fishing time during the first week of the month. Traveling will be good since most of the snow has melted from the ice surface. This is a good time to get any remaining ice shacks off the lakes. Just be careful near moving water, pressure ridges, or rocks. These are the first areas to open up. Even with the cooler temperatures, the sun will do its job and we anticipate open water by the end of the month. The Piscataquis River in Dover-Foxcroft opened up the last week of March and typically that means Sebec Lake will shake off its winter coat two weeks later.
If you're looking for a safe place to ice fish in early April, then head north. The ponds north of Greenville will hold their ice longer and there is still snow in the woods. There are many small ponds and large lakes north of the Golden Road that are open in April and the fishing pressure is fairly light. Prepare for the muddy roads and respect landowners.
Also, we typically get a few warm days in mid-April. This might be a good time to hit the East and West Outlets. It's not uncommon to see a midge or even a stonefly hatch this time of year. The flows are controlled by upstream dams, so these rivers are usually fishable while floods rage in our uncontrolled rivers. Any fish that have overwintered in the river will be hungry and smelt patterns or stonefly nymphs can be effective. Just use caution around the shell ice along the shore.
Fishing tip: Our trout ponds will start to open by the end of the month. Ice out is the best time to catch a big brook trout. These fish are cruising the shoreline and looking for a meal. The trick is to be at the right place at the right time. So, look over your list of favorite trout ponds and spend some time there as soon as the pond is ice-free.
We will undoubtedly have some cold, blustery days in April. It's a good time to prep your gear and tie up any flies to replace those you left in the trees last summer!
–
By Fisheries Resource Supervisor Kevin Dunham
Where to fish: Anglers are shifting their focus to open water fishing now that April and the spring season has arrived. Smaller brooks and streams throughout the region offering wild brook trout tend to get targeted early since water levels and flows are often advantageous, particularly this season due to the low amount of snowpack for spring runoff.
Historically, the West Branch of the Penobscot River has been an opening day destination for many anglers. The stretch of river between the Telos Road bridge (T3 R11 WELS) and the Abol bridge (T2 R10 WELS) in the vicinity of Nesowadnehunk Deadwater and Abol Deadwater, just off the Golden Road, is a popular spot for those itching to begin their open water season.
Anglers looking for early season ice-out trolling action will want to head to West Lake (T3 ND) for landlocked salmon and brook trout; Duck Lake (T4 ND) for salmon and brook trout; Hay Lake (T6 R8 WELS) for salmon and brook trout; or Cold Stream Pond (Enfield) for salmon and lake trout. Most of these waters are ice free by the end of April at the latest. Please remember to check the Maine Inland Fishing Laws here or download the Maine Fishing Laws Online Angling Tool before heading out for a day of fishing.
Fishing tip: Success in coldwater fishing often relies on slowing down your presentation and retrieval techniques. If you're not having any luck when trying to entice lethargic fish, use subdued colors and a slow retrieval and your catch rate may improve.
Reminder: As always, whether you're fishing a swiftly flowing river or trolling a newly ice-free lake, spring water temperatures can be dangerously cold. Wearing a lightweight inflatable PFD or a float coat could help save your life if you unexpectedly end up in the water.