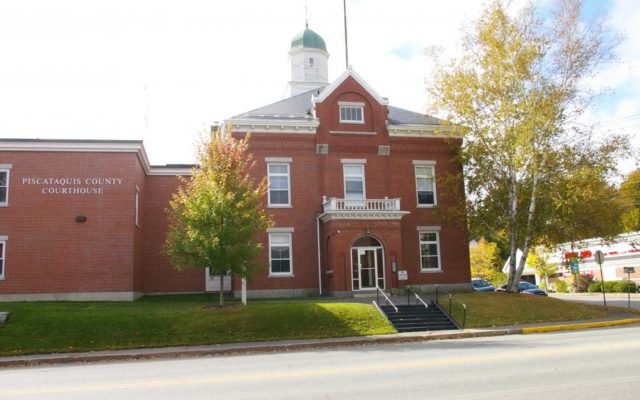 Piscataquis_County courthouse
Commissioners approve county, UT budgets
DOVER-FOXCROFT — An approximate $5.4 million 2022 Piscataquis County budget is now in place, as is a near $2,067,400 2022-23 budget for the Unorganized Territories. as both spending plans were formally approved by the Piscataquis County Commissioners during a Dec. 21 meeting.
County Manager Michael Williams explained the $5,440,454 county budget would be offset by $725,977 in revenues for a net amount of $4,714,457 to be raised through taxes. He said this corresponds to a $0.1714 mill rate, up from from the previous year's $0.1701 rate.
The county and UT budgets are up by about 5.8 and 7.5 percent, respectively, due to wages, personnel and contract increases. He said revenues are projected to increase by $122,400 for the county budget and $71,000 for the UT budget.
"In general part of [the county increase] was wages and then there was the addition of an officer up in the UT area, that is probably approximately a third of why the budget changed," Williams said. "The rest of it was more or less wages. There wasn't very much extra spending anywhere in the budget this year."
The county manager said the UT budget increase stems from changes in snow plow contracts with rates going up and three capital line additions to the spending plan. He said these are for accounts dedicated to winter storms and other weather damage, fire protection as the county renewed services with three towns that cover the east side of Piscataquis, and cemeteries that need to be cleaned up.
For each budget, the county needed to approve an LD1 property tax growth factor override.
"We're above LD1 with the budget, the increase," Williams said. He explained that Piscataquis County, along with nearly all of Maine's 15 other counties, does not get all the information from towns on valuation changes in on time during the budget development process.
"They're going with the override because most of us are in that position," he said, which allows the budget to be approved despite going over the limit set by LD1.
The county's Budget Advisory Committee began its review process Oct. 14 and wrapped up Nov. 4 after holding four meetings. A public hearing took place on Nov. 29.
In other business, the commissioners opted to take no position on the LUPC development permit for Moosehead Medicine in Moosehead Junction Township.
Williams said based on conversations he has had with the state, the business would have a storefront for medical marijuana in addition to an indoor growing facility.
He said counties do not have a great deal of oversight over medical marijuana in UTs. In Piscataquis County the product cannot be grown outdoors within 100 feet of the property line, but this would not be an issue for Moosehead Medicine.
Commissioners Chairperson Jim White said they would "abstain from commenting at this point," before introducing a motion to this effect.
Sheriff Bob Young was asked about any issues with the project. "No, there are not," Young replied.
He said he was asked to write a letter saying the Piscataquis County Sheriff's Office provides law enforcement services as needed in this part of the region, and this is common practice for businesses as part of the permitting process.
The commissioners learned about a planned expansion of Barnard Cemetery.
"The family that owns all the land around is willing to donate a 50-foot addition at the end of it," Williams said. He said this should allow for the addition of 75 to 100 plots.
The county manager said the only additional expense would be to extend the cemetery fencing, and this is part of the newly approved 2022-23 UT budget.
Valerie Royzman of the Piscataquis Observer contributed to this story.