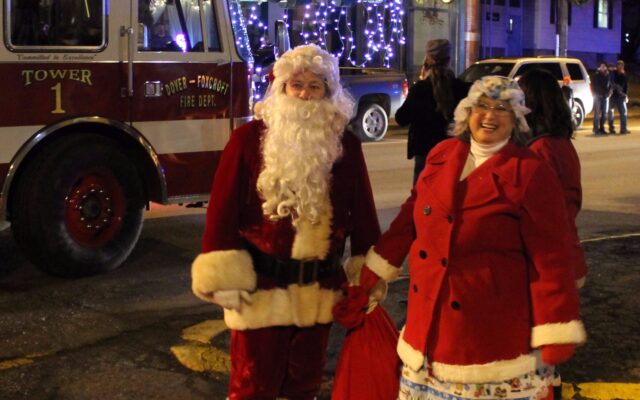 PO-holidays-49
In this Observer file photo, Santa and Mrs. Claus arrive at Union Square in Dover-Foxcroft for the Festival of Lights parade, part of the town's annual Hometown Holidays celebration. Santa led the countdown from 10 to one to turn the Union Square tree lights on with a twitch of his nose to kick off the holiday season. (Stuart Hedstrom | Piscataquis Observer)
'Tis the season: Piscataquis communities prepare for holiday festivities
The end of November is close by, meaning Piscataquis County towns are gearing up for holiday celebrations that bring merry parades and visits with Santa, houses decked out in twinkly lights and a special kind of bliss to area children.
As area communities have adjusted to living, working and schooling during pandemic times, some are wondering how best to celebrate. Towns, committees and the Piscataquis County Chamber of Commerce are devoted to making this holiday season especially memorable for families and community members in need of some winter cheer and are planning a full schedule of events.
Although most towns in the county offer activities and events the first weekend of December, Greenville celebrates the weekend prior, said Denise Buzzelli, Piscataquis County Chamber of Commerce executive director.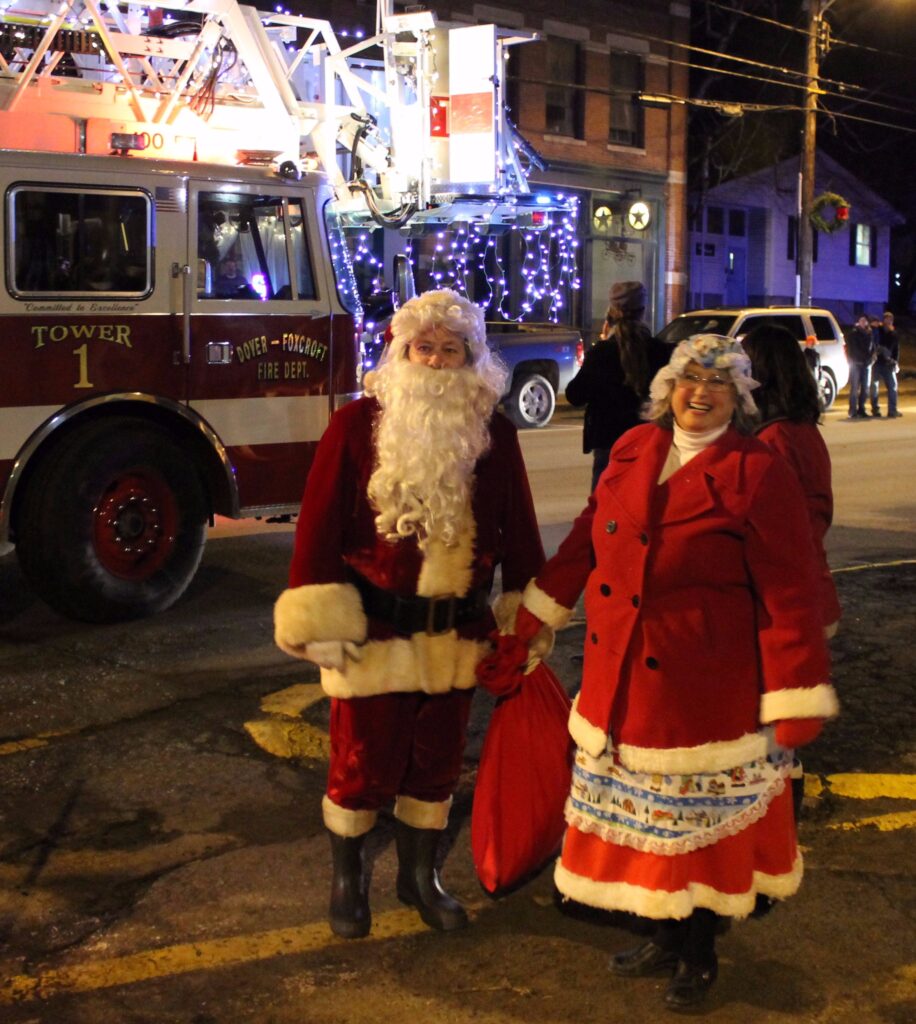 A variety of events, known as Deck the Halls, are slated for Friday, Nov. 26, and Saturday, Nov. 27.
Home decor and holiday bazaar from 10 a.m. to 4 p.m. Friday and Saturday, at the Rockwood Community Building.
Christmas Traditions Makers Market from 9 a.m. to 3 p.m. Saturday, at the American Legion Hall in Greenville.
Greenville Recreation Silent Auction from 10 a.m. to 3 p.m. Saturday, at the Greenville Town Office.
Kids Crafts and Santa from noon to 2 p.m. Saturday, at the Greenville Fire Department.
Deck the Halls parade (yes, Santa will be there) begins at 4 p.m. Saturday, at the Greenville Junction Industrial Park and stops at the town Christmas tree in Greenville.
Lights of Life tree lighting, hosted by C.A. Dean Hospital, at 4:45 p.m. Saturday, at the tree next to the gazebo in Greenville. Santa and medical workers will light the tree.
Some Greenville businesses and residents are participating in a Christmas decor contest, which begins Nov. 27 and goes until Dec. 11, when judges will select first, second and third-place winners in both categories. Tourism organization Destination Moosehead Lake will release a map or list of beautifully lit stops so residents and visitors can tour the town, Executive Director Allison Arbo said.
"We plan this annual event [Deck the Halls] because it is so important for the community to have something to come together for and celebrate the holidays," she said. "This is when many people come home for the holidays."
There will also be a Holiday Inn Tour, from noon to 4 p.m. Dec. 11, where people can visit the Greenville Inn, Blair Hill Inn and The Lodge at Moosehead Lake, all decked out for the holidays. Innkeepers will share the rich history of each location.
Tickets for the public event, open to children over the age of 10 and adults, are $15 and available online or by calling 207-695-2702. The tour raises funds for Destination Moosehead Lake.
Other area municipalities and committees will also host holiday events, known as Hometown Holidays, which the Piscataquis County Chamber of Commerce posts on its website. Buzzelli also forwards the schedule to area elementary schools, which are then shared with parents.
Probably the biggest hit in Dover-Foxcroft is the Festival of Lights parade, slated for 5 p.m. Dec. 4.
Families and children have been through a lot since the COVID-19 pandemic began, and "they need a little magic in their lives," Buzzelli said.
The parade — featuring festive floats and adorned vehicles and trailers from local businesses and organizations — begins at Foxcroft Academy and ends at the Dover-Foxcroft Fire Department, where Santa will light the tree and meet local children. Along the way, residents turn their Christmas lights on to amp up the holiday spirit (hence the name, Festival of Lights).
This year, the chamber is also making an effort to brighten the downtown.
"If you look at really old photos in the '30s and '40s, they have these beautiful lights strung across the road," Buzzelli said. "We haven't done it in so many decades. … This year, we said, 'You know what? We're going to try to recreate this.'"
Every holiday season, the chamber makes it a priority to promote events throughout the county because it's about connecting people and strengthening the region's economy, Buzzelli said. It also draws Mainers living outside Piscataquis and shows them the strong quality of life here, she noted.
"It makes people have a sense of place," she said. "It makes people have a sense of, 'This is home.' I love how people work together, and I love the feeling of walking through a Hallmark movie as they walk through the center of town."
The chamber is still collecting hand-knitted mittens, which will be distributed to children who need them at the tree lighting. Donation boxes are at Rowell's Garage, Will's Shop 'n Save and the chamber in Dover-Foxcroft until Friday, Nov. 26.
Printable Christmas wish lists are available on the chamber's website. A full schedule of events will be posted on the website for county residents to view.
Also in Dover-Foxcroft, the Bangor Ballet is performing "Nutcracker in a Nutshell," at 7 p.m. Dec. 4, and at 2 p.m. Dec. 5, at the Center Theatre. The ballet will also offer the production at the Hampden Performing Arts Center the following weekend.
Tickets are available on the Bangor Ballet's website or at the door an hour before show time. They are $16 for adults and $10 for children, students and seniors.