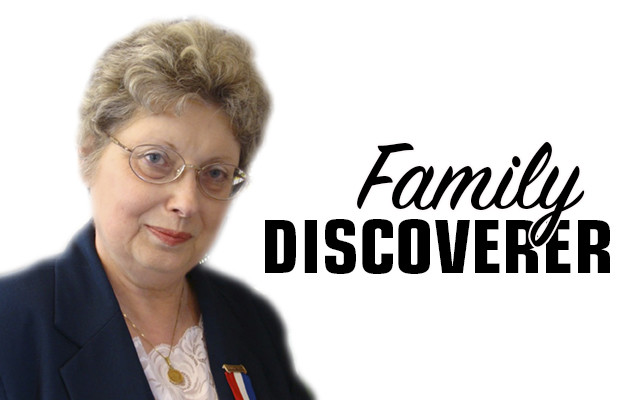 Nancy Battick.jpg
Nancy Battick (of Dover-Foxcroft, president of the Daughters of Union Veterans.) (BDN Photo by Diana Bowley)
Avoid the rabbit holes
By Nancy Battick
One of my college professors wrote ASSUME on the chalkboard and warned us to never assume because "When you assume you make an "ASS" out of "U" and "ME." Genealogists can make assumptions that get them into trouble. Whether you're a newbie or experienced genealogist the thrill of the hunt can get you on the wrong path. There can be strong circumstantial evidence that makes assumptions reasonable. But others hoist red warning flags. Let's take a look at a few.
You've found your line. The names fit, the family is noble, the line is clear but wait a minute, the record indicates the mother is only 7 years old. How tempting is it to figure someone made a mistake and go blithely researching this line until you realize it isn't your family at all? The assumption here has led you astray and you may have spent months or years researching the wrong family. No girl of 7 has had a baby.
The second red flag is to assume that the wife and mother of a family in a town's vital records is a) the man's first wife and b) the mother of all the children. I've written before of the high mortality rate of women in ages before modern medicine. Many died in childbirth or shortly thereafter. Husbands often remarried soon after their wife's death especially when they had a houseful of young children. And unless the first wife had a most unusual given name it's altogether possible that the second wife had the same name. Mary for example was common so finding Mary as the wife and mother lures us into assuming she's the mother of all the children. But is she? Check marriage and birth dates carefully lest that understandable assumption causes you headaches.
Another red flag is when the records seriously clash with one another. Watch for things such as a woman giving birth before she's born or after she dies. Not possible. So what's going on? It's another case of mistaken identity. The faulty assumption here is that there is only one individual in the country with that particular name. Even my father who had a relatively uncommon Lithuanian/Polish surname had a first cousin as well as a man in the Chicago area with the exact same names. It's easy to make these mistakes so be careful.
Also, watch out for a woman supposedly having a baby in March and another in June. That didn't happen so something is clearly wrong and more research is needed. Women can have two children in a year but there should be at least 8 months between them. And beware of the 13-month pregnancies that often crop up in records or online trees.
Think no one could make these mistakes? I found all of these in online trees and they're still out there for unwary genealogists. Watch out for those assumptions that lead you down the rabbit hole and divert your research.
'Nuff said. Nancy Battick is a Dover-Foxcroft native who has researched genealogy for over 30 years. She is past president of the Maine Genealogical Society, author of several genealogical articles and co-transcribed the Vital Records of Dover-Foxcroft. Nancy holds an MA in History from UMaine and lives in Dover-Foxcroft with her husband, Jack, another avid genealogist. You can contact Nancy at nbattick@roadrunner.com.