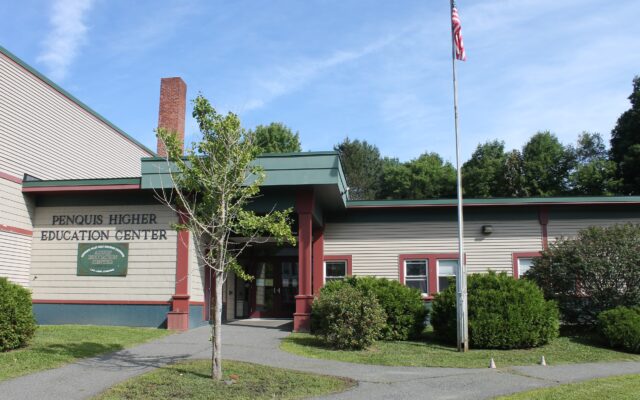 PO-pvaec-36-19
Observer file photo/Stuart Hedstrom The Penquis Higher Education Center in Dover-Foxcroft.
Free course will help with education/career paths
Residents of Piscataquis County and the Katahdin region wondering where they may potentially go with their education and careers will have the opportunity to take an exploratory step in both directions with a free online 8-week course through Eastern Maine Community College and Eastern Maine Development Corp.
Destination You will run via Zoom 1-2 p.m. on Tuesdays and Thursdays from Oct. 4 to Dec. 10. Participants in a cohort for each region will create their own plans with instructors, classmates and special guests as they explore education and careers in healthcare, education, IT, manufacturing and more to connect directly with employers. They will also earn three college credits with EMCC.
Deb Rountree, associate academic dean for EMCC's Penquis Higher Education Center in Dover-Foxcroft and Katahdin Higher Education Center in East Millinocket, said the community college has been working with Educational Design Lab.
She said EMCC is one of five community colleges across the country chosen to work with the organization to develop innovative processes to connect area residents with the workforce or projects related to higher education.
She said Destination You is a pilot program of this initiative. "We will be having 20 people in each cohort, one will be housed here in the Katahdin region and one in Piscataquis County serving folks that are either unemployed, underemployed or younger people that are not in the workforce to try to address some of the issues that both of these regions have," she said. "We need people to work, there are a lot of jobs out there but there doesn't seem to be a lot of connections to some of the employment opportunities that exist."
"This pilot is an opportunity to provide a free program for 20 people in each region," Rountree said. "It's an eight-week long process. There's two days a week that learners will be engaged via Zoom."
Early Tuesday and Thursday afternoons "learners will be connected to facilitators throughout the eight weeks with a series of workshops and opportunities for them to connect with employers or connect with pathways to higher education," Rountree said.
EMCC developed microcredentials, signifying the holder has a certain skill set, that is transferable for college credit. With Destination You, Rountree said, "learners will be involved in learning up to four microcredentials, work ready, life ready and career ready. There's a financial literacy piece as well and if folks go through the entire process over the eight weeks and meet the requirements of this they will earn these four microcredentials that will also equal three college credits toward EMCC as well as the opportunity to take a free class at the community college."
"Throughout this process they will also connect with employer mentors in each community where their interests are," she said. "They will have a connection to help with opportunities that exist such as on the job training or workforce training down the road when they finish this program."
"So the key is to have people be part of a cohort and they will also be using an App that is from Nearpeer," Rountree said. She said this is an educational organization created in Maine to connect people with similar likes and interests to help them be part of a supportive environment with other learners and instructors.
"A lot of times we think of college as either a two-year or four-year degree and that's not always the case," Rountree said. She said instead people can pursue a certificate or a specialized training and part of the goal of Destination You is to connect participants with related employers.
"Our role would be to recruit anybody over the age of 18. They don't have to have their high school diploma. They can be working on it," she said. "We will screen them by asking them a few basic questions and then based on how they enter into this program my role obviously will be to refer them to Eastern Maine Development Corp. to see if they qualify for some of their programs."
Barb Skinner, an EMDC workforce development specialist who is based out of the agency's Dover-Foxcroft office, said once someone enrolls in Destination You through EMDC there they will have access to a number of services.
"We can help with laptops, we can help with childcare. We can help with transportation if they're going to college or doing training they are doing. We can help with their books," she said, mentioning assistance is also available with grant/scholarship applications.
"The first step in their path forward would be the Destination You and then once they get into that they will find out if it's job search or if it's college," said Kevin Gregory, an EMDC workforce development specialist who works in the East Millinocket office. He said once a path forward has been realized, "We would amend the plan to meet that."
"A lot of different things we can help them with," Gregory said, including internet access to be able to take part in Destination You.
"We anticipate there's nine hours of work a week for this program so it is a bit intensive but folks will be able to have support from a cohort of people in their community that is also involved in this training as well as building a team of support folks that are part of the college system and we would work with them through the facilitators we train for this program," Rountree said.
She said EMCC and EMDC officials hope to learn what community needs are through Destination You.
"Both of these regions are desperately in need of employees and we want to make sure people who have been sitting on the sidelines and not doing anything or feel like they don't have a skillset to go to work, we can help prepare them for the workforce and help them understand and build their confidence a bit," Roundree said.
Skinner mentioned that EMDC has a lack of younger participants in its programs. "We want to show them the opportunities that are available to them to stay here or not move away," she said. "We want them to get the good marketable skills they need and hopefully they will stay in our community and become good working adults."
For information, go to https://www.emcc.edu/destination-u/ or contact Rountree at 207-746-5741 or drountree@emcc.edu.