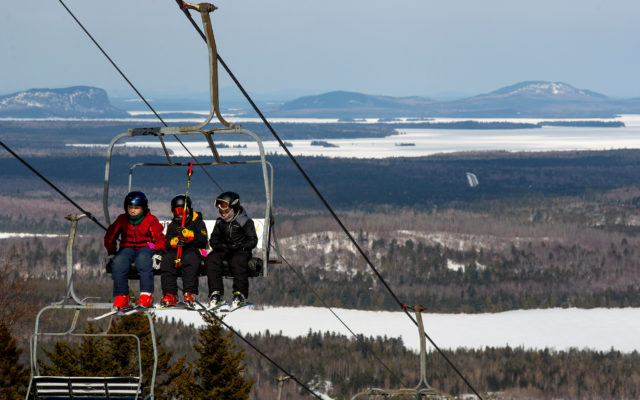 Squaw Mountain A LCO
Bangor Daily News file photo/Linda Coan O'Kresik FOUR-SEASON DESTINATION -- Young skiers ride the chairlift on a sunny, winter day at Big Squaw Mountain Ski Resort overlooking Moosehead Lake in February 2019. A developer plans to invest $75 million into revitalizing the ski resort, making it a four-season destination.
FAME approves financing on $135M bond for Moosehead resort
AUGUSTA — At their April 15 meeting, the board of directors of the Finance Authority of Maine approved up to $135 million in conduit bond financing for Provident Group-Moosehead Lake L3C ( "Provident"). The funds will be used to finance a portion of the costs related to the acquisition, rehabilitation, design, construction and equipping of a resort located in Big Moose Township including, but not limited to, the following: chairlift, surface lifts, base lodge and conference center with a connecting restaurant/pub, snowmaking system, Zip Tour system, hotel and restaurant, marina, trail system improvements, observatory, event center, ski area grooming equipment and maintenance garage. The project ultimately is expected to create approximately 380 full- and part-time jobs in Piscataquis County.
FAME's utilization of tax-exempt private activity bonds has helped to create and retain thousands of Maine jobs over the past five years alone. Such bonding, commonly referred to as "conduit bonds" due to their pass-through nature, are authorized by the Internal Revenue Code in order to stimulate economic development in certain targeted industries. The projects financed in recent years range from not-for-profit health and higher education projects to solid waste improvements, public infrastructure, and manufacturing.
The board determined the project, located near Greenville at the former Big Squaw Mountain ski resort, will make a significant contribution to the economic growth of the state by investing millions of dollars into the construction of the facility, and significantly increasing employment in the region, both from a construction standpoint and ongoing operations. This is expected to lead to significant employment tax revenue, as well as the benefit of down-stream spending in the region by those on the payroll, as well as tourists attracted to the Greenville area to visit the resort.
FAME's Revenue Obligations Securities Program provides tax-exempt bond financing to eligible borrowers without any recourse or obligation on the part of the state. The bonds carry no liability or credit enhancement on the part of FAME or the state. FAME acts as a conduit for borrowers in order to allow them to access favorable interest rates and to help stimulate the economy and create and retain Maine jobs. Because this project will involve a recreational enterprise, the bonds will be eligible for tax-exempt treatment under federal tax law.
"We are pleased to provide support for Provident's project in Piscataquis County," stated David Daigler, chair of the FAME board. "Plans for the re-birth of the now-dormant ski resort into a four-season recreation destination is promising news for the Greenville area, and we wish the developers the best of luck as they proceed with construction."
"We deeply appreciate the support of FAME. We are eager to get to work to revitalize this once-popular ski mountain and to expand area offerings year-round so as to help stimulate continued economic development in the Greenville area," stated Steve Hicks, chairman and CEO of Provident Resources Group Inc.
The Finance Authority of Maine is a quasi-independent state agency that provides innovative financial solutions to help Maine citizens pursue business and educational opportunities. FAME helps to lead the creation of good paying jobs for Maine citizens by working at the nexus between economic and workforce development. To learn more about FAME, please visit www.FAMEmaine.com.