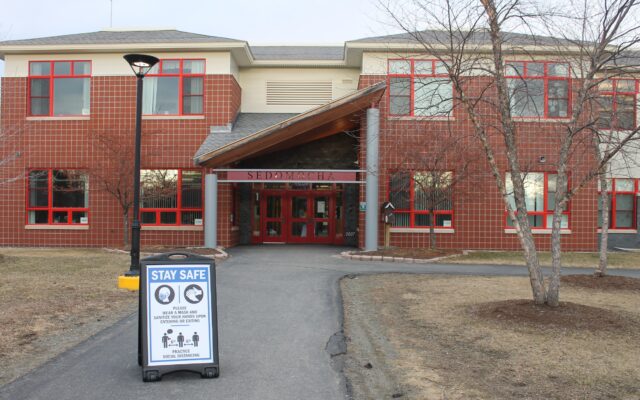 PO-RSU68building-13-21
Observer photo/Stuart Hedstrom SAFE RETURN -- Starting April 26 after a week of vacation, SeDoMoCha Middle School students in grades 6-8 will join their younger peers in attending in-person classes four days a week. Across town Foxcroft Academy will be doing likewise.
RSU 68 officials looking at $12M budget
Grade 6-8 students to attend four days in-person after April vacation
DOVER-FOXCROFT — RSU 68 officials are looking at a proposed 2021-22 budget totaling $12,021,863. This figure is up by $50,986 (0.43 percent) from the current spending plan of nearly $11,970,900.
During a budget presentation to the school board at the SeDoMoCha School on April 6, Superintendent Stacy Shorey explained that the district will receive about $250,000 less from the state in 2021-22.
"We had 80 fewer students from last year to this year because of COVID and families making homeschool choices," she said.
"Overall you will see a 1.03 percent increase to the taxpayers from last year to this year," Shorey said. She said the proposed 2022 budget has a local contribution of $4,754,683, up $48,545 (1.03 percent) from the current figure of $4,706,137.
Three of the four district communities would see increases while Monson's share would be down by 7.06 percent, from $584,769 to $543,472. "Monson is down this year because the number of students in Monson is down this year," Shorey said, saying the community valuation can cover all of its costs for RSU 68.
The rest of the proposed shares of the budget are $642,214 for Charleston, up by $15,777 (2.52 percent); $2,864,532 for Dover-Foxcroft, an increase of $52,463 (1.87 percent); and $704,465 for Sebec, which is $21,603 (3.16 percent) more than in 2020-21.
"There are still some changes to come but we are going to try to keep the town costs at what you just saw," Shorey said. "We will present it next month with the final numbers in your hands with the line items, and you will vote."
The superintendent said the annual district budget meeting is tentatively scheduled for Tuesday, May 25. The budget approved that evening would be moved to a referendum vote in June for voters in the four district towns.
In other business, the directors approved opening the middle school up to four days a week for grades 6-8 starting on Monday, April 26, after the week of vacation. Students will go Monday, Tuesday, Thursday and Friday.
"The cohorts will all come together on all four days," Shorey said. Previously in-person learning for grades 6-8 was either the first two or last two days of the week.
She said the school will be set up to safely accommodate the increased number of students. One method will be alternating lunch with some eating in the cafeteria and others in their classrooms and switching these locations on various days.
"We are in that planning and we are problem solving some of those challenges, but we are excited," Principal Adam Gudroe said.
Foxcroft Academy will also be going to in-person classes on the same four-day schedule starting April 26.
"Remote Wednesdays will still be in place," Head of School Arnold Shorey said.
He said one way to alleviate space concerns is to allow, with parental permission, juniors and seniors to leave campus for lunch. Shorey also said most teachers have been vaccinated and this will help keep the new four-day schedule in place.
"We're hoping we'll stay in-person for the rest of the year," he said.
The head of school said a traditional outdoor graduation is being planned, as well as senior activities including the prom. "Hopefully the seniors' year will end normal," Shorey said.
When asked, he said full-time remote learning may be offered for the next school year for interested students and families.
"Our winter sports concluded, a very successful season for our girls and boys basketball teams," Gudroe said. He said the Eagle boys claimed the pod championship.
"There was some sense of normalcy being able to participate and play on the new court," he said.
Gudroe said the SeDoMoCha unified basketball team — a partnership of players with and without developmental disabilities — had a couple of games in house and "it was just a great experience."
"To have them have that same experience everyone else had was just amazing," Diane Stephen, one of the unified coaches, said.
"We have close to 50 student-athletes signed up for baseball, softball and track," Gudroe said about the spring sports season, which will be the first at SeDoMoCha since 2019 with last year's canceled entirely. He said he is excited about the possibility of spectators being permitted for the spring, provided fans can be accommodated with all health and safety guidelines.
The principal said band and chorus would be starting the next day for interested grade 6-8 students.