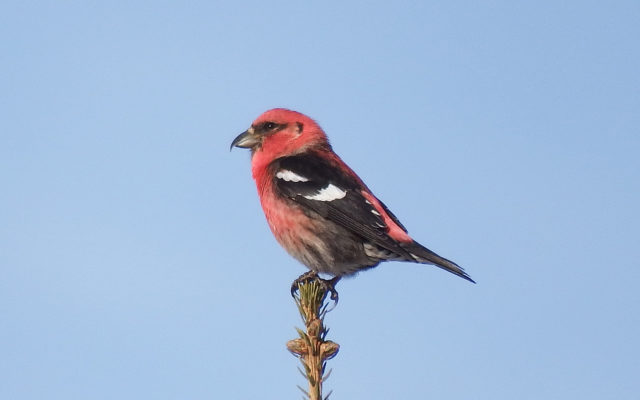 White-winged Crossbill
Photo courtesy of Bob Duchesne HEAR THE BIRDS SING -- The white-winged crossbill is one of several species in the finch family that sings loudly in the North Maine Woods.
Exploring springtime birds at the Law Farm
DOVER-FOXCROFT — Register and join us for a morning bird walk on Sunday, May 2, as we explore springtime birds at the Law Farm. The Piscataquis County Soil & Water Conservation District will be hosting birding expert Bob Duchesne, for a bird walk along the Law Farm trails starting at 8 a.m. Our hope is to view year-round birds in Maine and some returning springtime birds.
Bring your binoculars and cameras, wear your mud boots or other sturdy water-proof footwear, and join us as we hike out to the wetland observation deck and explore the open fields and some of the trails all while we experience the joys of birds and their habitat at the Law Farm. The Looping Trail winds through the edge of open fields, softwoods, mixed hardwoods and the edge of a wetland. The Law Farm's extensive wetlands with natural biodiversity offer ideal habitat for birds.
We may discover, see or hear hermit thrushes, winter wrens, eastern phoebes, ruby crowned kinglets, pine warblers, palm warblers, yellow-bellied sapsuckers, broad winged hawks and merlins, in addition to chickadees, nuthatches, ruffed grouse and woodpeckers as we traverse the fields, woodlands and wetland at the Law Farm.
Duchesne became interested in birds in the first grade. Interest grew to passion, and today he is one of Maine's top birding experts. He is a member at large of Maine Audubon's Penobscot Valley Chapter in the Bangor area. Duchesne is a frequent tour leader and has led trips from Atlantic Canada to the Florida Everglades. In 2009, he completed development of the Maine Birding Trail and has authored a guidebook for the state, published through Down East Books, which the PCSWCD's Demonstration Forest is listed in. He currently writes a weekly birding column for the Bangor Daily News as well as a Woods & Waters column for Bangor Metro magazine.
The Law Farm is located at 22 Lee Cemetery Road in Dover-Foxcroft. Since the land was deeded to the District in 2009, the PCSWCD has developed a trail system and created an engaging outdoor space for Piscataquis County residents and visitors to enjoy and actively learn about the benefits of a community forest. This property is open to the public from sunrise to sunset.
The Law Farm Bird Walk is a great way for folks to enjoy what the Law Farm has to offer as an outdoor educational and recreational space, while learning first-hand from Duchesne. Registration is required and we are limited to 25 people for this event. PCSWCD follows all state guidelines for COVID-19 and participants will be required to mask and practice physical distancing. To register, send an email to info@piscataquisswcd.org or call our office at 207-564-2123 ext. 3. This is a free event; however, donations to the PCSWCD are also greatly appreciated.