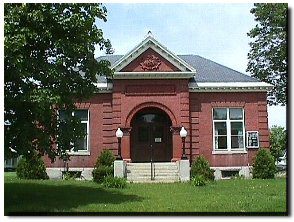 Thompson Free Library
The Thompson Free Library in Dover-Foxcroft
Seed Library coming to Thompson Free Library
By Jon Knepp, Thompson Free Library director
DOVER-FOXCROFT — Spring has sprung at the Thompson Free Library! With warm weather hinting at the start of the growing season, the library wants you to go outside, dig in the dirt and work towards a beautiful flower or bountiful vegetable garden.
The TFL's Seed Library will bring enough resources to library patrons to allow them to get started or broaden their horizons in the rewarding world of gardening. Seed quantities are limited, but over 20 types of seeds will be featured. The library hopes to tap into the immense interest in gardening this area has always had, while allowing those without a green thumb to build some experience.
In another exciting aspect of the project, the seed library will bring back an old friend — the card catalog — to organize and easily distribute the seeds while also providing a walk down memory lane.
We have several card catalogs sitting in the basement collecting dust. I'm glad to not be typing thousands of cards per year, but hate to see them go to waste.
The TFL will be working with other local organizations to promote their related projects and provide additional resources to help would-be-gardeners of all ages. Fedco, Ripley Farms and the county cooperative extension office have generously pledged to donate seeds to the project already. Other collaborative efforts include coloring books and tree and plant sale catalogs from the Soil and Water Conservation District, Garden in a Box materials from the PRFC's project, and publications from the Cooperative Extension Office. The project will also allow the library to showcase some of the books highlighting sustainable agriculture purchased with the help of a Rudman Grant last year.
Seed libraries have been gaining popularity in recent years, allowing libraries of all sizes to increase their offerings to their customers beyond books. Patrons are encouraged to learn many valuable skills, perhaps the most important of which is seed saving. By returning some seeds each year to the seed library, the users help the project to become sustainable, while allowing the library to add to the diversity of offerings as time goes on.
The objective of seed libraries is to create a sustainable source of seeds to the community, while at the same time providing its users the materials to learn a variety of useful skills.
We hope to see you at the Thompson Free Seed Library. Bring your green thumb and/or a willingness to learn! The TFL is open Tuesday through Friday from 9 a.m. to 5 p.m. and Saturday 9 a.m. to 1 p.m. Follow us on Facebook www.facebook.com/thompsonfreelibrary, Instagram @tf_library or call us at 207-564-3350.