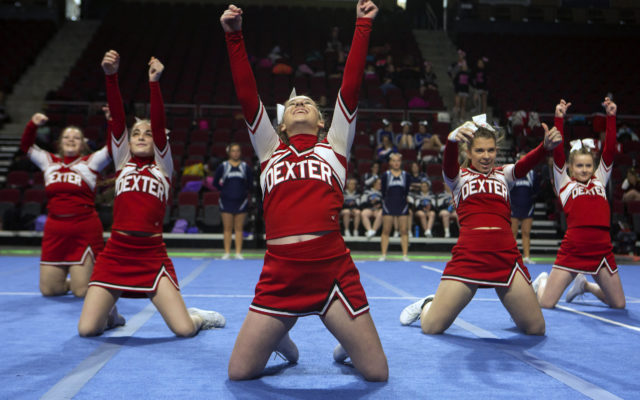 CheerClassC012817 041
Bangor Daily News file photo DIFFERENT FORMAT -- The Dexter cheering team goes through its routine in the 2017 regional championship. This year squads will be competing via virtual performances.
Dexter and Penquis compete at virtual cheering championships
The COVID-19 pandemic forced the Maine Principals Association state cheering competitions to be held virtually in 2021. Teams had one chance to perform and record their routines earlier in the week and submit them. Theses were judged and then the performances were livestreamed and the results revealed on March 27.
In Class C, Monmouth Academy annexed the school's first cheerleading state championship since 2002 and became the fourth different winner in four years. The squad registered a score of 50.7 points to overcome defending champ Sumner of East Sullivan (48.9).
Monmouth Academy finished third a year ago.
Three more teams from northern Maine rounded out the top five. Calais was third in the 19-team field with 47.6 points, followed by Central of Corinth (43.5) and Houlton (42).
Completing the top 10 were Winslow (41.5), Dexter (41.2), Lisbon (40.5), Sacopee Valley of South Hiram (39.4) and Mattanawcook Academy of Lincoln (38.6).
Lisbon took home the state title in 2019, one year after Central had claimed the title.
There were three portions of the normal routine eliminated because of COVID-19 concerns: vocal performance, pyramids and the five-point showmanship category. That meant the maximum high score was 75 points instead of 100.
Sumner was seeking to become the first back-to-back Class C champ since Washington Academy of East Machias triumphed in 2007 and 2008.
Monmouth Academy had won seven state championships in Class D during an eight-year span before moving up to Class C in 2002 and claiming the C crown that year.
In Class D, Penobscot Valley of Howland, the 2020 runner-up, tallied 50.2 points to edge Central Aroostook (49.3) by less than a point.
Bangor Christian matched last year's third-place finish with 38.3 points.
Southern Aroostook of Dyer Brook (32.7) and Schenck of East Millinocket (30.9) rounded out the top five in the 11-team field.
Southern Aroostook didn't have a team last year and Schenck didn't participate in the state championship competition.
The other participants were Buckfield (30.6), Lee Academy (287.8), Penquis of Milo (24.9), Forest Hills of Jackman (18.6), Fort Fairfield (14.9) and Stearns High of Millinocket (13.9).
The Bangor Daily News' Larry Mahoney contributed to this story.