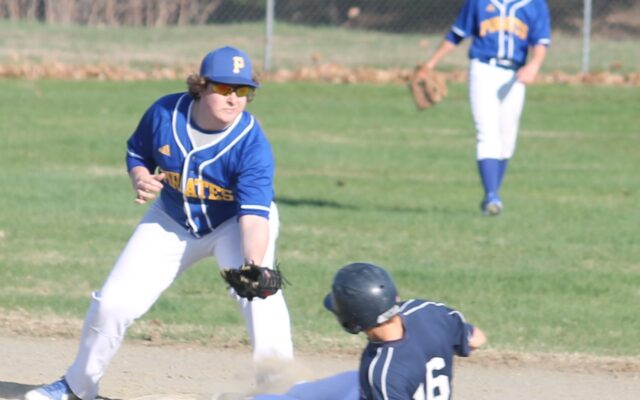 PO-spbasehaley-20-18
Observer file photo/Stuart Hedstrom FROM A DOUBLE TO AN OUT -- PCHS' Wayne Haley tags out Anthony Mason of Greenville before he can slide into second base during a 2018 game in Guilford -- looking on is Pirate centerfielder Tyler Soctomah. Under the initial recommendations of the Maine Principals' Association classification committee PCHS would move back to Class C North in baseball, softball and soccer after several seasons playing in D South.
PCHS would shift back to C North on the pitch and diamond
Following several seasons in Class D South, Piscataquis Community High School baseball, softball and soccer teams would move back to Class C North. The shift is among the potential changes in the initial recommendations of the Maine Principals' Association classification committee for the 2021-22 and 2022-23 academic years.
The changes for PCHS, which still played a Penobscot Valley Conference regular season schedule while in Class D South, are the only ones proposed for the area's five high schools. A few adjustments could alter a few local schedules with schools across the state moving up and down classes in various sports.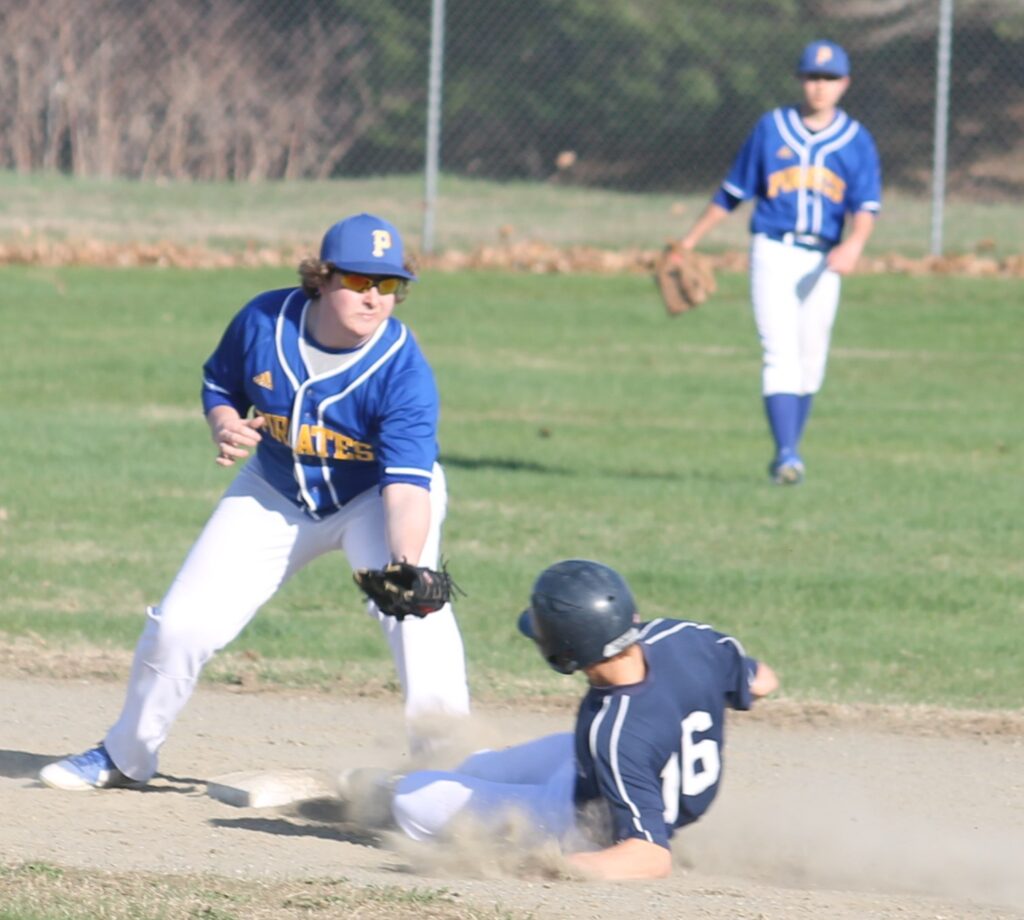 "The committee set a philosophy early on that they didn't want to make drastic changes," MPA Assistant Executive Director Mike Bisson said. "They wanted to keep it as consistent as possible knowing there was going to be some natural movement based on the majority of schools getting smaller and a handful of schools getting larger."
Maine Central Institute of Pittsfield would go from Class C to Class D in 11-player football, potentially facing Foxcroft Academy again after several years of the Ponies and Huskies being in different classes.
A proposal developed by the MPA football committee provides for four classes of 11-player football, with single divisions in Classes A and D and North and South divisions in Classes B and C. Also planned are two 14-team divisions of 8-player football, one for large schools with an enrollment of 355 or greater and a small-school division for schools with up to 354 students.
There is an accommodation for 11-player schools to petition down from their assigned class to a lower class and still be eligible for postseason play. Bisson expects as many as six schools may take advantage of that opportunity while rebuilding their programs.
"Football's honestly going to be a year-to-year thing at this point," Utterback said. "We expect changes every year and football's going to be really flexible in that regard."
Schools may appeal their placements in any sport to the classification committee. Following the next classification meeting, the proposal will be presented to the MPA's interscholastic management committee on March 25. The final version of the proposal will be presented to the MPA's general membership for final approval at its late-April interscholastic business meeting.
Ernie Clark of the Bangor Daily News contributed to this story.