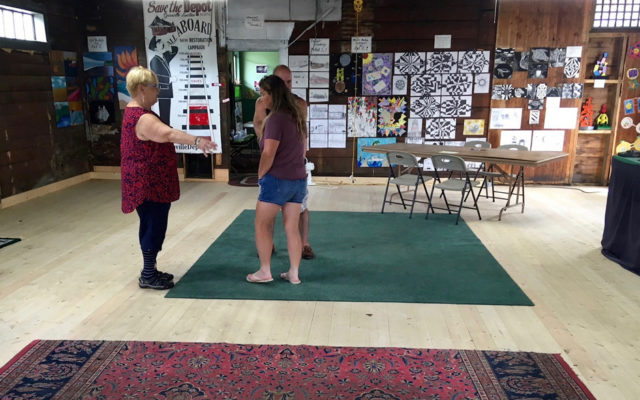 Depot
Observer photo/Shelagh Talbot CELEBRATING THE DEPOT -- Cheri Goodspeed, from the Greenville Junction Depot Friends, talks with visitors about recent renovations at the depot. The eighth annual Depot Celebration and Railroad Workers Reunion takes place at the Greenville Junction Depot on Saturday, Aug. 18.
Moosehead area artisans sought for annual show
GREENVILLE — After a year of wondering what this year will look like and the State of Maine guidelines changed to open up some of Maine and public spaces, the Greenville Depot in is ready to open its doors again for its annual Moosehead Area Artisans Show. Last year of course was canceled and we know there are artists out there, some old and some new because of the pandemic, that are itching to get back out in the public and showcase their talent.
This year's show will be from 9 a.m. to 3 p.m. on Saturday, June 19 at the historic Greenville Junction Depot. Following social distance guidelines and it is free to the public. The Depot has gone through many changes this past year, redoing its exterior and bringing electricity to the building and the Greenville Junction Depot friends are ready to show off the "old girl" once again. The Depot is ready to open its doors to the many visitors that this region has seen as the Moosehead Lake area has gained popularity in the past year for folks seeking an escape to the woods. Why not start our season with an art show to show off our many talented artists in the region as well?
Space is limited, so if you would like more information on showing or selling your artwork at this year's event please contact Cheri Goodspeed at cherigoodspeed1@gmail.com.