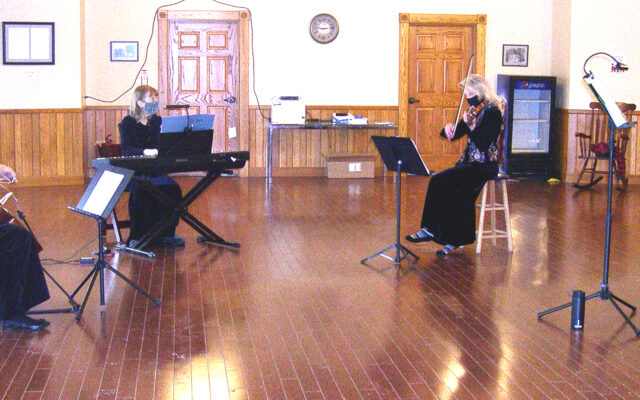 PO-highlandsclassical-8-21
Photo courtesy of H. Aumann GETTING READY -- Highlands Classical Chamber Ensemble performers rehearse at the Central Hall Commons before the upcoming concert series in Dexter, Dover-Foxcroft and Milo. From left, the players include Ruth Fogg, cello; Margery Aumann, piano; Susan Ramsey, violin; and Katherine Hunter, flute. Not pictured is Evan Viera, piano.
Highlands Classical Chamber Ensemble performs Sunday at Central Hall Commons
DOVER-FOXCROFT — The Highlands Classical Chamber Ensemble will present a live concert at Central Hall Commons, 152 East Main Street, at 3 p.m. on Sunday, March 21. Works of Bach, Schubert, Brahms, Debussy, Rachmaninoff, Villoldo and Gershwin will be performed. Admission is by donation.
Masks, social distancing and seating limits will be observed following the Maine State COVID-19 guidelines. Reservations may be made by contacting Central Hall Commons at 207-343-3018 or info@centralhallcommons.org. The concert will also be livestreamed.
The Ensemble will also perform this program at the Ed Wingler Auditorium in Milo at 2 p.m. on Sunday, March 28.
For more information, call 207-564-0043.