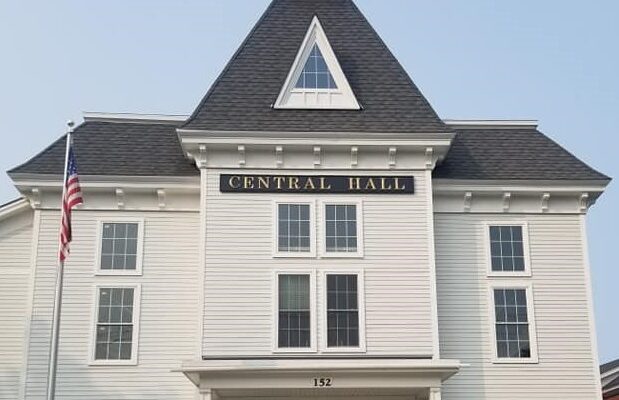 CHC sign (2)
The Commons at Central Hall in Dover-Foxcroft.
Central Hall Commons resumes virtual round table series
DOVER-FOXCROFT — Beginning Friday, March 19 at 6 p.m., Central Hall Commons will resume the Common Conversation Event Series. This series began in response to the changes and challenges within our community during the pandemic. Returning with an exploration into art & inspiration, Central Hall Commons will provide a platform for the "Joy Truck" creator Merrilee Schoen to answer questions and discuss the value of engagement with visual art in fostering empathy and tolerance during these difficult and isolating times.
This event series will feature speakers from local organizations, who will participate in a conversation about recreating a changed or lost aspect of community life post-pandemic. Additional topics such as climate change, mental health, food-security, social justice and conservation will be introduced based on the availability of participating humanities professionals, scholars and subject matter experts.
With time scheduled for one or two short interviews, discussion and a question & answer forum, each session will be recorded and made available on Central Hall Commons' YouTube Channel. The program will be freely available and all are welcome to participate.
More information about The Joyous Exploratorium can be found at https://www.merrileemmanuella.com/joytruck.
Join the conversation at https://www.facebook.com/events/442652417060851.
Central Hall Commons is a non-profit organization whose mission is to nurture a welcoming, inclusive, healthy, rural community culture by engaging people and organizations in the Maine Highlands region in connecting, celebrating and learning together.